Overview
We are excited to announce our new partnership with
WizzCommerce
. Together, we aim to deliver an exceptional eCommerce experience for our customers. Our shared commitment to excellence and customer satisfaction will help us build a long-lasting partnership. We look forward to exploring new opportunities and achieving greater success together.
Introduce WizzCommerce
Wizz Commerce
is a company that specializes in developing innovative solutions for online businesses. One of their top products is the
BOGO+ | Free Gift & Flash Sale
app, which is designed to help online store owners increase their sales quickly and easily.
About BOGO+ | Free Gift & Flash Sale
BOGO+
helps create discount campaigns to encourage your customers to purchase more with irresistible discounts, swiftly move them to checkout process and increase your AOV. With BOGO+, you can quickly set up any discount campaigns (BOGO, Buy X Get Y, Flash Sale, Free Gift with Purchase and Volume Discount).
Buy X Get Y & Buy X Get X
The app offers campaigns with Buy X Get Y & Buy X Get X, allowing you to quickly set up different products for Buy X Get Y campaigns with advanced quantity breaks. You can also configure BOGO upsell campaigns for specific products in just a minute, with the user-friendly editor Buy X Get X.
Flash Sale
To create a sense of urgency and encourage customers to checkout, the app also offers Flash sale discount campaigns with a sale countdown timer.
Cart Conditional Discount
Increase your order value and encourage customers to buy more with the Cart Conditional Discount feature in the BOGO+ app. Offer discounts based on the value of the customer's cart and easily create free gift promotions based on cart conditions to entice them to make larger purchases.
Volume Discount
This feature increases the discount value for customers as they add more items to their cart, incentivizing them to buy more and increasing their overall satisfaction with their purchase. With Volume Discount, you can easily encourage your customers to make larger purchases, all while boosting your online store's performance.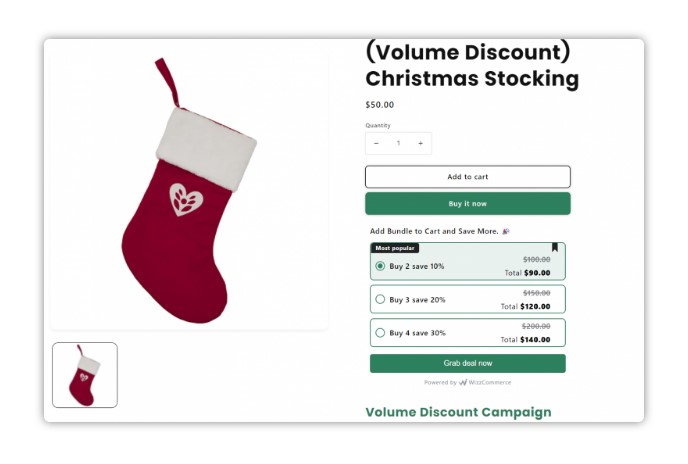 Campaign Monitor
To monitor campaign performance, the app offers an analytics dashboard with metrics report summary, statistics & table. This allows you to proactively deliver promotions (Shopify flash sale, BOGO discount, Free gift, Volume discount…) to get the most benefits out of it.
Collaboration between CRO Buttons and WizzCommerce
CRO Buttons is the ultimate tool for expanding your Shopify business, and with WizzCommerce's support for various promotional types across your stores, our partnership is set to deliver the ultimate eCommerce experience for customers. We are thrilled to be a technology partner of
WizzCommerce
and excited about the opportunities that our collaboration holds. With a shared commitment to excellence, we look forward to supporting each other in delivering the best services and products to our valued customers.