When a customer encounters a problem with your product or service, they will abandon the order. They found difficulty in making a purchase. That's why retailers need to involve in customers' decision-making process to optimize the checkout process.
The aim of optimizing the checkout process is to reduce friction and instill trust in the checkout flow, encouraging more shoppers to complete a purchase. We discussed this in a recent post. Plus, customer service tools have a critical part in optimizing the checkout process. What is it? Let's dig into it.
16. Use chatbots
"Chatbots are a great way for large e-commerce businesses such as ours to reach new customers. Chatbots allow you to reach out to your customers in a customizable way. It can be a lot more cost-effective than traditional marketing strategies" – Tom Leighton, COO of Sofary said.
What is the chatbot?
Chatbots are AI programs that interact with website users in real time. This mimics human behavior and speech patterns. AI chatbots have fundamentally automated services that are performed across many business processes such as answering questions, recommending products, gathering feedback, and tracking engagement. By using a chatbot, retailers can provide always-on support, at a better price than full-time staff.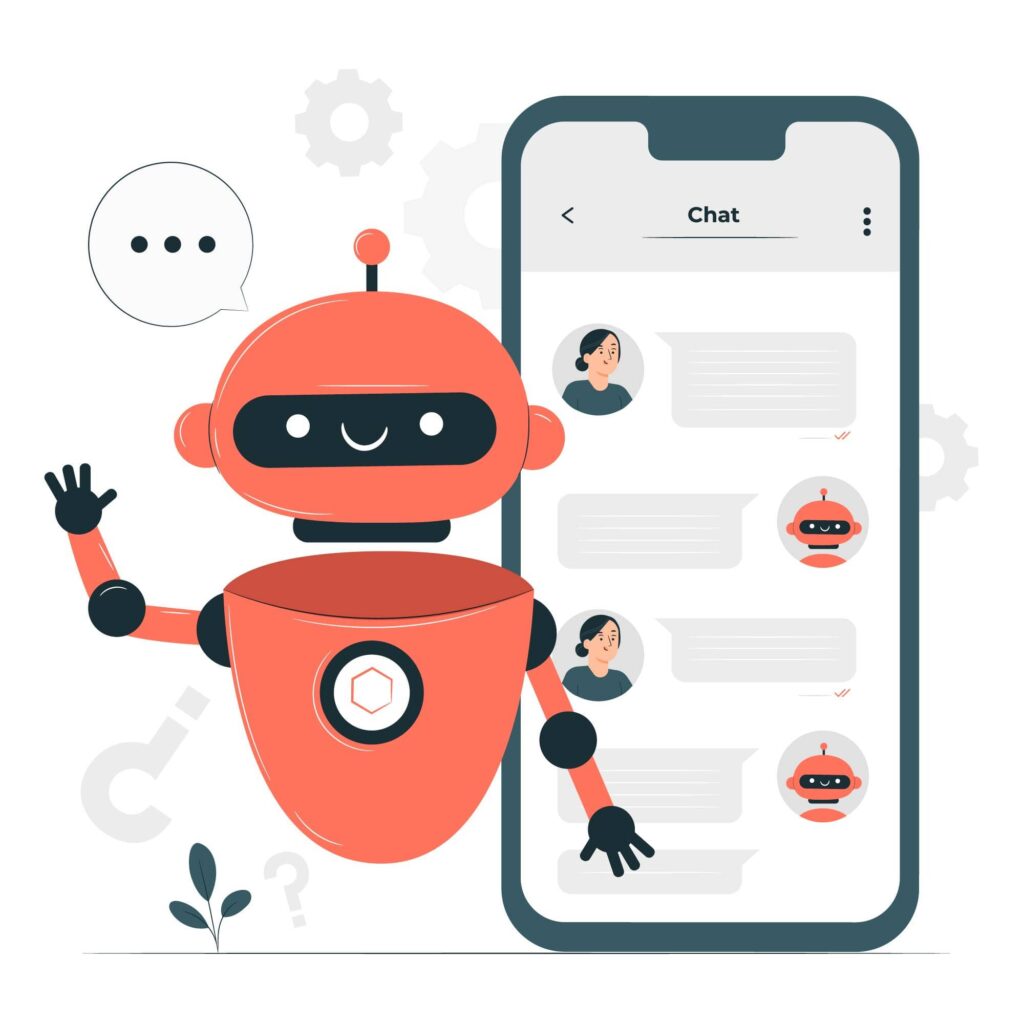 Why should we use a chatbot for the web store?
In the report of Drift, they showed the most common predicted uses for chatbots that consumers reported included:
Getting quick answers to questions in an emergency (37%)
Resolving a complaint or problem (35%)
Getting detailed answers or explanations (35%)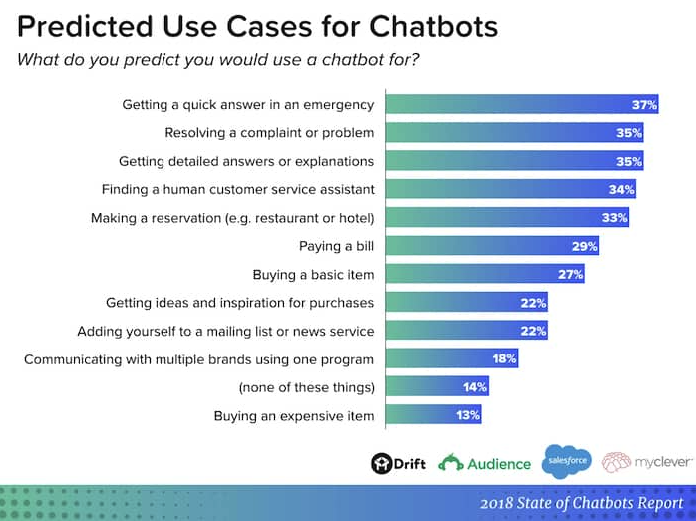 That means when making a purchase decision, customers always need support 24/7. At this moment, a chatbot can function as a real-time assisting salesperson with automated responses to resolve customers' queries and provide them with useful guidelines. Without one, retailers would miss the opportunity to interact with some users. This is a missed opportunity to create brand loyalty and land a sale. Think of an e-commerce chatbot as an employee who knows (almost) everything. They're always available and never get tired of answering the same question.
The chatbots also can offer post-sale support like ordering issues, shipping delays, refunds, and returns. This reduces the workload for custom service agents. It helps boost average lifetime value (LTV) and build long-term brand loyalty.
Bonus tip: The chatbot should start with a simple scenario. Providing customers with detailed instructions or can give customers the promotion code to get potential customers, and remarketing to save costs to help save costs. fox.
17. Use the live chat
Most customers aren't going to wait around for an email response or in a phone queue to ask a question about the product they're considering. They want face-to-face with the retailer to have information.  When customers can't get an answer quickly, they'll leave your site and look elsewhere. In this situation, live chat is a powerful tool to solve the problem.
What is the live chat?
E-commerce live chat is typically a pop-up or small window on your eCommerce website, usually appearing in a corner of the web browser that allows your business to be there when customers have even the smallest of questions. Customers can simply start typing in a chat box or chat window, send their message, and wait for a reply.
Why do you need live chat for eCommerce?
Live chat is designed to surface instant answers and can help companies keep up with demand during high-volume stretches or when customers look for quick answers. There are three main reasons why you need to have a live chat on your site:
1. Saving time for both your customers and your company
Forrester found that 73% of customers encouraged the most important part of good customer service is valuing their time
Sometimes, good customer service is just about not wasting customers' time. People don't have to abandon their shopping experiences in search of answers, get on the phone, or wait for someone to respond to an email. Quicker responses can therefore reduce cart abandonment rates. Live chat saves your company time, too. Customer service agents can similarly save time by dealing with multiple clients over live chat at once.
2. Answering customer questions before they become hesitations
Answering quickly is especially important when considering a purchase. When a customer has a question and can't find the answer right away, those questions can quickly turn into doubts, and they're likely to hesitate before making a purchase. Even if a team member answers an email query within a few hours, the customer has already lost momentum within the purchasing journey. It'll take a lot more effort to get that shopper to return to your store than it would have if those questions could've been answered in real-time.
3. Live chat gives you valuable insights into your customers' behaviors
By live chat, you can ask the customer for feedback right after you've solved their problem within the chat — which is easier for them than a follow-up phone call or email survey. Live chat gives you access to the analytics you wouldn't have with phone or email support. Plus, because it happens in real-time, you're capitalizing on the momentum of a solid interaction that just took place.
18. Let customers checkout as guest
Many eCommerce stores force customers to create an account before allowing them to complete a purchase. John Cheng, founder and CEO of Baotris said: "A lot of people may see the process of creating an account as an obstacle because they are looking for a fast and easy way to buy the product they want".  While having customer information in an online account makes the checkout process faster for future purchases, asking shoppers to create an account causes 24% to leave without purchasing. It led to increasing the abandonment cart.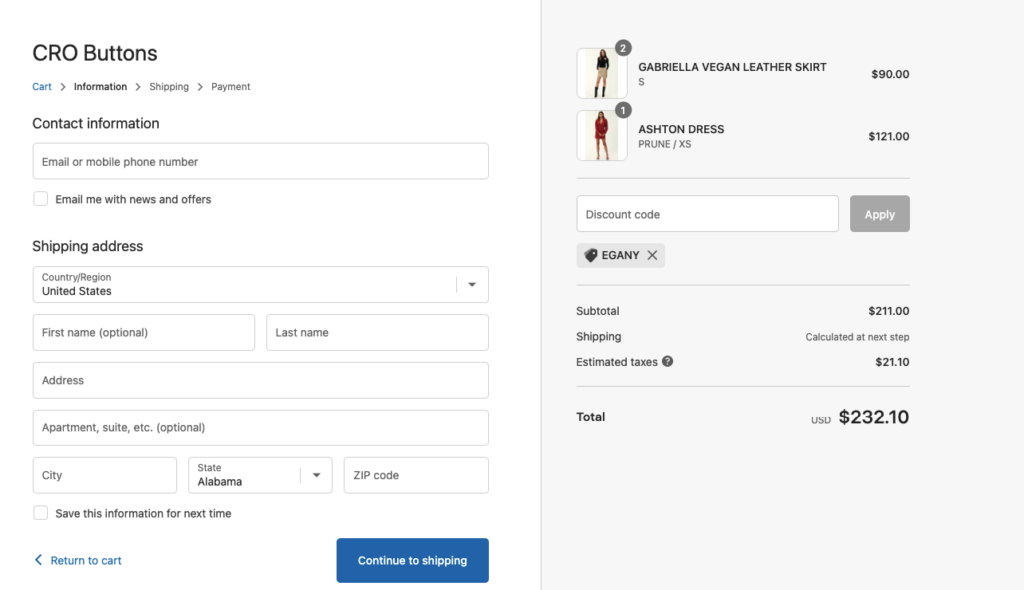 So guest or social checkout allows shoppers to complete their purchase without entering unnecessary details, such as their birthdate or password, which helps reduce friction purchase process and fasten conversion steps and optimize the checkout process.