As buying fashion online becomes more popular, consumers have started to demand more personalization. Over half of the consumers now expect personalized experiences while shopping online or want to at least be shown products that are highly relevant to their interests. Most of the time this happens with help from marketing automation software or ecommerce tools that aid in delivering personalization.
However, if you're not ready to introduce fancy tools and plugins for personalization (or you're looking for something to run in tandem with them), one way you can make your brand feel more personalized is by zeroing in on a specific consumer identity — one that goes beyond mere gender and age.
44. Use The Lookbook Feature
What is the lookbook?
A lookbook is a collection of carefully curated images that showcases a business's products in a visually appealing way. It's a tool that fashion retailers, designers, and e-commerce websites use to provide customers with an immersive and inspiring shopping experience. Lookbooks typically feature high-quality photographs that show off products creatively and artistically, such as by displaying outfits or creating a specific mood or theme.
The primary purpose of a lookbook is to inspire customers and make it easier for them to visualize how products can be styled and paired together. This helps create a multi-dimensional shopping experience beyond simply displaying individual products on a website. Lookbooks can be created for a particular season or occasion, such as a holiday or a new product launch, and are often used in conjunction with marketing campaigns to showcase new collections or highlight trending styles.
Why you should have the lookbook on your website?
One of the main benefits of using a lookbook is that it provides customers with inspiration and ideas for how to wear or use the products. Instead of simply showcasing individual products on separate pages, lookbooks allow retailers to present them in the context of a full outfit or collection. This helps customers visualize how the product would look in real life, and how it could be styled with other items.
Furthermore, lookbooks provide businesses with an opportunity to cross-sell or upsell products. By showcasing products together in a lookbook, businesses can encourage customers to purchase more items by demonstrating how they can be used or styled together.
With the "Buy The Look" feature, businesses can take it one step further and allow customers to purchase all the items together with a single call to action. This streamlines the buying process for customers, making it easier for them to purchase the entire look rather than having to navigate to different product pages to add each item to their cart.
What is the "Buy The Look" feature?
"Buy The Look" is a feature that allows customers to purchase an entire outfit or collection with just one click. By displaying products together in a lookbook or a curated collection, businesses can show customers how items can be styled together and inspire them to make a purchase. With a "Buy The Look" call-to-action, customers can easily add all the items to their cart at once, streamlining the buying process and enhancing the customer experience.
This feature is especially useful for fashion retailers who want to showcase their products in a cohesive and visually appealing way. By using models styled with a range of accessories and showcasing products together in a lookbook or a collection, businesses can show customers the potential of each item and inspire them to create their unique looks.
Additionally, the "Buy The Look" feature is an excellent approach to recommending products and encouraging customers to make multiple purchases at once.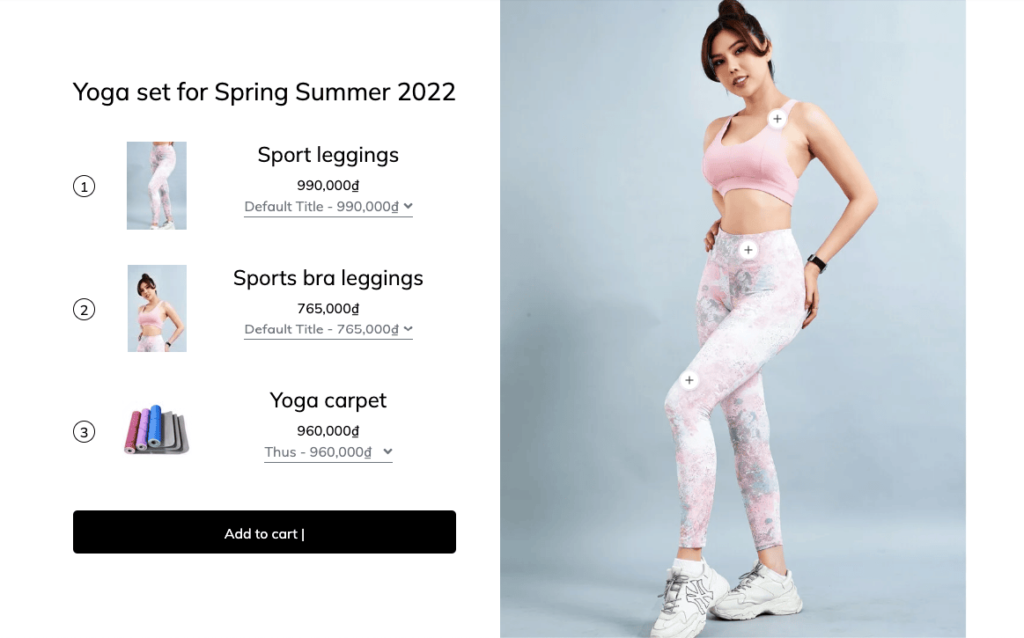 Implementing the 'Buy The Look' Feature: Steps to Follow
As an online retailer, you're always striving to make the shopping experience as effortless and enjoyable as possible for your customers. One way to do this is by implementing the "Buy The Look" feature, which simplifies the purchasing process by allowing shoppers to buy a complete outfit or a hand-picked selection of products in one fell swoop. But how do you go about integrating this game-changing feature into your e-commerce platform? Fear not, because we're here to guide you through the necessary steps.
Step 1: Create a lookbook
This is the feature's base, and it shows buyers how the goods may be worn together in a visual depiction. Professional photoshoots in which models wear entire ensembles fashioned with your items, or using product photographs and styling them together using software, can be used to create the lookbook.
You may assist clients picture how they can dress the things they want to buy by displaying them in a full ensemble. It also allows them to view the full look in one location, rather than having to browse numerous product sites to discover each piece. This will save them time and raise the chance that they will purchase the full outfit.
For example on the Mango. Although the overshirt is the main focus of the website, it is featured with other items such as shorts, shirts, sandals, and bag to make a full look. Customers may see how they can style the overshirt with other appropriate things.
In the future, we may write an article about how to develop a pretty lookbook, which may be a helpful guide for anybody who wants to improve the aesthetic of their online store and provide an interesting shopping experience for their customers.
Step 2: Link products to the look
Once you have created your lookbook, you need to link each product to the corresponding outfit in the look by displaying them separately or in a dedicated section. This is where the "Buy The Look" feature comes in.
By adding clickable links to the product pages or using a pop-up window that displays the products when the customer clicks on the outfit, you can make it easy for customers to purchase the entire outfit with one click.
Linking the products to the corresponding outfit also helps customers navigate to the product pages of the items they are interested in purchasing. It reduces the time and effort required to find each item and helps increase the chances of a successful purchase.
Step 3: Add a "Buy The Look" button
The "Buy The Look" button completes the feature's implementation. It should be added to the look or product pages, and it should automatically add all of the items in the outfit to the customer's cart. This button eliminates the need for customers to visit various product pages to add each item to their basket, resulting in a more smooth and simple shopping procedure.
The "Buy The Look" button may be customized to your brand's aesthetics and strategically positioned on the page to draw the customer's attention. Customers should understand that clicking this button will add all of the things in the outfit to their cart, so they know what to expect when they click it.
Step 4: Promote the feature
Once you have implemented the "Buy The Look" feature, it's crucial to promote it to your customers. You can do this through social media posts, email campaigns, and by featuring it prominently on your website. You can also offer incentives to customers who use the feature, such as a discount on the total purchase or free shipping.