Selling online can be challenging and competitive, especially if you have to handle everything by yourself. You have to attract visitors, convert them into customers, follow up with them, and keep them loyal.
But what if you had a helper that could do all these tasks for you automatically and intelligently? That's what an AI sales assistant can do for you. AI sales assistants are tools that use artificial intelligence to help you increase your sales and conversions on your Shopify store. You can use them to create personalized offers, send automated emails, chat with customers, and more.
In this article, we will introduce you to some of the best AI sales assistants for Shopify and show you how they can help you grow your business and revenue.
Best AI Sales Assistant Shopify
Crystal
Crystal is a powerful tool that offers personality-based guidance for every email, call, and meeting, helping you know your buyer before you sell. With its focus on personality data and personalized insights, Crystal is a great choice for anyone looking to accelerate key relationships and improve their communication and leadership skills.
Key features:
Prospect research: Crystal helps you start every conversation with confidence by learning the natural personality of your prospects and providing tips for how to best communicate, build trust, and negotiate with them.
Writing emails: You can quickly customize your email for every recipient with Crystal's real-time suggestions to tailor specific words, phrases, and sentences for different personalities, helping you write more persuasively.
Group meetings: Crystal provides personalized playbooks for negotiation, overcoming objections, building rapport, and every other stage of the sales process, helping you understand what motivates every stakeholder.
Internal communication: Crystal's personality insights can also be used for internal communication, helping you harness the strengths of your team, improve your one-on-one meetings, and become a better, more empathetic leader.
Pricing: Free
Make
Make is a versatile visual platform that allows users to build and automate various workflows and processes without requiring developer resources. The platform offers a range of features and templates that can be customized to suit the needs of different teams and departments, including marketing, sales, operations, and IT.
Key features:
Visual Workflow Builder: Make offers a drag-and-drop interface that allows users to create, build, and automate workflows visually without requiring any coding skills.
App Integration: Connect all your tools and manage your processes in one single platform. Choose from thousands of ready-made app integrations or connect to any online app with Make's powerful no-code tools.
Workflow Templates: Get inspired by thousands of free workflow automation templates. Customize them to match your ideal workflows.
Notifications and Alerts: Receive notifications and alerts when tasks are completed, or when there are any issues or errors in your workflows.
Analytics and Reporting: Monitor your workflows' performance with analytics and reporting features and gain insights into areas for improvement.
Custom API: Use Make's custom API to connect with any tool or platform and build custom integrations to suit your needs.
Pricing:

Zapier
Zapier is a powerful automation tool that allows users to easily connect the apps they use for work, saving them time without any coding required. With Zapier, users can automate a variety of tasks, including sales outreach, lead flow, to-do lists, team updates, social posts, and more.
Key features:
Multi-Step Workflows: Zapier allows users to create automated workflows that do more than just one thing, with up to 100 steps.
Conditional Logic: Users can add customized if/then logic to their workflows, so they work exactly how they want, but automatically.
Data Formatting: Zapier makes it easy to transform data from one app into the right format before passing it on to another app,without requiring a data science degree.
Pricing:
Klaviyo
Klaviyo is a powerful marketing platform that offers a range of automation tools to help businesses grow. With Klaviyo, users can personalize emails, texts, and mobile push notifications based on how customers interact with their brand, all from one powerful platform.
Key features:
Email Marketing: Users can grow their revenue with email marketing based on their customer's behavior. The platform offers pre-built templates and simple segmentation tools that allow for ultra-personalization.
SMS Marketing: Klaviyo allows users to combine their SMS and email marketing efforts in one platform, driving more sales and allowing for targeted, personalized messages with built-in compliance.
Mobile Push Notifications: Engage and retain mobile app users with relevant notifications that are coordinated with email and text messages.
Signup Forms: Users can start growing their email and SMS subscriber lists from day one with simple, pre-built signup forms.
Ecommerce Automations: Klaviyo offers a range of popular ecommerce flows, such as welcome series, abandoned cart, back in stock, browse abandonment, post-purchase, and more, ready to be used as is.
Pricing:

Waymark
Waymark is an AI-powered video advertising platform that unlocks TV and CTV advertising for everyone. With Waymark, users can easily create high-impact ads that are built to air across TV, CTV, and digital platforms.
Key features:
Built for TV and CTV: Waymark takes care of the technical specs, ensuring that every commercial is built to air across TV, CTV, and digital platforms.
Import Business Information: Users can simply type in their business and location to get started on the platform.
AI-Powered Video Production: Waymark's AI scans the web for local business data and automatically produces a video based on the brand.
Finalize Video: Users can polish their video with any last adjustments, then share, download, and get ready to air.
Pricing:
Instantly
Instantly is a powerful outreach automation tool that helps businesses scale their outreach campaigns and increase leads, meetings, and deals. With Instantly, users can take advantage of unlimited email sending accounts, unlimited warmup, and smart AI to optimize their campaigns.
Key features:
Infinitely Scale Your Outreach with Unlimited Accounts: Users can reach their prospects' inboxes with unlimited warmup and unlimited email sending accounts.
Campaign Analytics: With Instantly's advanced analytics dashboard, users can see exactly what's working and optimize their campaigns for better performance.
Cold Email Accelerator: Instantly offers access to 50+ docs and SOPs, 600+ cold email templates, and a Cold Email Vault with 200+ Cold Email strategies and tools, eliminating the guesswork in cold email campaigns.
Lead List Cleaning: Instantly allows users to clean and verify their lead lists and ensure their domains are correctly set up for cold emailing.
Campaign Builder: With Instantly's Campaign Builder, users can use variables, sequences, and smart scheduling to maximize their deliverability and response rates.
Pricing: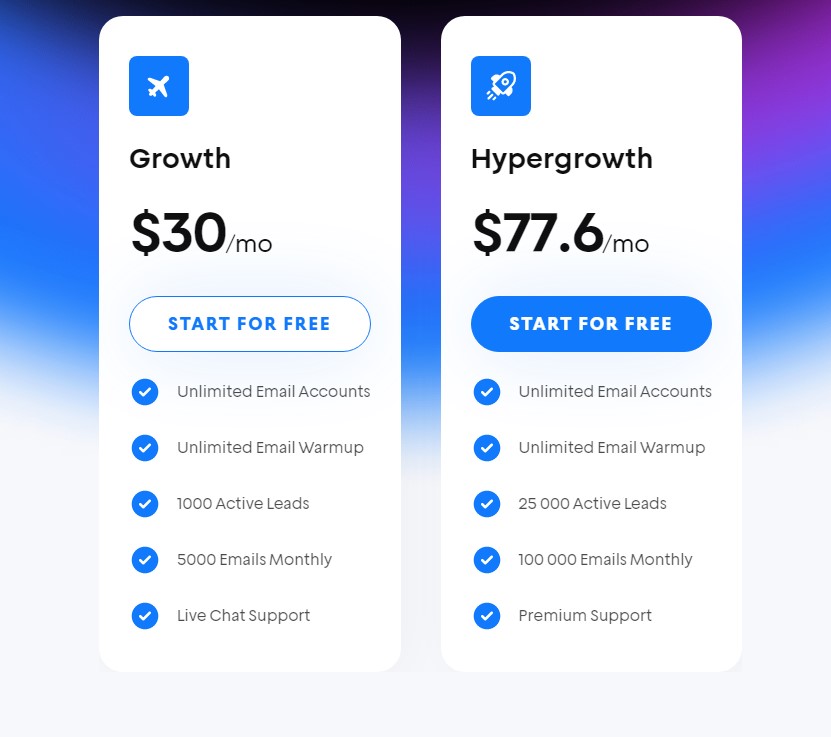 Reply
Reply is an AI-powered sales engagement platform that helps businesses create new opportunities at scale. With Reply, users can easily discover and engage with prospects, automate personal communication, and start meaningful conversations that lead to more sales.
Key features:
Find Your Next Customer: Users can sift through Reply's B2B database using over 10 filters to build laser-focused prospect lists and ensure that their messages reach the right person.
Easily Automate Personal Communication: Reply allows users to generate tailored multichannel sequences for any occasion, from the initial touchpoint to follow-ups, using the channels that work best for their specific case.
Start Meaningful Conversations: Reply handles basic customer responses, such as sharing more details, addressing common objections, and even booking meetings, so users can focus on driving revenue growth.
Get Your Calendar Filled with Meetings: From finding prospects to booking a meeting, Reply takes care of the full engagement cycle, so users just need to show up to the meeting.
Full-Cycle Sales Engagement Solution: Reply offers a full-cycle sales engagement solution, including data discovery, contact data sourcing, email and phone validation, multichannel sequences, cloud calls and SMS, LinkedIn automation, personalized videos, and more.
Execute Tasks and Sync Data: Reply allows users to execute tasks, make calls, reach out on LinkedIn, and sync data with their CRM to ensure seamless integration with their existing workflows.
Improve Team Performance:Reply also provides reports and analytics that allow users to analyze outreach results, A/B test their messages, and improve team performance.
Pricing:
Outplay
Outplay is an all-in-one sales platform designed to help businesses increase their sales meetings and close deals faster. With Outplay, users can find the right prospects, engage them across multiple channels, craft personalized communication at scale, and close deals with zero-friction meetings at hyper speed.
Key features:
Sales Prospecting: Users can access a database of millions of verified prospects with up-to-date critical information and seamlessly handle bulk action clicks.
Multi-Channel Engagement: Outplay allows users to engage prospects across email, calls, text, LinkedIn, and Twitter with automation-powered personalized sequences.
Inbound Conversion & Scheduling: Users can capture inbound leads with an embedded calendar for one-click scheduling and route them with automated round-robin assignment.
Capture Insights to Make Smart Decisions: Users can use reports to discover their best sequences, salespeople, and teams to duplicate what's working and fix what isn't. Outplay also offers leaderboards to inject some good-hearted competition into sales teams.
Pricing:$79/month