Running a Shopify store can be a lot of work, especially if you have to manage multiple tasks and processes. You have to design your store, add products, optimize your SEO, handle orders, track inventory, and more. But what if you could automate and streamline some of these tasks and processes with the help of artificial intelligence? That's what AI productivity tools can do for you. AI productivity tools are tools that use artificial intelligence to help you save time and effort on your Shopify store. You can use them to generate product descriptions, optimize your images, create marketing campaigns, and more. In this article, we will introduce you to some of the best AI productivity tools for Shopify and show you how they can help you run your store more efficiently and effectively.
Best AI Productivity Shopify
Notion AI
Notion AI is an AI-powered solution that aims to help businesses create high-quality, engaging content. The product uses natural language processing (NLP) and machine learning (ML) to analyze content and provide suggestions for improvement.
According to the Notion AI website, the product can help businesses improve their SEO, generate engaging headlines and intros, and identify areas for improvement in their writing. It can also help businesses automate certain aspects of the content creation process, such as generating summaries and creating outlines.
Overall, it seems that Notion AI could be a valuable tool for businesses looking to streamline their content creation processes and improve the quality of their content. However, as with any AI-powered solution, it's important to keep in mind that the product may not be perfect and may require some human input and oversight to ensure that the content it produces is accurate, relevant, and effective.
Key features:
Fix spelling & grammar: Because no one spells "fuchsia" correctly on the first try.
Translate: Now you can write in Japanese, Spanish, German and more.
Edit voice & tone: Rewrite your proposal with the confidence of a CEO.
Make shorter or longer: When you need to get rid of some fluff, or add some.
Pricing: Monthly price (1 person) $10
Chat.Openai
Chat.OpenAI is an AI-powered conversational platform developed by OpenAI, designed to improve productivity by automating tasks through natural language processing.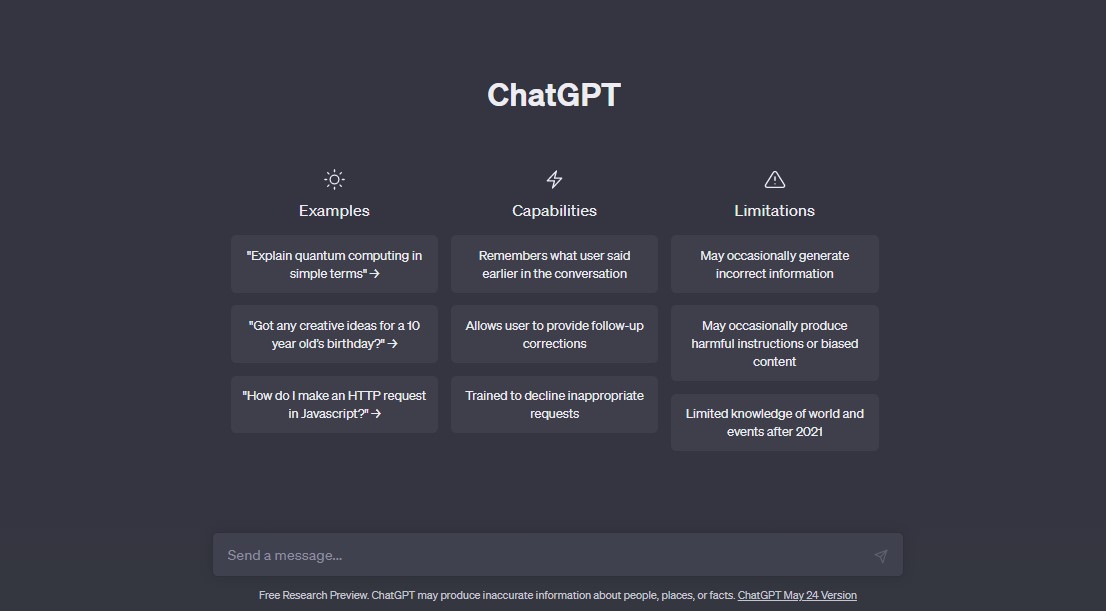 Key features:
AI-powered: Chat.openai is powered by artificial intelligence and machine learning, allowing it to understand user intent and generate human-like responses.
Task automation: Chat.OpenAI can automate tasks such as scheduling meetings, creating to-do lists, and sending reminders, saving users time and increasing productivity.
Integration with other tools: Chat.OpenAI can be integrated with other productivity tools such as calendars, email, and project management software, allowing users to streamline their workflow and automate tasks across multiple platforms.
Pricing: Free
Open Assistant
Open Assistant (abbreviated as OA) is a chat-based and open-source assistant. The vision of the project is to make a large language model that can run on a single high-end consumer GPU. With some modifications, Open Assistant should also be able to interface with other third-party applications easily as well as retrieve information from databases and the Internet.
Key features:
Conversational AI: Open Assistant is a chat-based assistant that uses state-of-the-art technology to provide personalized assistance to users.
Retrieval via Search Engines: Open Assistant uses search engines to retrieve external, upgradeable knowledge and does not require billions of parameters, making it more efficient and effective.
Building Block for Developers: Open Assistant can be integrated into applications, making it a valuable tool for developers.
Pricing: Free
ChatGPT Writer
ChatGPT Writer is an AI-powered writing tool that allows users to write emails and messages, fix grammar mistakes, rephrase text, change writing tone, summarize text, and much more. It works on all sites and is free to use.
Key features:
AI-Powered: ChatGPT Writer uses advanced AI technology to generate responses to user commands.
Writing Assistance: ChatGPT Writer can help users write emails and messages, fix grammar mistakes, rephrase text, change writing tone, summarize text, and much more.
Works on All Sites: ChatGPT Writer works on all sites, making it a versatile tool for any writing task.
Pricing: $14 / Month
Monica
Monica is an AI-powered assistant that works on all websites and allows users to process selected text with just one click. Users can translate, explain, summarize, or use their own prompts to process any text they select on any webpage. Monica can also answer questions, engage in contextual conversations, and offer writing inspiration.
Key features:
ChatGPT Powered: Monica is powered by ChatGPT technology, which allows for natural language processing and conversation.
Contextual Conversations: Monica can engage in contextual conversations and answer any questions users may have.
Effortless Copywriting: Users can write down their thoughts and insert them into any webpage with just one click, making it easy to compose emails, write blog post ideas, craft bedtime stories, and more.
Pricing:
Make
Make is a versatile visual platform that allows users to build and automate various workflows and processes without requiring developer resources. The platform offers a range of features and templates that can be customized to suit the needs of different teams and departments, including marketing, sales, operations, and IT.
Key features:
Visual Workflow Builder: Make offers a drag-and-drop interface that allows users to create, build, and automate workflows visually without requiring any coding skills.
App Integration: Connect all your tools and manage your processes in one single platform. Choose from thousands of ready-made app integrations or connect to any online app with Make's powerful no-code tools.
Workflow Templates: Get inspired by thousands of free workflow automation templates. Customize them to match your ideal workflows.
Notifications and Alerts: Receive notifications and alerts when tasks are completed, or when there are any issues or errors in your workflows.
Analytics and Reporting: Monitor your workflows' performance with analytics and reporting features and gain insights into areas for improvement.
Custom API: Use Make's custom API to connect with any tool or platform and build custom integrations to suit your needs.
Pricing:

Zapier
Zapier is a powerful automation tool that allows users to easily connect the apps they use for work, saving them time without any coding required. With Zapier, users can automate a variety of tasks, including sales outreach, lead flow, to-do lists, team updates, social posts, and more.
Key features:
Multi-Step Workflows: Zapier allows users to create automated workflows that do more than just one thing, with up to 100 steps.
Conditional Logic: Users can add customized if/then logic to their workflows, so they work exactly how they want, but automatically.
Data Formatting: Zapier makes it easy to transform data from one app into the right format before passing it on to another app,without requiring a data science degree.
Pricing:
Roomgpt
RoomGPT is an AI assistant that helps you design and decorate your room with ease. Whether you need to find the best furniture, color scheme, layout, or style for your space, RoomGPT can assist you with its powerful computer vision and natural language understanding capabilities.
Key features:
A virtual reality mode that lets you see how your room would look like in 3D and interact with the objects.
A smart and creative AI that generates realistic and personalized suggestions for your room based on your preferences and budget.
Pricing:
TinyWow
TinyWow is a versatile and easy-to-use online tool that offers a variety of features, including background and object removal, PDF creation and text extraction, an AI image generator, and chart creation. With its free and no sign-up required policy, TinyWow is a great choice for anyone looking to solve problems of all types quickly and easily.
Key features:
Remove the Background From an Image
Remove Objects From a Photo
Create PDF
AI Image Generator
Create a round profile photo from any image of yourself
Create a chart and download the image
Extract the Text from a PDF Document to a Word File
Otter
OtterPilo is an AI meeting assistant that revolutionizes the way you take meeting notes and collaborate with your team. With its advanced AI capabilities, OtterPilo records audio, writes notes, automatically captures slides, and generates summaries, making it easy to keep track of key details and stay aligned with your team.
Key features:
Fast note-taking and collaboration: With OtterPilo, you can write notes and summarize meetings up to 30x faster than traditional note-taking methods. Collaborate with your team in the live transcript by adding comments, highlighting key points, and assigning action items.
Automated meeting notes: Connect OtterPilo to your Google or Microsoft calendar, and it can automatically join and record your meetings on Zoom, Microsoft Teams, and Google Meet. Follow along live on the web or in the iOS or Android app, saving you time and hassle.
Automated slide capture: When someone shares slides during a virtual meeting, OtterPilo automatically captures and inserts them into the meeting notes, providing complete context of the content that was discussed.
Automated summary: After the meeting, OtterPilo generates and emails a summary that allows you to easily recall and share key information, saving you time from having to revisit the entire transcript.
FLOWGPT
FlowGPT is a community-driven platform for sharing, discovering, and learning helpful ChatGPT prompts that can increase productivity. It has search and filter options that allow users to easily find prompts related to specific topics or categories, such as writing, productivity, creativity, and more. The platform relies on its community to share and discover helpful ChatGPT prompts, creating a collaborative and dynamic space for productivity enthusiasts.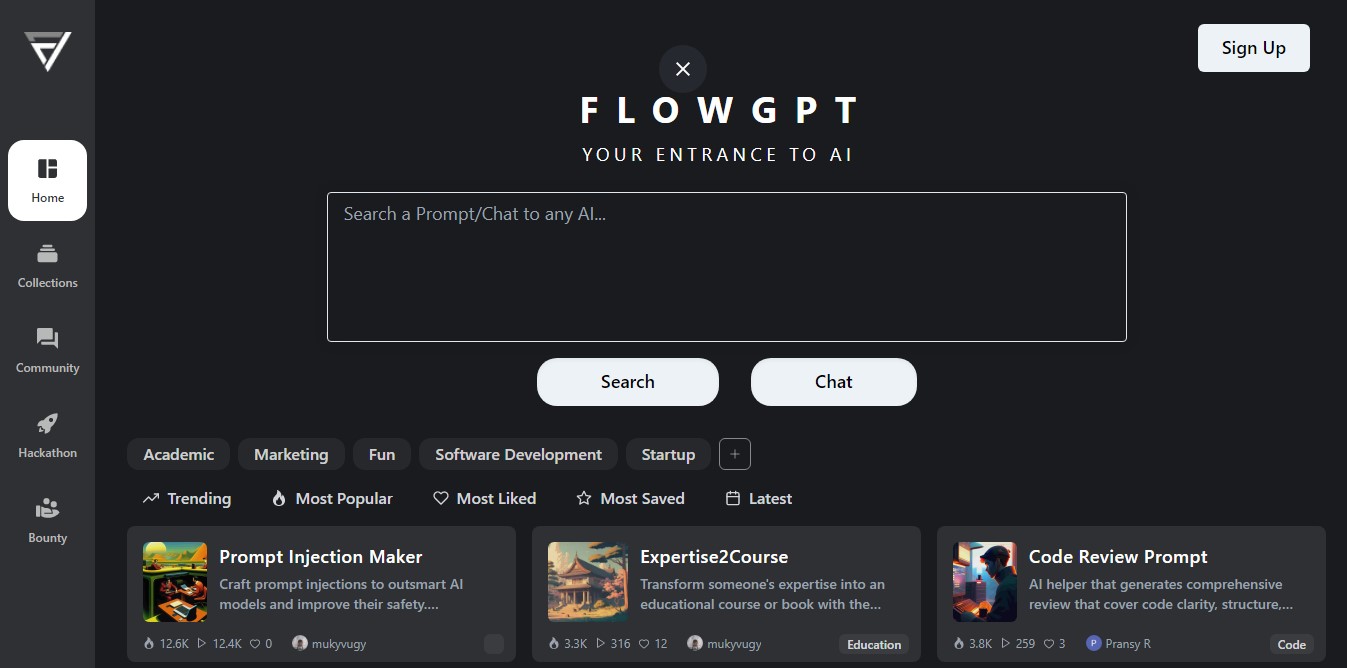 Key features:
FlowGPT lets users customize their text generation by choosing from different tones, lengths, formats, and languages. Users can also specify the keywords or topics they want to write about, or use one of the predefined templates for common scenarios.
FlowGPT has search and filter options that allow users to easily find prompts related to specific topics or categories, such as writing, productivity, creativity, and more.
FlowGPT is a chatbot tool designed to simplify conversation management by enhancing structure and clarity. With its user-friendly canvas interface, users can easily manage conversations while keeping a keen eye on the big picture
Taskade
Taskade is a powerful productivity tool that helps individuals and teams stay organized and productive.
Key features:
Tasks and Projects: Users can organize and visualize their tasks, notes, and projects in various views like list, board, calendar, mind map, org chart, and action views.
AI Chat Assistant: Taskade's AI Chat Assistant helps users brainstorm, coordinate tasks, and collaborate with team members right inside their projects.
Notes and Docs: Taskade offers a smart, structured outlining experience that mirrors the natural organization of the brain. Users can create infinite connections and levels of hierarchy with real-time syncing.
Mind Maps: Taskade uses AI to generate new ideas and transform them into dynamic workflows. Users can turn thoughts into action items and track progress across different views.
Video Chat: Taskade offers built-in video chat, screen sharing, and real-time syncing for effective collaboration during meetings with team members and clients.
Pricing:
Superhuman
Superhuman is an AI-powered email client that offers a range of features to help you write and manage your emails more efficiently.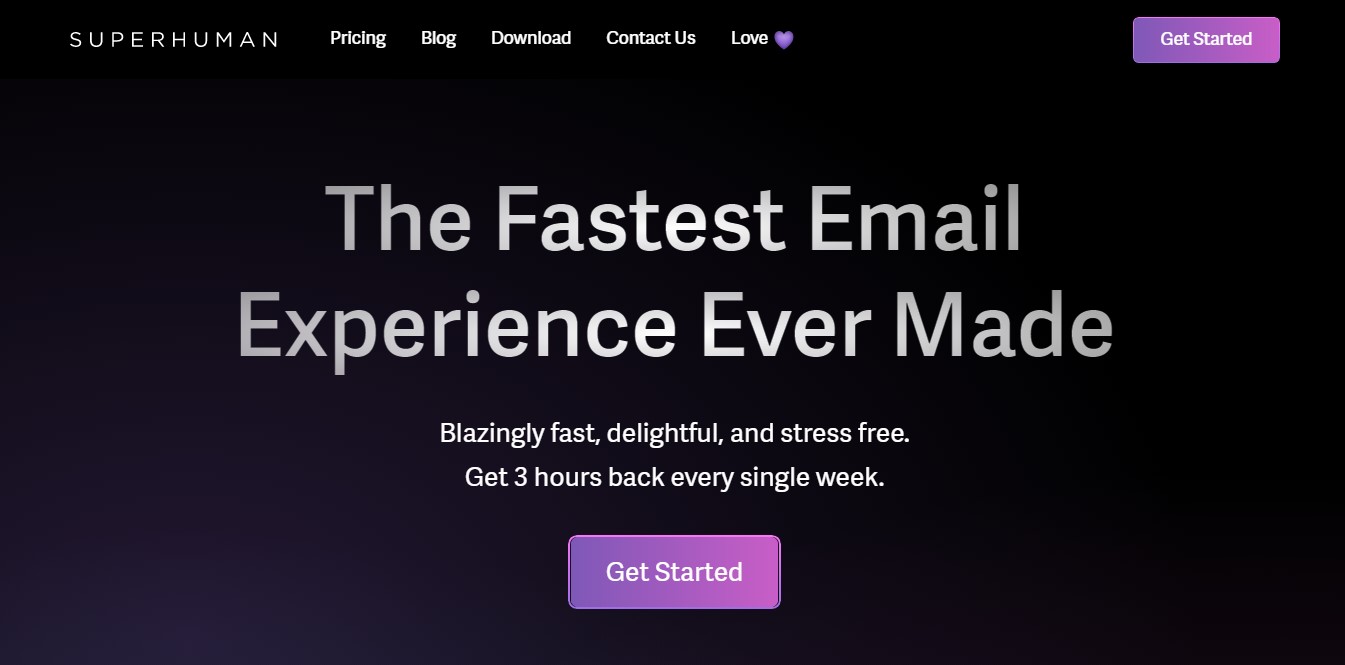 Key features:
One-line email writing: With Superhuman AI, you can write entire emails with just one line. Simply jot down some phrases, and the software will turn them into a full email.
Automatic email triage: Superhuman helps you prioritize your emails by automatically triaging them. You can choose a time to follow up on emails, and the software will remind you to do so if you don't hear back by then.
Snippets: Superhuman lets you automate phrases and entire emails, saving you valuable time.
Snooze emails: You can snooze emails for later in Superhuman, helping you keep your inbox clutter-free and reducing email anxiety.
Read statuses: Superhuman lets you see when people read your email and on which device. You can use read statuses to follow up with just the right message.
Autocorrect: Superhuman's autocorrect feature helps you fix errors as you go, speeding up your typing by 30-50%.
Team read statuses: Superhuman lets you share read statuses across your team, helping you communicate and collaborate more effectively.
Collision avoidance: Superhuman lets you see when your team is replying, helping you avoid embarrassing collisions.
Pricing:
ChatDOC
ChatDOC is an AI-powered file-reading assistant that allows users to chat with their documents and get instant answers with cited sources.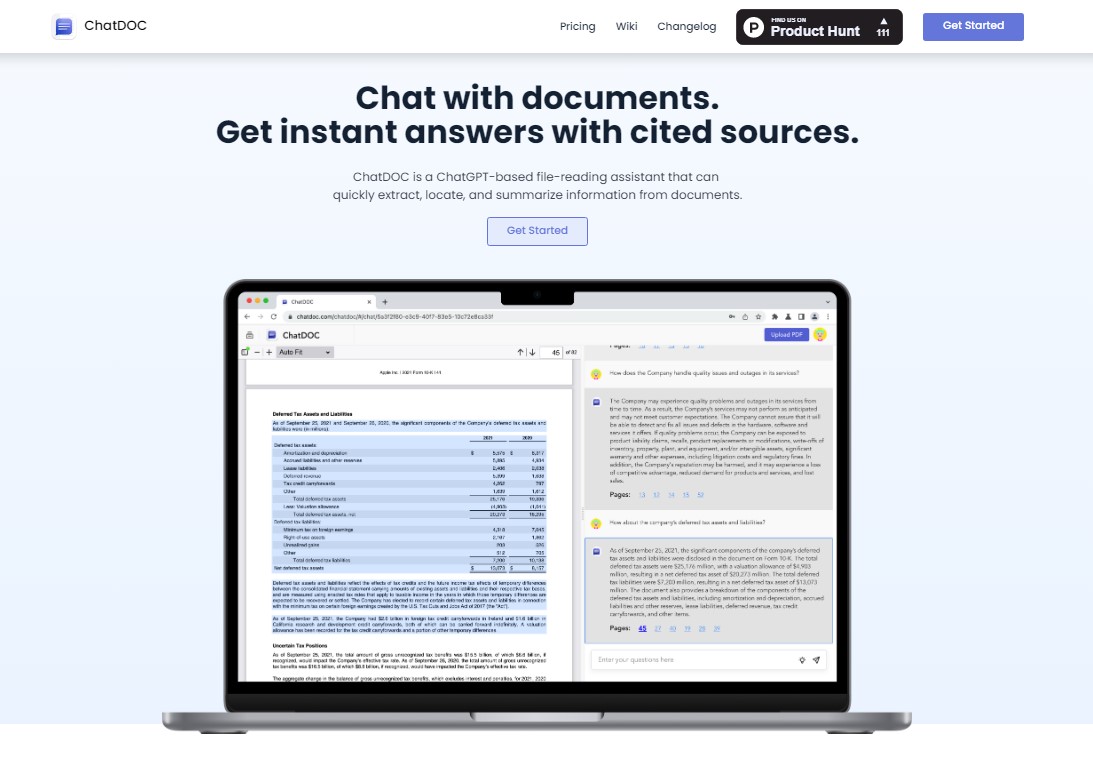 Key features:
Instant answers: ChatDOC can quickly extract, locate, and summarize information from documents, allowing users to get easy-to-understand answers within seconds.
Threaded conversations: Users can start a thread to ask follow-up questions and have the AI clarify or expand on a response.
Query multiple files: ChatDOC allows users to upload a folder of files and chat with them, creating a customized database for each file collection.
Selective questioning: Users can select tables or texts from their documents and ask targeted questions to get more accurate answers.
Pricing: $5.99/mo
DeepL
DeepL is an AI-powered language tool that offers a range of features to help users perfect their writing and enhance their translations.
Key features:
Alternative translations: Users can select alternative words or phrases for their translations, saving them time and effort.
Translate whole documents: Users can translate entire documents with one click, and all translated documents maintain their original formatting.
Formal and informal tone of voice: Users can choose between formal and informal tone of voice to adapt their translations to fit their target audience.
Create glossaries: Users can customize their translations with the right words and phrases for their context by specifying how words and phrases are translated.
Integration with CAT tools: Users can integrate DeepL translations directly into their computer-assisted translation (CAT) tools, allowing them to pre-translate their files automatically and keep their text's original formatting.
Pricing: Free