Discover the top 10+ Best AI Art Tools that push the boundaries of creativity! Unleash your artistic potential with these cutting-edge AI-powered platforms designed to transform your artwork into masterpieces. From image generation and style transfer to enhancing photo-realism and creating mesmerizing visual effects, these tools offer an array of features to elevate your artistic expression. Whether you're an aspiring artist or a seasoned professional, these AI art tools will ignite your imagination and take your creations to new heights. Get ready to explore a world of endless possibilities and redefine art with the power of AI!
10 Best AI Art Tools for Shopify
Midjourney AI
Experience the transformative capabilities of Midjourney AI, a cutting-edge text-to-image tool that effortlessly generates high-quality image content. With user-friendly simplicity, users provide straightforward prompts outlining their requirements, and the AI takes it from there, delivering stunning results in a matter of seconds. Embrace the power of artificial intelligence, redefining creativity and revolutionizing the way we perceive the world. Discover the future of image generation with Midjourney AI, where seamless technology meets artistic brilliance.
Key features:
High-quality images: Midjourney is known for producing well-structured, defined and realistic images, making it a strong competitor among other AI tools such as DALL-E and Stable Diffusion.
High image resolution: Midjourney can generate images with resolutions of up to 1,792 x 1,024 pixels, allowing more space and detail in the images created.
Freemium model: Midjourney offers a limited number of free image creations, allowing users to test the service before committing to a paid plan. Paid plans offer faster processing, additional features, and greater imaging capabilities.
Easy to use platform: Midjourney works through Discord, a widely used chat platform. Users can interact with the AI bot using simple commands, making it accessible even to those with no coding experience.
Customization: Midjourney provides a variety of commands and parameters to help users fine-tune their image creations, allowing for greater control over the final result.
Active Community: The Midjourney Discord server provides an active community where users can share their creations, ask questions, and receive help from both other users and the Midjourney team.
Continuous development: The Midjourney team continuously works to improve and expand AI capabilities, ensuring the tool stays up-to-date and relevant in the ever-evolving AI landscape.
Pricing: Free trial
NightCafe Studio
Welcome to the world of NightCafe Studio, the AI-powered art generator app that unlocks boundless creative possibilities. Whether you're an aspiring artist, a designer seeking inspiration, or an art lover with a passion for innovation, NightCafe Studio has something to offer. With its intuitive interface and advanced AI technology, you can effortlessly create stunning artworks that push the boundaries of traditional art. Embrace the fusion of human creativity and artificial intelligence as you explore unique art styles and techniques. Join a vibrant community of AI art creators and immerse yourself in the limitless world of art possibilities with NightCafe Studio.
Key features:
Multiple AI art generation methods: Neural style transfer, text-to-image AI, and style mixing for unique creations
Free access: Generate, tweak, and download up to 28 artworks per day for free, available online and on Android and iOS
Power user tools: Bulk creation, bulk download, duplication, evolution, and upscaling for advanced users
Community interaction: Share, browse, like, and comment on creations within the supportive NightCafe community
Print options: Print AI-enhanced creations on high-quality, durable matte paper for a museum-quality finish
Pricing: Freemium
Easy-Peasy.AI
Whether you're a content creator, marketer, or business owner, this innovative tool is designed to simplify and elevate your content strategy.
With Easy-Peasy.AI, crafting high-quality and engaging content becomes effortless. Say goodbye to time-consuming manual processes and embrace the convenience of AI-generated content. It's the perfect solution for content creators looking to boost productivity, marketing teams seeking captivating copy and visuals, and businesses striving for an edge in their content marketing efforts.
Key features:
AI copywriting templates: Over 80 templates to craft engaging and professional copy
AI images: Generate stunning visuals with ease
AI transcription: Quickly and accurately transcribe audio content
AI buddy, Marky: Receive assistance from an AI buddy through natural language conversation
Pricing:
Monthly
Yearly
Pixelicious
Pixelicious, the ultimate online image to pixel art converter! Transform your images into stunning pixel art with just a few clicks. Pixelicious is a game-changer for game developers, artists, and enthusiasts alike. Whether you're seeking retro-style visuals for your projects, creating pixel art from existing images, or simply exploring this creative medium, Pixelicious has got you covered. Unleash your creativity and embark on a pixel art journey with Pixelicious today!
Key features:
Easy conversion: Upload an image and select the desired level of pixelation
Automatic transformation: Converts images into retro-style pixel art masterpieces
Downloadable pixel art: Use the generated pixel art in game development
Part of Scenario platform: Designed to support game developers
Pricing: Free
PlayARTi
Step into the world of art with PlayARTi, the AI-powered tool that revolutionizes digital artwork creation. Whether you're a designer in need of a quick and effortless solution, a business owner seeking stunning logos and website designs, or an art enthusiast eager to explore digital art without the complexity, PlayARTi has you covered. Embrace your creativity and unlock the endless possibilities with PlayARTi today. Simplify your art journey and let your imagination run wild!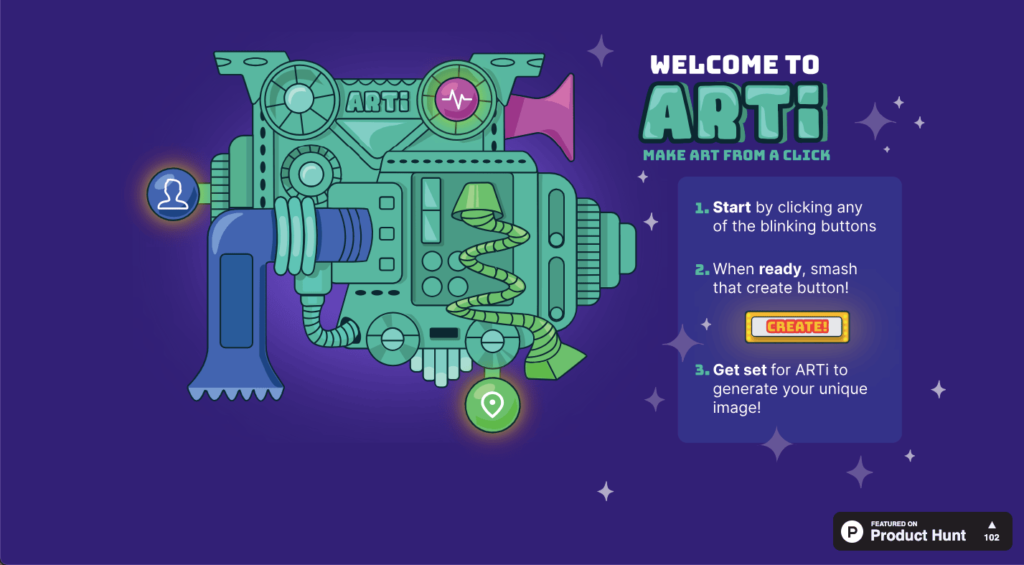 Key features:
Advanced algorithms: Generate unique artwork from various sources, such as images, photos, and videos
Customization: Select preferred colors, shapes, and textures for personalized creations
Versatile applications: Use generated artwork for website designs, logos, and digital art projects
Family Friendly: Can be used to generate artwork for kids
Pricing: Free
Playground AI
Welcome to Playground AI, your free-to-use AI image creator, tailored to unleash your creative potential. Whether you're an artist seeking AI-generated masterpieces, a social media manager crafting visually captivating posts, or a designer working on presentations, posters, videos, and logos, Playground AI is your ultimate playground of creativity. Let the power of AI fuel your imagination and turn your ideas into stunning visual realities. With Playground AI, the possibilities are limitless, and your creativity knows no bounds. Start creating and let your imagination run wild with Playground AI today!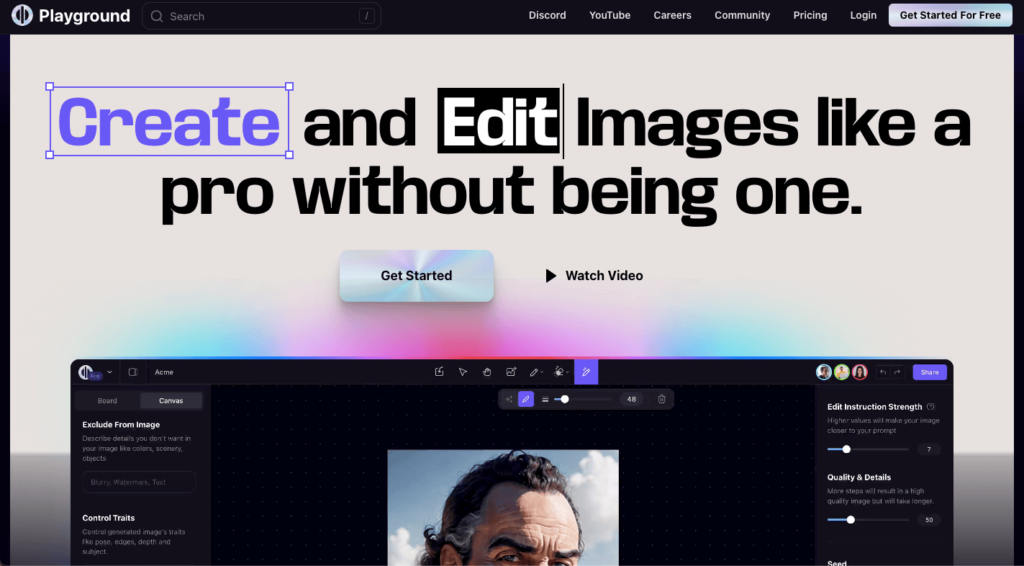 Key features:
AI-driven algorithms: Generates images from text prompts in various styles, such as analog, pltn, geo2099, retrofuturism, olpntng, and water Genasi
High-quality images: Detailed, photorealistic images with dynamic lighting and volumetric effects
Customization: Adjust images for a unique look and feel, with options for 4K and 8K resolution
Platform compatibility: Works seamlessly with Unreal Engine, Octane Render, and Studio Ghibli
Pricing:
Civitai
Discover Civitai, the online platform that simplifies the process of sharing and exploring AI art resources. Easily upload and share your art-generating models, or explore and download models crafted by fellow users. Engage with a lively community of AI artists, fostering a supportive space to exchange ideas and experiences. Civitai empowers you to unlock the full potential of AI art creation, connecting you with a dynamic network of like-minded creators.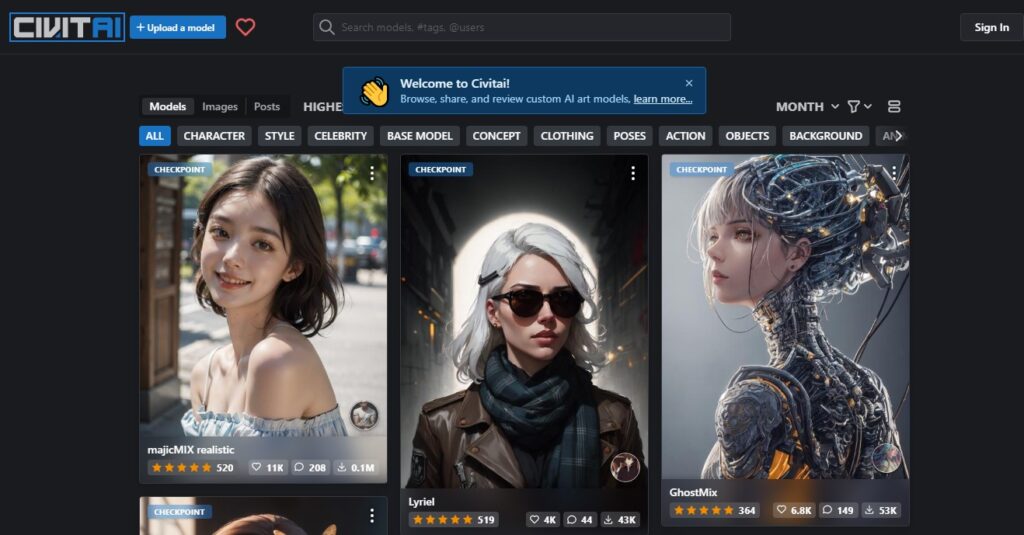 Key features:
Generate unique AI art with Civitai's models.
Share your creations and gain valuable feedback.
Explore a vast selection of AI artwork.
Pricing: Free
Fy! Studio
Powered by artificial intelligence, Fy! Studio empowers art enthusiasts, designers, and creative individuals to craft truly unique and captivating masterpieces. Unleash your artistic potential with the seamless integration of AI technology, opening up a realm of possibilities for expressing your creativity. Whether you're seeking to enhance your projects with AI-generated art or embark on a journey of artistic exploration, Fy! Studio is your gateway to limitless creativity. Join the growing community of artists and creators at Fy! Studio and unlock the true magic of AI-powered artistry.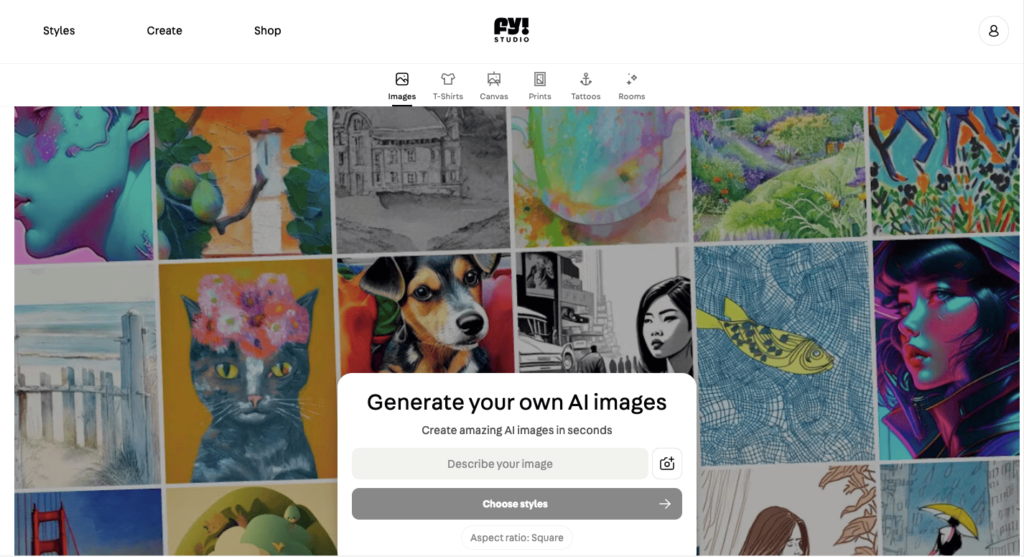 Key features:
AI-generated art: Access a library of existing AI-generated pieces or upload and customize your own images
Personalization: Add personal touches to make the artwork truly unique
User-friendly interface: Easily create AI-generated art without understanding complex AI or machine learning concepts
Advanced customization: Modify color palettes, textures, and more for further personalization
Pricing: Free
Kiri.Art
Introducing Kiri.Art, the cutting-edge Progressive Web App (PWA) powered by Stable Diffusion's Machine User Interface (MUI) for stunning image generation from text inputs. This user-friendly platform offers an intuitive interface and versatile features, making creativity effortlessly accessible.
Ideal for graphic designers, artists, and content creators seeking customized visuals for their projects, Kiri.Art excels in enhancing and enlarging existing images for unrivaled clarity. Embrace the spirit of community sharing and collaboration in the image generation process, and join the vibrant ecosystem of developers and enthusiasts contributing to open-source projects. Experience the magic of AI-driven artistry with Kiri.Art today.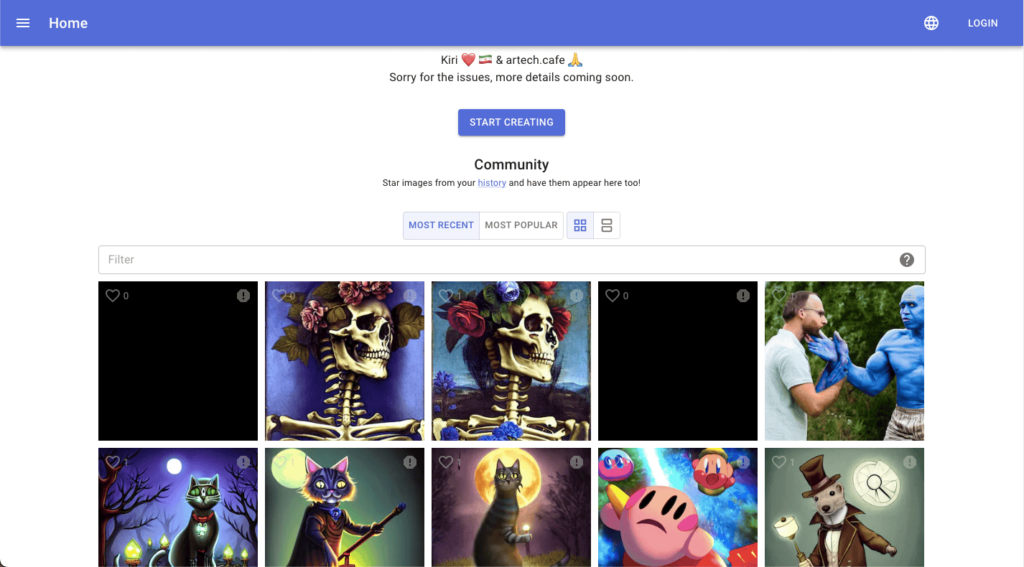 Key Features:
Machine User Interface (MUI): Utilize Stable Diffusion's Machine User Interface to generate images from text inputs.
Versatile Image Generation: Generate single or multiple images from text, as well as images based on pre-existing images.
Upscaling Feature: Enlarge images for enhanced clarity and detail.
Credit-Based System: Purchase credits in bundles for flexible and accessible pricing.
Switchable Providers: Switch between different providers for uninterrupted access to image generation capabilities.
Community Sharing: Share and view generated images within the Kiri.Art community.
Open-Source Development: Engage in discussions, report bugs, and request features on the official forum.
Pricing:
Free Trial –

Paid plans start from $3
Color Anything
Discover Color Anything, an ingenious AI-driven tool enabling users to craft their personalized coloring pages. Featuring a diverse image collection, spanning animals, characters, and everyday objects, Color Anything opens the door to boundless creative expression. Unleash your imagination and immerse yourself in the joy of customizing coloring pages with Color Anything.
Key Features:
Comprehensive Image Library: Wide range of images, including animals, characters, and everyday objects.
Customization Options: Choose from black pen, black and white only, simplified, or outline-only coloring options.
User-Friendly Interface: Easy-to-use interface for a seamless coloring experience.
Personalized Coloring Pages: Create unique and custom coloring pages in just a few clicks.
Pricing: Free
AIArt.fm
AIArt.fm is an innovative online platform that showcases a captivating collection of imagery created by artificial intelligence. With its diverse range of tools and artwork, AIArt.fm allows users to both create and explore AI-generated art.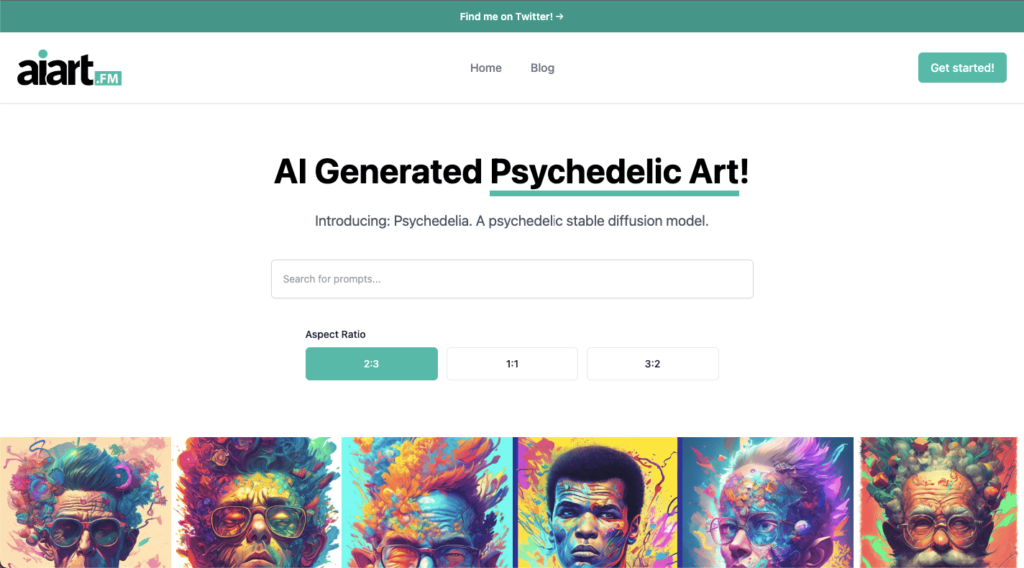 Key features:
Diverse Artwork Collection: AIArt.fm showcases a wide range of AI-generated art, including detailed line art, atmospheric scenes, and more.
Creative Tools: The platform provides a variety of creative tools, such as Pop Art portraits, pastel landscapes, and glowwave portraits.
Cutting-edge Technology: AIArt.fm utilizes advanced technologies and collaborations with industry leaders like Pixar, DreamWorks, Warner Bros, Disney, Riot Games, and Overwatch to ensure high-quality and visually stunning artwork.
Inspiration and Exploration: Users can explore the collection of AI-generated art to find inspiration and discover new forms of artistic expression.
Pricing: Free