Enhance your Shopify store's audio content effortlessly with these cutting-edge AI-powered tools. Boost your customer experience with top-notch audio quality, seamless editing features, and personalized soundscapes. From automated audio editing to smart noise reduction, these tools will revolutionize your Shopify store's audio presentation. Elevate your brand with engaging audio content that captures your audience's attention and leaves a lasting impression. Discover the power of AI audio editing tools and take your Shopify store to new heights!
9 Best AI Audio Editing Tools for Shopify
Fliki
Welcome to the world of efficient content creation with Fliki, an AI-powered text-to-video and text-to-speech tool! Whether you're a marketing professional, educator, or business owner, Fliki has got you covered. Say goodbye to time-consuming video production and hello to engaging video content in just a few clicks. Create visually appealing videos and develop instructional materials with lifelike voices, all powered by advanced AI technology. Enhance your brand presence and captivate your audience with Fliki's seamless content creation capabilities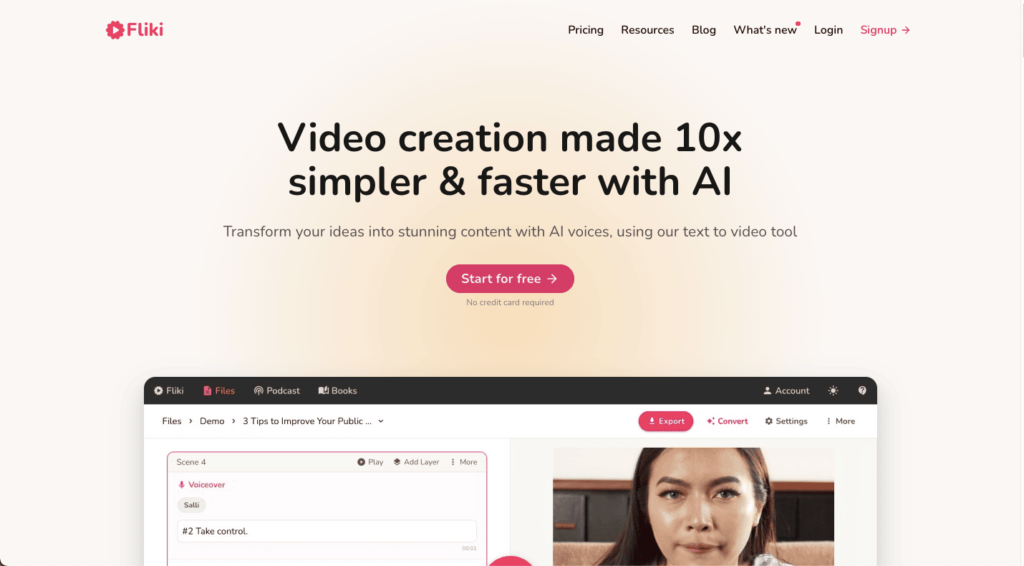 Key features:
Life-like voices: Over 900 voices in 75 languages and dialects for realistic voiceovers
Visual and audio resources: Millions of images, video clips, and background music options
Branded subtitles: Customizable colors and fonts for subtitles
Trusted by top companies: Used by 150,000+ content creators from renowned organizations
Pricing:
Monthly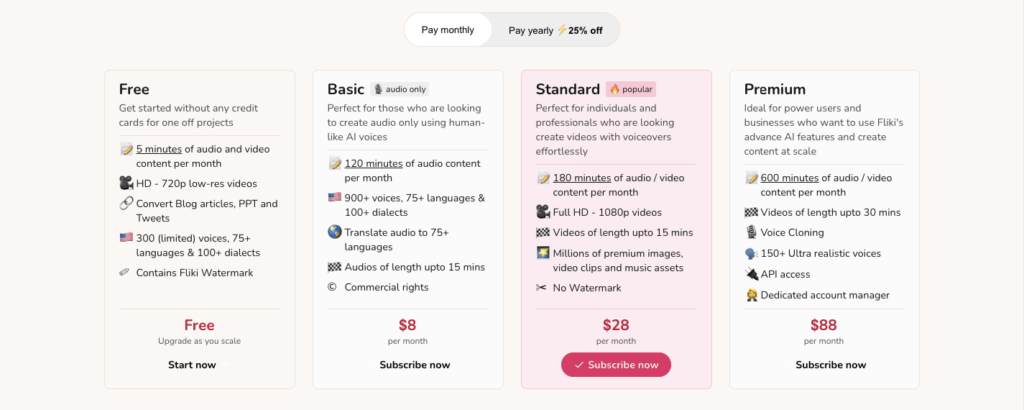 Yearly
Audyo
Step into the world of cutting-edge voice editing with Audyo, an AI-powered tool that revolutionizes the way we interact with audio. By simply typing, Audyo generates and edits human-like voices, providing a seamless and efficient audio editing experience. Say goodbye to complex and time-consuming voice recording and editing processes. With Audyo, you can effortlessly create, modify, and fine-tune voices with astonishing realism. Whether you're a content creator, voiceover artist, or business owner, Audyo empowers you to bring your ideas to life with unmatched ease and precision.
Key features:
Easy audio creation: Generate high-quality audio content by simply editing words, rather than manipulating waveform data
Customization: Switch speakers and tweak pronunciations using phonetics for greater control over the resulting audio
Convenience: Access Audyo through sign-in with Google for a seamless user experience
Pricing:
Krisp
Discover the power of crystal-clear communication with Krisp, the AI-powered noise-canceling app perfect for online meetings and calls. Say goodbye to background noise and distractions, and say hello to smooth and productive conversations. Whether you're a remote worker seeking clear virtual meetings, an educator aiming to create a seamless virtual classroom, or a business looking to elevate communication quality during conferences and client calls, Krisp has got you covered. Experience the future of noise-canceling technology and take your online interactions to a whole new level with Krisp.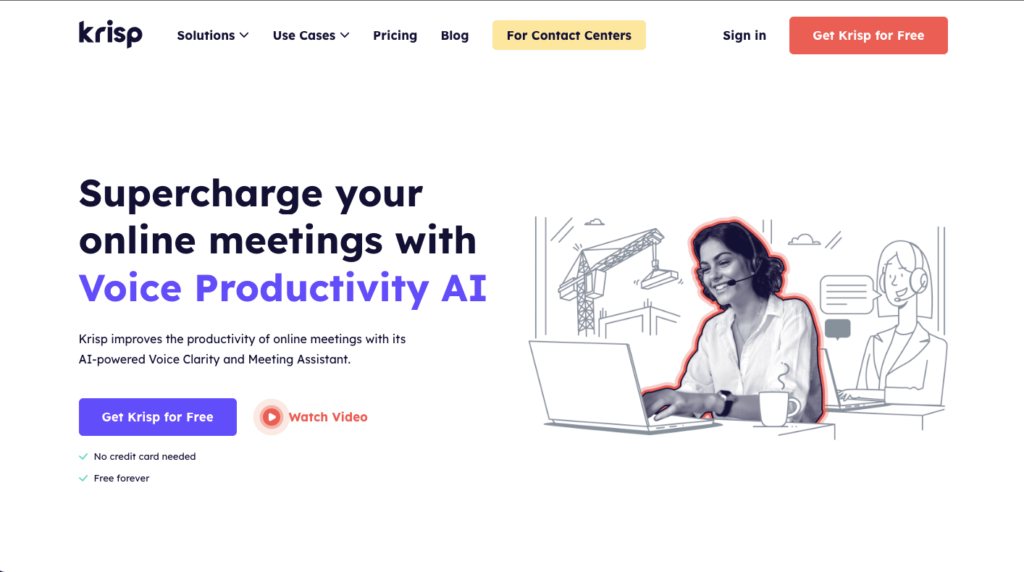 Key features:
Background noise removal: Eliminates voices, noises, and echoes for distraction-free conversations
AI-driven: Utilizes advanced AI technology for effective noise cancellation
Compatibility: Works on both Mac and Windows with a single-click setup
Security: Ensures data privacy with encryption and no audio data collection
Insights: Provides talk time, meeting engagement, and call summaries for improved communication
Pricing:
Monthly 
Yearly
FineShare FineVoice
FineShare FineVoice is an AI digital voice solution that comes with an amazing real-time voice changer, studio-quality voice recorder, fast and accurate automatic transcription, and a realistic AI voice generator. Based on an AI speech processing algorithm, FineVoice can easily color your voice and help you enhance and customize your voice.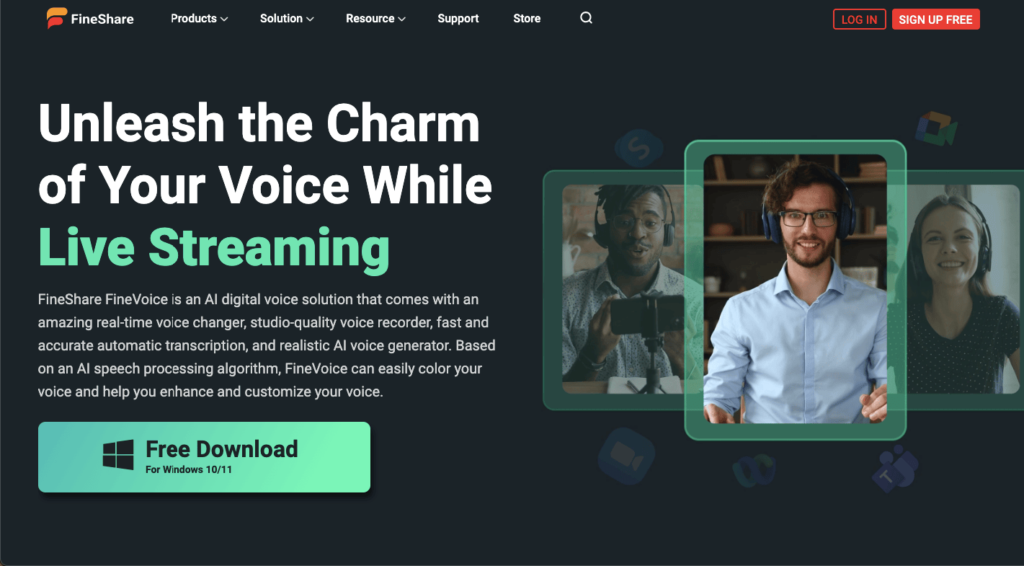 Key features:
Voice Transformation: Modify voices to different styles and personas.
Audio Effects: Apply environmental and device effects to simulate different settings.
Voice Conversion: Convert text into a wide range of celebrity voices.
Transcription: Transcribe audio into written text with accuracy and speed.
Voice Labo: Access 28 audio effects to customize and create unique voice identities.
Sound Capture: Capture sounds from computers, iPhones, microphones, and apps.
Streaming and Recording Integration: Output captured sounds to streaming and recording apps.
Compatibility: Works with popular chat, gaming, and streaming applications and platforms.
Pricing: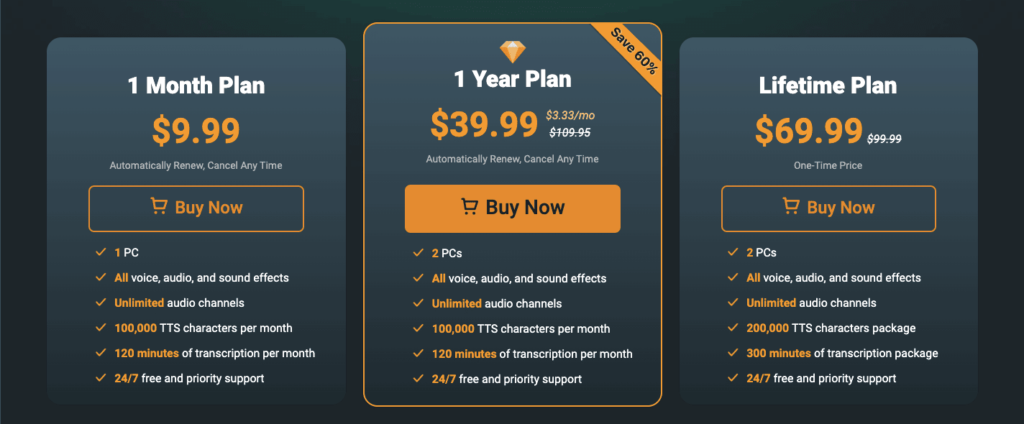 Castmagic
Unlock the magic of content transformation with Castmagic! This AI-powered tool turns long-form audio into evergreen content assets, saving time for podcasters, YouTubers, coaches, and professionals. Repurpose your content, automate session materials, and say goodbye to tedious tasks. Embrace the future of content creation with Castmagic today!
Key features:
Automated content creation: Converts audio into transcriptions, show notes, summaries, highlights, quotes, and social posts
Customizability: Fine-tune your prompts to create any content asset, with the tone and format to match your needs.
Integration: Compatible with tools like Slack and Zoom for seamless workflow
User-friendly: No coding required and available on multiple platforms, including macOS, Windows, Linux, iOS, and various browsers
Pricing:
Monthly
Annually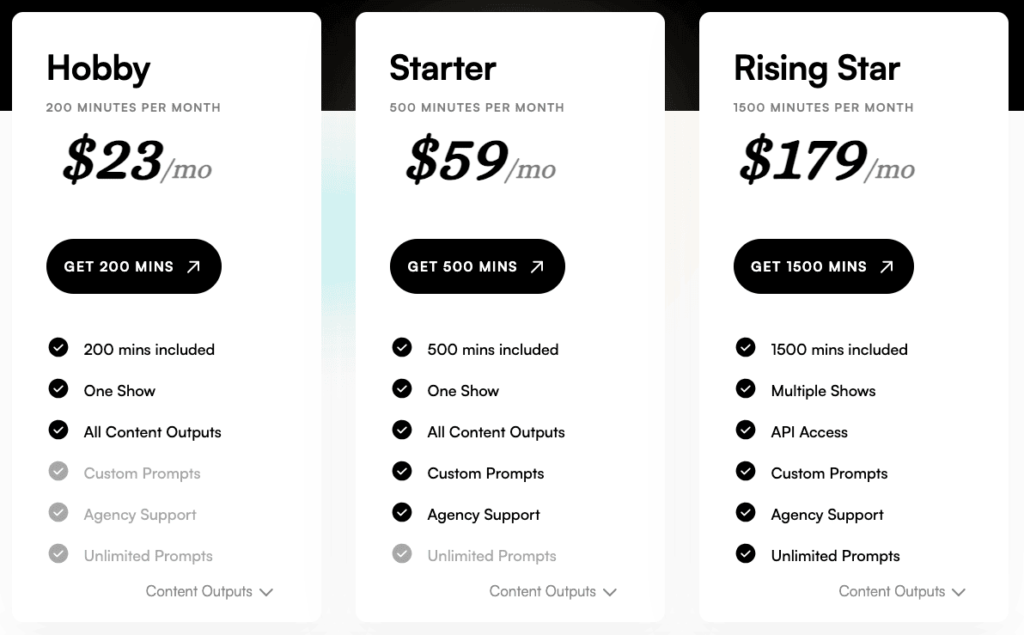 Adobe Podcast
Experience pristine audio quality like never before with Adobe Podcast. Eliminate background noise and echoes, and unlock top-notch sound from your microphone using AI-powered tools. Perfect for podcasts, videos, and multimedia projects, this web-based platform optimizes your microphone settings, making recording and editing audio a breeze. Step up your audio game with Adobe Podcast today!
Key Features:
Speech enhancement: Remove background noise and echoes for clearer audio.
Mic Check: Optimize your microphone's sound quality.
Web-based tools: Easily access and use the tools online.
Pricing: Free
Ezdubs.ai
EzDubs is a groundbreaking AI tool designed to revolutionize language accessibility in videos and livestreams. With its real-time AI dubbing capabilities and voice preservation technology, EzDubs enables viewers from diverse demographics to engage with content in their native language, breaking down language barriers and fostering inclusive communication.
Key features:
Real-time AI dubbing: Enable real-time translation and dubbing of videos and livestreams, breaking down language barriers instantly.
Voice preservation: Maintain the original voice and tone of the content while providing translation, ensuring a natural viewing experience.
Wide language support: Support a comprehensive range of source and target languages, catering to a diverse global audience.
Platform compatibility: Seamlessly integrate with popular content platforms like YouTube, Twitter, and CNN to offer multilingual content across the internet.
On-demand translation: Provide automated translation capabilities that can be accessed instantly as per user demand.
Pricing: Free
Databass
Welcome to Databass, the AI-powered tool that revolutionizes the audio landscape, empowering creators to unleash their sonic ingenuity. With Databass, you can create rich, immersive, and high-quality audio experiences that captivate your audience. Join our vibrant community of creators, where you can connect, share your work, and receive valuable feedback from peers. Embrace the future of audio creation with Databass and let your creativity soar.
Key features:
Community-based platform: Collaborate, share ideas, and inspire each other with creators from all over the world
AI-based audio creation tools: Access and integrate a wide range of tools for sound synthesis, beat-making, editing, and processing
Advanced machine learning algorithms: Generate unique, dynamic, and responsive soundscapes and patterns
Flexible file format support: Seamlessly export and import work into other audio platforms
Affordable pricing model: Access the tool's full range of features at affordable rates
Supportive and inspiring community: Connect, share work, and get feedback from peers
Pricing:
Drum Loop AI
Introducing Drum Loop AI, the innovative AI-powered tool that lets you effortlessly create custom drum loops using audio neural synthesis. With Drum Loop AI, you can quickly generate unique drum loops for your music production and composition needs. Explore different tempos and genres to discover the perfect sound that complements your project. Say goodbye to the tedious task of manual drum loop creation and let AI handle it all for you. Save time and elevate your music with Drum Loop AI's cutting-edge technology.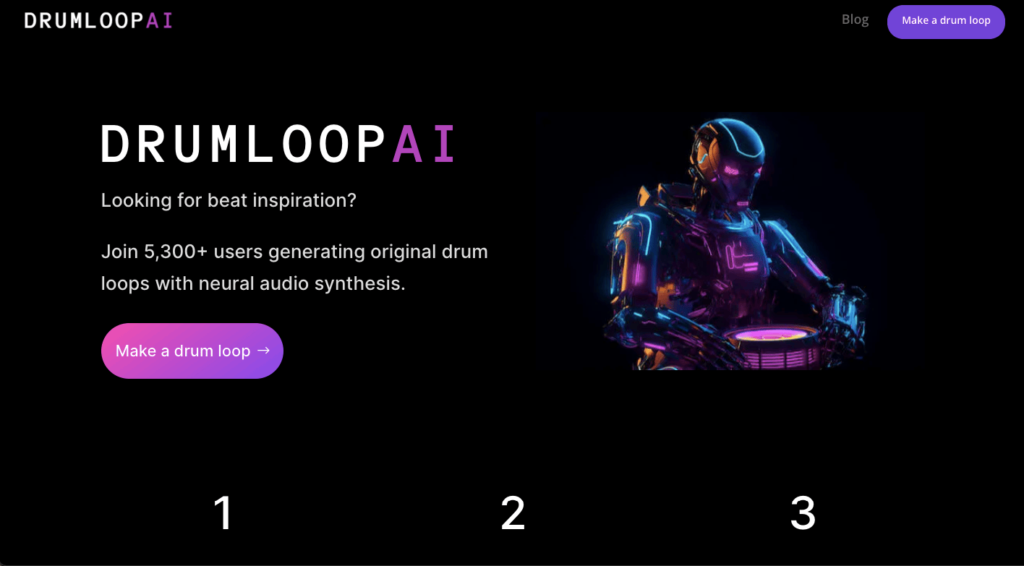 Key features:
Genre selection: Choose from a variety of genres to generate drum loops that fit your style
Adjustable tempo: Modify the tempo of your drum loop to fit your needs
Listen back: Preview your drum loop before downloading to ensure it meets your requirements
Downloadable beats: Download your drum loop in high-quality audio format if you like what you hear
Pricing: Free