Discover the transformative power of AI avatars in revolutionizing customer support across diverse industries. Unleash the potential of virtual assistants, enhancing user engagement through personalized interactions, leading to increased customer satisfaction. Dive into the world of gaming with AI avatars, bringing realistic and interactive characters to life, and elevating the gaming experience to new heights. Unlock the secret to successful marketing campaigns by leveraging AI avatars to create personalized experiences that captivate audiences and boost conversion rates. Embrace the future of customer support with AI avatars, delivering cost-effective and efficient solutions for your business.
10 Best AI Avatar Generator
ChatAvatar
ChatAvatar, crafted by Deemos Inc., stands at the forefront of AI-driven innovation, empowering users to craft personalized 3D avatars, perfect for enriching chat applications and diverse online engagements. With cutting-edge AI technology and intuitive text guidance, this tool seamlessly generates stunning, animatedly 3D faces, each meticulously tailored to suit individual preferences. Immerse yourself in a realm of limitless creative possibilities as ChatAvatar revolutionizes the way you interact online with uniquely customized 3D avatars.
Key features:
AI-Powered Avatar Generation: Utilizes AI technology to create customizable 3D avatars.
Progressively Animatable Faces: Generates avatars with animatable facial expressions.
Customization Options: Allows users to personalize avatars based on appearance, age, gender, and traits.
Creation of Unique Avatars: Enables users to design their avatars by specifying various details.
Pre-Existing Avatar Collection: Offers a diverse range of pre-existing avatars inspired by popular culture and real-life personalities.
Compatibility and Usage: Suitable for chat applications, online gaming, and social media profiles.
Payment Options: Supports Paypal, Alipay, and code redemption for accessing premium features.
Pricing: Free
MindOS
Discover the boundless knowledge and wisdom at MindOS, an exceptional AI-powered marketplace where you can engage with AI Beings tailored to your every inquiry. Seek travel advice from a specialized AI Being that knows the world inside out, or delve into industry insights and stock market trends with an AI companion designed to analyze and interpret these sectors. Embrace the future of information access as MindOS brings forth a realm of personalized guidance and intelligence, opening the doors to a world of endless possibilities and enriching interactions with AI Beings.
Key Features:
Converse with AI Beings: The platform allows you to interact with AI Beings, asking them anything within their realm of knowledge.
AI as Advisors: These AI entities can serve as your personal advisors, providing guidance on travel, industry trends, stock market moves, and more.
Infinite Possibilities: MindOS enables you to tap into the vast capabilities of artificial intelligence, unleashing endless possibilities for obtaining and utilizing knowledge.
Pricing: Free
Profile Picture AI
Welcome to ProfilePicture.AI, the ultimate AI-powered tool for crafting personalized and distinctive profile pictures that resonate with your identity and style. Whether you're a social media enthusiast, a passionate gamer, or a creative artist, ProfilePicture.AI has got you covered. Create unique avatars that truly reflect your personality, inspire your projects, and set you apart from the crowd. Experience the power and versatility of ProfilePicture.AI as it empowers you to express yourself with confidence and individuality in the digital world. Your profile picture, your identity – embrace the magic of ProfilePicture.AI today!
Key features:
Wide range of styles and characters: Over 311 styles to choose from, catering to various preferences
High-quality output: Generates 4K format (4096×4096) and 300 dpi images, suitable for printing
Privacy-focused: Founded in Holland, the tool respects user privacy
Pricing: starts from $5.8
Lensa
Lensa, the ultimate picture editor for selfies and photo retouching, offers an array of filters and photo-effects to ensure you capture the perfect shot every time. Easily remove blur backgrounds, apply sweet filters, and perform any necessary editing with simplicity and precision. Embrace every moment and freeze them in time with Lensa's seamless photo editing capabilities. No need for a photo lab or dark room – in just seconds, your peachy selfie is ready to shine 365 days a year!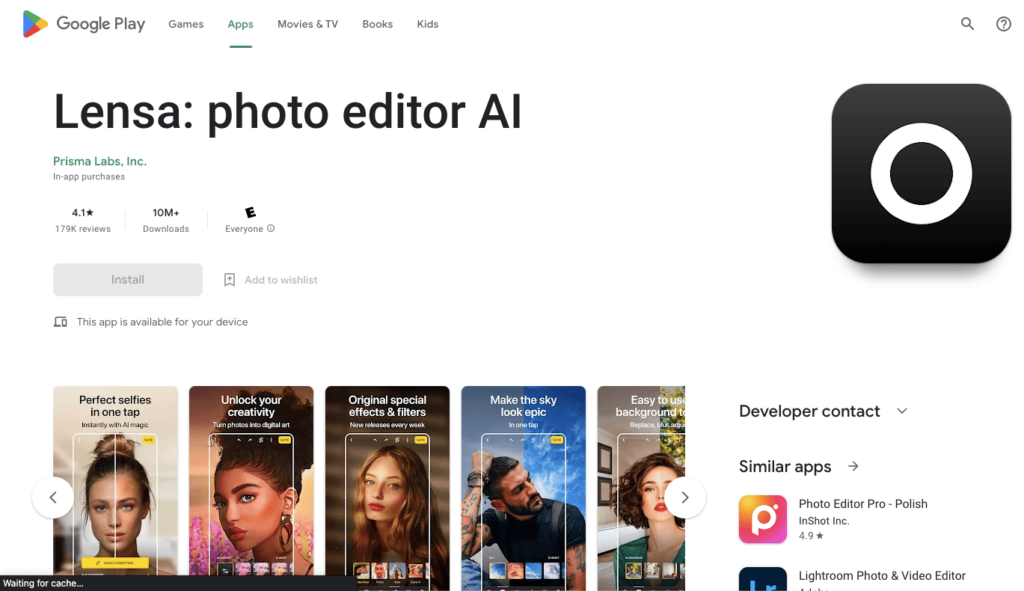 Key features:
Quick Results: Within seconds, you can achieve a flawless selfie or photo edit.
No Need for a Photo Lab: Lensa eliminates the need for a physical photo lab or darkroom.
Filters and Photo-Effects: The app offers a variety of filters and photo-effects to customize your pictures.
Blur Background Removal: Easily remove blur backgrounds for a crisp and focused image.
Simple and User-Friendly: Lensa's features are easy to use, making photo editing a breeze.
Reface AI
Step into the world of face-swapping creativity with Reface, the cutting-edge AI-powered app that empowers users to effortlessly superimpose their faces onto a diverse array of media formats. Whether you're a social media enthusiast looking to craft personalized and entertaining content, a business seeking unique marketing strategies, or a content creator eager to explore the limitless possibilities of AI technology – Reface has got you covered.
Key features:
Realistic face swaps: Advanced facial recognition technology ensures high accuracy and realism.
Versatile media formats: Swap faces in videos, GIFs, memes, and images.
Creative sharing: Create and share face-swapped videos and animated images with others.
B2B solutions: In-app partnerships and solutions for businesses to utilize face swapping technology.
AI labeling compliance: Adheres to the European Union's labeling guidelines for AI.
Avtrs
Avtrs is a revolutionary AI photo editing app that allows users to easily create lifelike avatars tailored to their preferences. Using state-of-the-art technology, this app offers a wide array of customization options, such as skin tones, hairstyles, clothing, and accessories, all at your fingertips with just a few taps. Experience the power of advanced AI and unleash your creativity to craft unique and personalized avatars effortlessly.
Key features:
AI-Powered Avatar Creation: Generate personalized and realistic avatars with customizable features such as skin tones, hairstyles, clothing, and accessories.
Regular Updates and New Content: Enjoy a constantly evolving experience with regular updates and fresh content to explore.
Diverse Virtual Environments: Immerse yourself in a range of virtual environments, from futuristic cityscapes to historical civilizations.
Adventure and Storytelling: Become the hero of your own epic story and embark on thrilling adventures in immersive virtual worlds.
Creative Expression: Express yourself and showcase your unique style and personality through your avatar.
User-Friendly Interface: Enjoy a seamless and intuitive app interface that makes avatar customization easy and enjoyable.
Imagination and Exploration: Unleash your creativity and explore new possibilities in the virtual realms offered by Avtrs.
Pricing: starts from $0.99
Varaverse
Varaverse is a cutting-edge Augmented Reality (AR) Metaverse designed for brands and e-commerce. This immersive platform utilizes the power of AI to provide users with an extraordinary virtual world where captivating experiences come to life. Explore a new dimension of interaction and engagement as you dive into the limitless possibilities of Varaverse.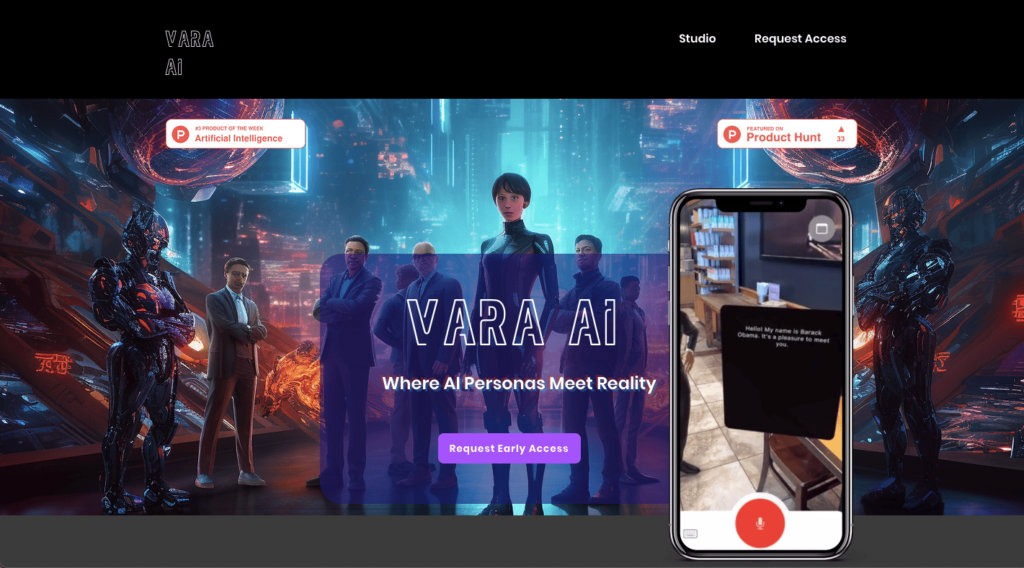 Key Features:
Augmented Reality Metaverse: Offers an immersive AR-based virtual world experience.
AI-Driven Bot: Enhances user interactions and provides features such as land sale and avatar customization.
Integration with Popular Platforms: Integrates with platforms like Discord and Twitter for real-time updates and engagement.
Privacy and Data Security: Implements strict privacy policies and employs advanced security measures to protect user data.
Cookies and Tracking: Utilizes cookies and other technologies to enable essential services and track user interactions.
Pricing: Free
VOGE
VOGE by MetaBrix is a revolutionary app powered by AI, crafting hyper-realistic avatars in minutes. Simply input 10-20 photos following guidelines, and VOGE's AI engine brings your avatar to life, capturing your unique features flawlessly. Redefine your digital presence and explore endless creative possibilities with VOGE's hyper-realistic avatars—a must-have tool for individuals and creative industries seeking innovation and personalization.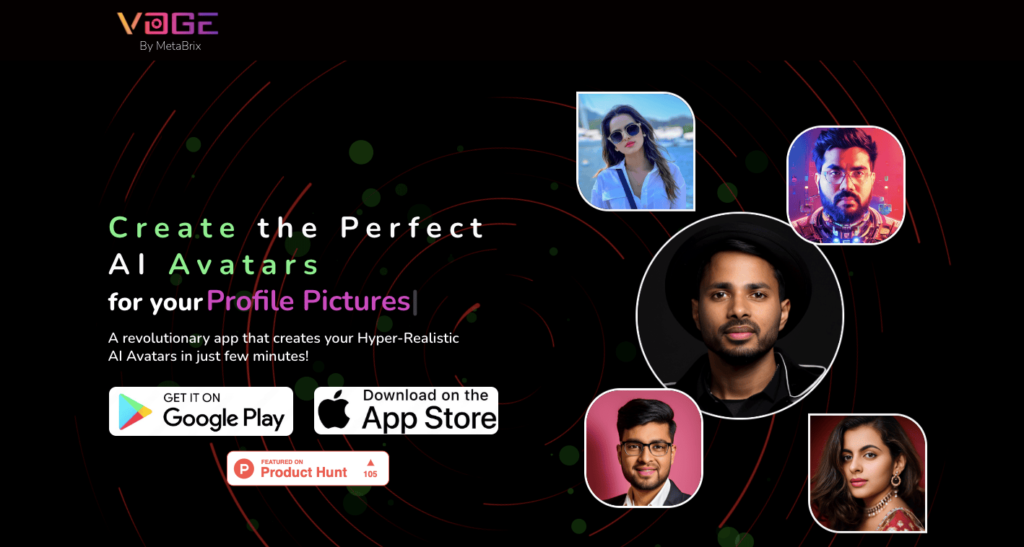 Key features:
AI-Powered Customization: Uses machine learning algorithms to analyze user's features from input photos, creating a realistic avatar.
Multiple Use Cases: Avatars can be used in various digital spaces such as social media posts, profile pictures, and even dating apps.
Versatile Avatar Choices: Users can transform their avatars into anything from doctors to astronauts with a single click.
Brand Recognition: Recognized and showcased by popular brands like Marvel and DC, reflecting its broad usability.
Pricing: Free
Instant Portrait
Instant Portrait is an AI-powered mobile app that lets users effortlessly create stunning portrait paintings of themselves. With a user-friendly interface, the app is readily available for download on Google Play and the App Store, catering to a diverse audience of art enthusiasts. Embrace the world of digital artistry and transform your selfies into captivating portrait masterpieces with Instant Portrait.
Key features:
AI-driven Portrait Paintings: Instant Portrait utilizes AI algorithms to transform users' uploaded selfies into personalized portrait paintings.
Theme Selection: Users can choose from a variety of themes available in the app, allowing them to customize the style and look of their portrait paintings.
Weekly Theme Updates: The app regularly adds new themes, providing users with fresh options to create unique and engaging portrait paintings.
Free and No Sign-In Required: Instant Portrait is free to use and does not require users to sign in or create an account.
Contact and Privacy Pages: The app offers a contact page for user support and a privacy page to address user concerns regarding data privacy and security.
Pricing: Free
Picapiu! AI
Enter the world of stunning portrait images with Picapiu! AI – an intuitive online tool harnessing the power of advanced AI technology. Create captivating portraits effortlessly and showcase your artistic flair with this user-friendly platform. Say goodbye to complexity and hello to the artistry of Picapiu! AI.
Key features:
Chrome Extension: Easily install the tool as a Chrome extension for seamless integration.
'Piu!' Button: Access the 'Piu!' button on the top left side of large images on webpages for easy image selection.
Context Menu Integration: Right-click on any image and select 'Piu!' from the context menu to generate portrait images.
AI-Powered Portrait Generation: Utilize advanced AI technology to generate realistic and captivating portrait images.
Pricing: Free