Perhaps you have encountered difficulties in creating content for your Shopify store. This is perfectly normal, as writing is a task that requires time and creative thinking. But don't worry, because in this article, we will introduce you to the top 10 AI-powered writing assistant tools for Shopify that will help you produce high-quality content and attract more customers.
Best AI writing assistant for Shopify
GrammarlyGO
GrammarlyGO is the latest suite of generative AI capabilities from the leader in AI communication assistance, Grammarly. It is a comprehensive suite of generative AI capabilities that can significantly improve writing and communication skills. Its advanced features make it an essential tool for writers, students, and professionals alike. If you want to take your writing to the next level, GrammarlyGO is definitely worth trying out.
Key features :
Content generation on various topics, thanks to its advanced natural language processing algorithms. This enables the creation of accurate and fluent articles, reports, and other written content.
Intelligent summarization, which can summarize lengthy articles or documents into shorter, more concise versions, saving time and effort for busy professionals.
Advanced text prediction, which suggests the next word or phrase in a sentence, making writing faster and more efficient. This feature is highly customizable, allowing users to set their writing goals, tone, and style preferences.
Powerful grammar checking, capable of detecting and correcting even the most subtle grammatical errors. It also provides suggestions for improving sentence structure, word choice, and clarity.
Pricing:
Wordtune
Wordtune is an excellent online writing tool that offers a range of powerful features to help users improve their writing skills. With its AI-powered suggestions, sentence and paragraph rewriting capabilities, customization options, and translation tool, Wordtune is a must-have tool for anyone who wants to take their writing to the next level.
Key features :
Advanced AI algorithms that offer personalized suggestions for enhancing sentence structure, word choice, and clarity, making content more engaging and persuasive.
Quick and easy sentence and paragraph rewriting with just a few clicks, saving time and effort while maintaining quality.
Customization options, allowing users to set their writing goals, tone, and style preferences, making the tool adaptable to individual needs.
Translation tool that can translate text into over 50 languages, making it easier to communicate with people from different parts of the world.
Pricing:

LanguageTool
LanguageTool is a comprehensive online grammar and writing tool that offers a range of features to help users improve their writing skills.Its advanced grammar checking capabilities, plagiarism detection, style suggestions, and customization options make it an indispensable tool for anyone who wants to take their writing to the next level.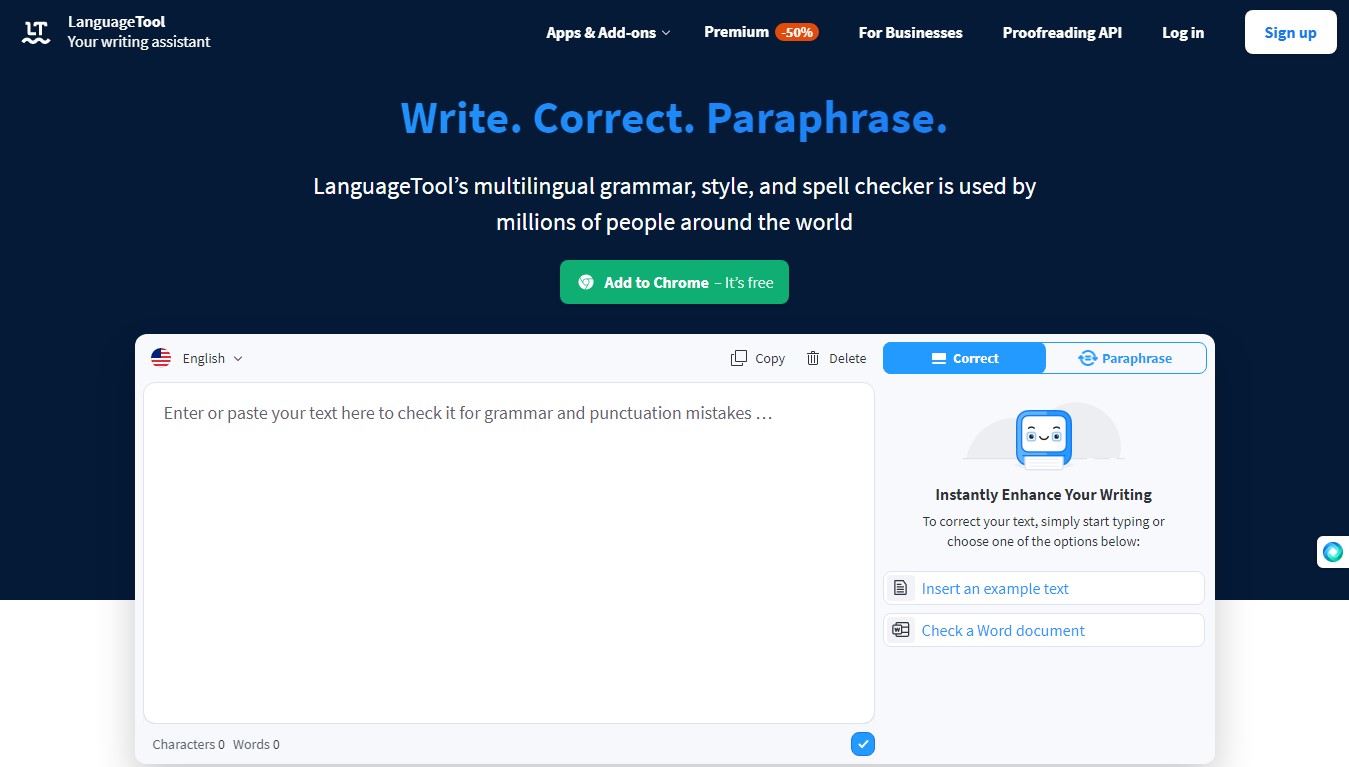 Key features:
Correct spelling: LanguageTool identifies and underlines spelling mistakes in red. It ensures proper spelling of every name, phrase, and word.
Check grammar: LanguageTool detects and helps correct grammar mistakes, such as incorrect subject-verb agreement, wrong plural forms, or misuse of grammatical forms.
Fix punctuation: LanguageTool assists in using commas, dashes, hyphens, and other punctuation correctly. It can even help with complex sentence structure and prevent overuse of exclamation points.
Confirm casing: LanguageTool corrects improper casing, whether for capitalized names, months, places, or national identities.
Improve style: LanguageTool assists in enhancing the quality of writing by detecting overused phrases, foreign terms, redundant words, and inappropriate word choice. The blue underline signals the need for improvement.
Paraphrase: With the use of artificial intelligence, LanguageTool suggests rephrasing sentences for better formality, fluency, simplicity, or conciseness.
Pricing:
Smodin
Smodin is an AI-powered platform that addresses common learning obstacles faced by students and writers, including writer's block and information overload. Smodin makes writing stress-free and accessible to everyone, regardless of language barriers, comprehension levels, or skill sets.
Key features:
Research Faster: Use AI-powered research tools to quickly and accurately find information.
Innovative Ideas: Get creative ideas for your projects and overcome writer's block.
Detailed Answers: Get answers to any questions and receive detailed feedback.
All Subject Knowledge: AI models provide knowledgeable answers for any subject, including biology, chemistry, history, and more.
Instant Feedback: Receive detailed feedback on improving your writing, including text, arguments, and structure.
Reputable Sources: Generate references and citations in MLA or APA formats and easily add them to your text.
Structured Text: Get perfectly structured documents to convey your message effectively.
Professional Quality: Create professional-grade documents, from cover letters to research papers.
10x Faster Writing: Instantly generate text on any topic to meet your needs.
Plagiarism-Free: AI content generation is plagiarism-free, offers additional plagiarism detectors for extra confidence.
Pricing: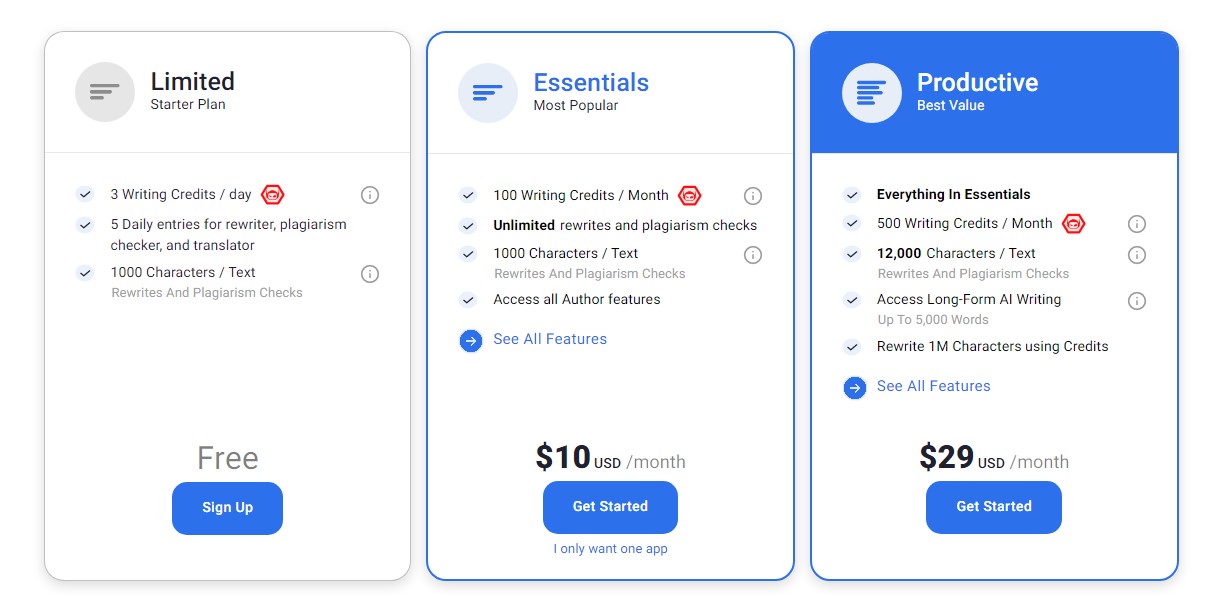 HyperWrite
Write 10x faster and beat writer's block with HyperWrite, the AI writing assistant that creates blog posts, emails, copy, and more. Write faster, better, and easier with HyperWrite, the AI-powered writing assistant that helps you with any writing task. Whether you need to write an email, a blog post, a report, a story, or anything else, HyperWrite's AI can generate, improve, rephrase, and customize your content in seconds.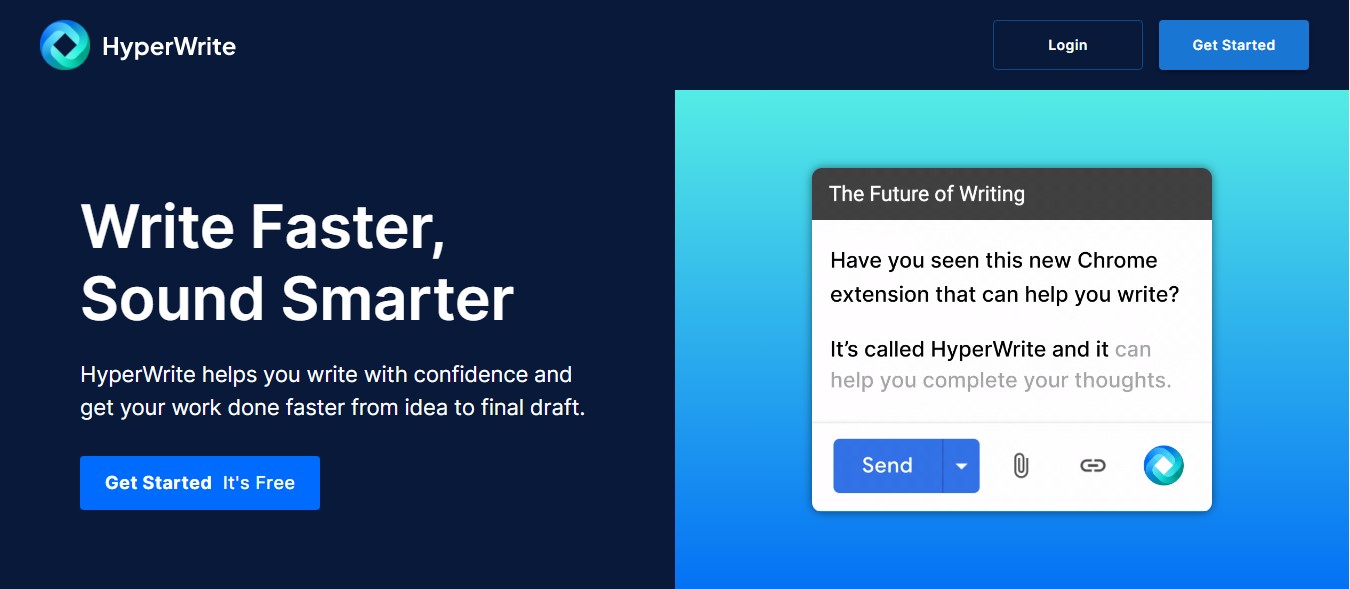 Key features:
Write faster and more confidently with HyperWrite, from idea to final draft.
Access powerful writing tools and communicate with confidence on your favorite websites without interrupting your workflow.
Pricing: Free
Conch
GetConch.ai is a software platform that offers voice-enabled communication and collaboration tools for remote teams. The platform uses AI-powered voice recognition technology to allow users to interact with the platform and perform various actions hands-free. Some of the features of GetConch.ai include team messaging, task management, voice notes, and voice commands for various productivity tools such as Google Drive and Trello.
In terms of security, GetConch.ai provides end-to-end encryption for all communication on its platform to ensure the privacy and security of user data. The platform also offers integrations with various third-party apps and services to enhance its functionality.

Key features:
ConchBib™: In-text Citations – Automatically generates citations for any text entered.
ConchCheck™: Detect AI Plagiarism – Provides a holistic score for how much of the document is written by AI.
Autocomplete with AI – Suggests the next sentence for the user when they can't think of what to write.
Rewrite – Allows users to find the perfect words to make their text shorter, longer, bolder, or more formal.
Pricing: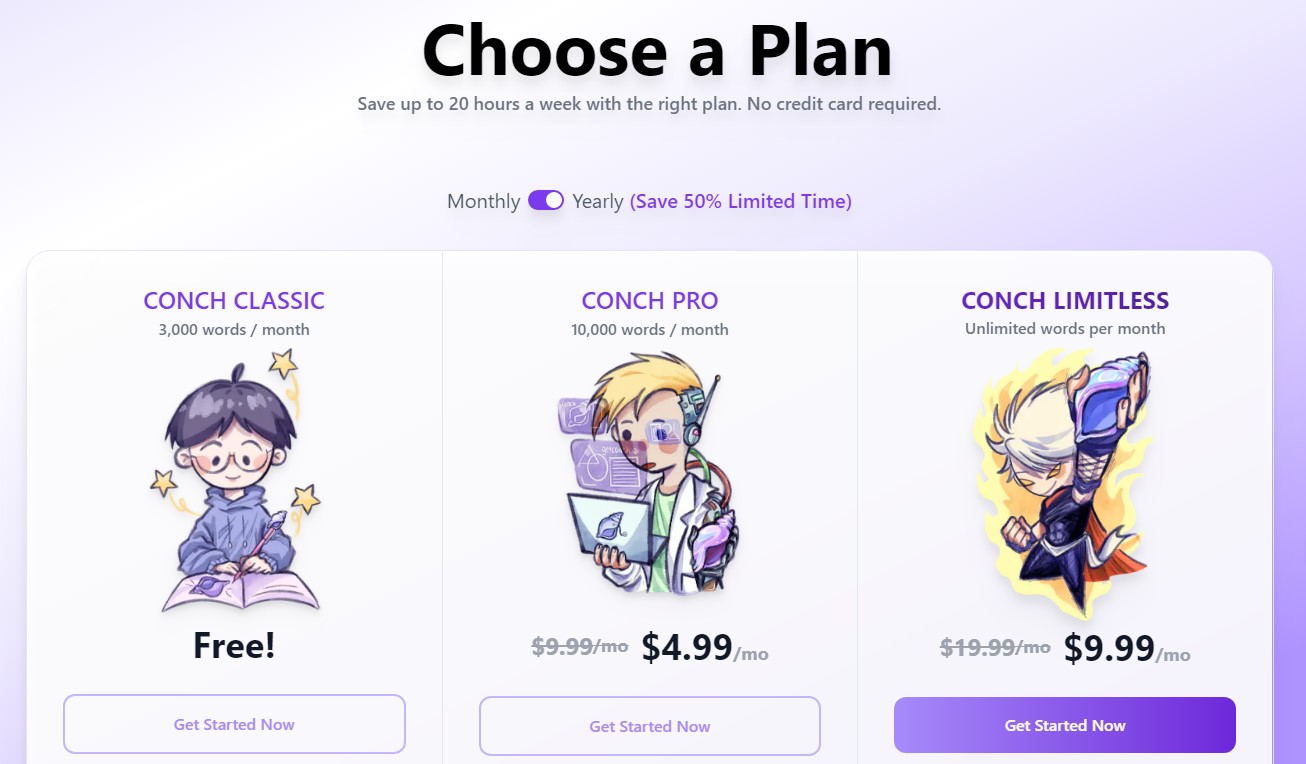 Copilot
Microsoft 365 Copilot combines the power of large language models (LLMs) with your data in the Microsoft Graph and the Microsoft 365 apps to turn your words into the most powerful productivity tool on the planet. Copilot is integrated into Microsoft 365 in two ways. It works alongside you, embedded in the Microsoft 365 apps you use every day — Word, Excel, PowerPoint, Outlook, Teams and more — to unleash creativity, unlock productivity and uplevel skills.
Key features:
Grounded in your business data – AI-powered LLMs that generate accurate, relevant, contextual responses based on your business content and working context.
Built on Microsoft's comprehensive approach to security, compliance, and privacy – Copilot inherits all your company's valuable security, compliance, and privacy policies and processes.
Architected to protect tenant, group, and individual data – Copilot LLMs are not trained on your tenant data or your prompts, and the permissioning model ensures that data won't leak across user groups.
Integrated into the apps millions use every day – Copilot is integrated in the productivity apps millions of people use and rely on every day for work and life.
Designed to learn new skills – Copilot has foundational skills for productivity, and it's designed to learn new skills to perform even more sophisticated tasks and queries.
Kickresume
Kickresume is an online platform that offers a range of services to help individuals create professional resumes, cover letters, and personal websites. It has become a popular tool for job seekers, as it provides various templates and designs to create a visually appealing and effective resume. Kickresume is a useful tool for creating professional resumes, cover letters, and personal websites. Its user-friendly interface, vast template library, and customization options make it a valuable asset for job seekers. However, its limited free version and premium subscription cost may be a disadvantage for some users.
Key features:
AI Cover Letter Builder: allows users to generate a cover letter with the help of artificial intelligence and pick a matching template for a professional look.
Resume Checker: compares user's resume with successful resumes in the database and provides personalized feedback and tips to improve.
Personal Website: lets users turn their resume into a personal website with one click for a strong online presence and visibility to potential employers.
Pricing:

Glasp
Glasp.co is a social web highlighter that aims to make it easier for people to highlight and organize quotes and ideas from the web. Glasp seems like an excellent tool for people who enjoy learning and sharing knowledge with others. Its user-friendly interface and community-building features make it a promising option for anyone looking for an easy way to organize their thoughts and connect with like-minded individuals.
Key features:
Highlight & Add Notes: Allows users to highlight and add notes to webpages without switching between apps.
Copy Everything in 1-Click: Lets users copy all highlights and notes with metadata in just one click.
Seamless Export: Supports seamless export with Markdown format, making it easy to transfer notes to other note-taking apps.
Readwise Integration: Integrates with Readwise, a popular app for organizing and learning from highlights.
Share Your Learning: Lets users share their Glasp profile via URL, allowing others to learn from their insights.
Learn from Like-Minds: Allows users to follow like-minded people and see their highlights and notes for a more engaging learning experience.
Pricing: Free
Frase
Frase.io is a platform that provides AI-powered tools for content optimization, including SEO optimization, content creation, and research. Its features include a content editor, a content briefs tool, a question and answer optimization tool, and an analytics dashboard. If you are looking for an AI-powered platform to help you optimize your content for search engines and improve your content creation process, frase.io is definitely worth considering.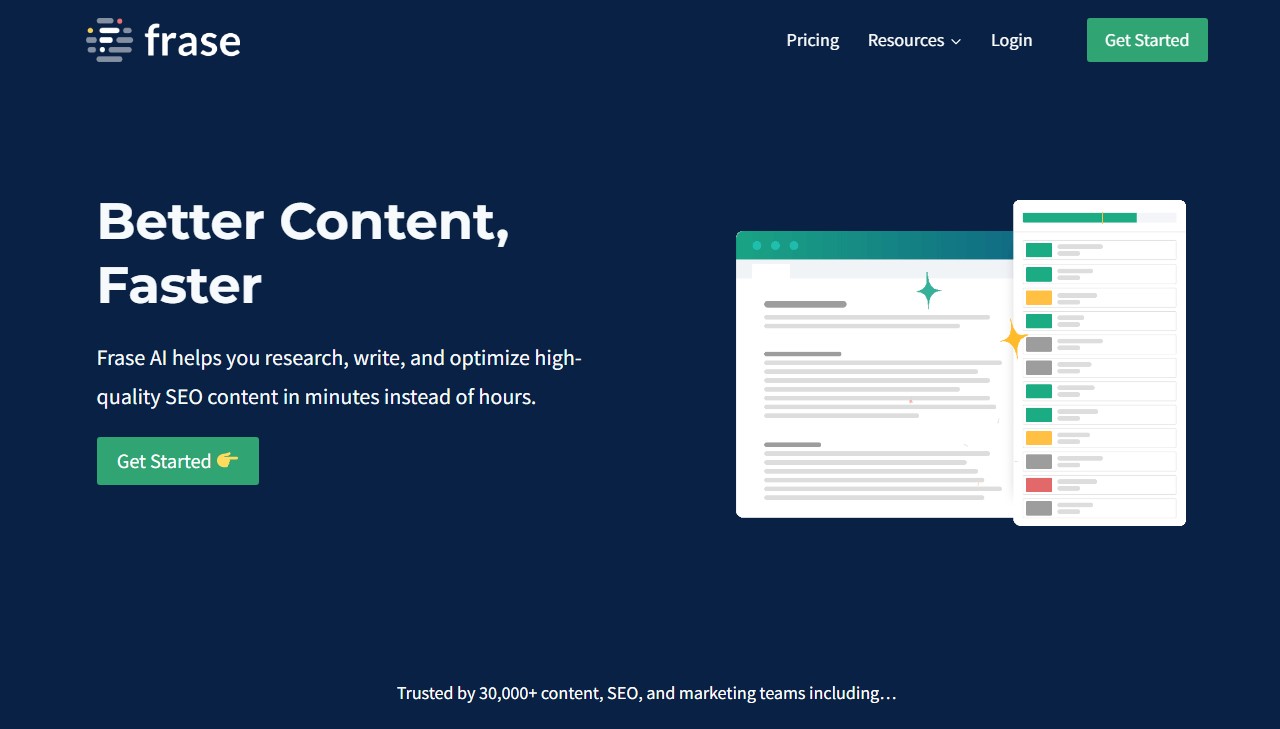 Key features:
Content Brief: Frase's Content Brief feature allows users to quickly curate well-researched content briefs in just a few minutes. This feature helps writers to outline their content and ensures that they cover all relevant topics, questions, and keywords.
Content Writing: With Frase's AI-powered Content Writing feature, users can generate high-quality, engaging content with just a click of a button. This feature uses natural language processing to create content that is optimized for SEO and conversion.
Content Optimization: Frase's Content Optimization feature allows users to compare their content to their top search competitors, identifying areas where they can improve and optimizing their content for higher search rankings. This feature also includes tools for keyword research and optimization.
Content Analytics: Frase's Content Analytics feature provides users with insights into their content performance, including traffic, engagement, and conversions. This feature also helps users to identify new content opportunities and prevent content decay.
Pricing: