If you are looking for a way to create stunning images for your Shopify store without hiring a designer or spending hours on Photoshop, you might want to consider using an AI image generator. AI image generators are tools that use artificial intelligence to generate realistic and original images based on your input. You can use them to create product photos, banners, logos, backgrounds, and more. In this article, we will introduce you to some of the best AI image generators for Shopify and show you how they can help you boost your sales and conversions.
Best AI Image Generator Shopify
OpenAI
OpenAI's AI image generator is an advanced image-generating tool that uses machine learning to create high-quality images from textual descriptions.
Key features:
AI-powered: The image generator is powered by OpenAI's advanced machine learning algorithms, allowing it to understand textual descriptions and generate high-quality images.
Text-to-image generation: Users can input textual descriptions and the image generator will create an image based on those descriptions, allowing for easy and efficient image creation.
High-quality results: The generated images are of high quality and can be used for a variety of purposes, including design, marketing, and content creation.
Customizable: The image generator can be fine-tuned and customized to generate images that fit specific requirements, allowing for greater flexibility and control over the output.
Pricing: Free
Canva
Canva is a graphic design platform that allows users to create social media graphics, presentations, posters, documents and other visual content. It offers a drag-and-drop interface and a vast library of templates, graphics, and fonts.
Key features:
Ready-made designs with thousands of professional templates, images, and quality content to choose from. This feature is beneficial when ordering new business cards or editing a video.
Built for teamwork with the ability to invite people to edit with you or set your whole team up to manage brand assets, brainstorm on whiteboards, get approvals, and scale content with tools like docs.
Easy sharing options that allow you to publish, download, or share whatever you make in Canva. The platform even offers printing and delivery services, making it easy to bring your creations to life in the real world.
Pricing:

Craiyon
Craiyon is a powerful and versatile AI image generator that allows users to create unique and creative images from any text prompt, while also acknowledging the potential limitations and biases of such models. Craiyon is a free online AI image generator that can create images from any text prompt using the DALL·E mini AI model.
Key features:
Image style selection: Users can select the image style that interests them the most, such as "illustration", "photorealistic", or "high definition".
ChatGPT suggestions: Craiyon uses ChatGPT to suggest new prompts for users to try, increasing the variety of image results.
Pricing: $ 5/mo
Scribble Diffusion
Scribble Diffusion is an AI image generator that can transform your rough sketches or doodles into refined images. With its advanced machine learning algorithms, Scribble Diffusion can analyze your input and produce a high-quality image that closely resembles your original sketch.
Key features:
Sketch-to-Image Conversion: Scribble Diffusion can convert any rough sketch or doodle into a refined image with just a few clicks.
Advanced Machine Learning Algorithms: Scribble Diffusion uses state-of-the-art machine learning algorithms to analyze your sketch and generate a high-quality image.
Pricing: Free
STABILITY AI
STABILITY AI is an AI image generator that empowers people to unlock their creative potential through open-source models and user-friendly products.
Key features:
Platform API: Step into the world of generative AI by visiting our developer tools website
Photoshop Plugin: Generate and edit images using Stable Diffusion right inside Photoshop
Blender Plugin: Generate textures, generate AI video from your renders, and more right inside your favorite 3D software
Pricing: Free
Hotpot
Hotpot is an AI image generator that offers a suite of tools to help users create stunning graphics, pictures, and writing with ease.
Key features:
AI Art Generator: Hotpot's AI Art Generator sparks creativity by automating the drudgery of creating original artwork, allowing users to focus on their creative vision.
Easy-to-Edit Templates: Hotpot provides a wide range of easy-to-edit templates that empower anyone to create device mockups, social media posts, marketing images, app icons, and other work graphics without requiring advanced design skills.
Variety of Output Formats: Hotpot can generate images in a variety of output formats, including JPEG, PNG, SVG, and PDF, allowing users to easily integrate their content into a wide range of projects.
Pricing:
BlueWillow
BlueWillow is an AI image generator that allows users to create stunning graphics, logos, and photo-realistic images with ease.
BlueWillow's AI image generator is a powerful and accessible tool that allows users to unleash their creativity and create amazing artwork. Whether you need a logo, a graphic, or a photo-realistic image, BlueWillow's AI can convert your prompt into stunning AI artwork.
Key features:
Discord Community: BlueWillow's AI image generation app is currently only available on Discord, a free and easy-to-join community platform with 300 million users.
Rookie Channels: After getting verified on Discord, users can go to a rookie channel and type a prompt starting with "/imagine: prompt" followed by text describing the AI pic they want.
Four Images: In less than a minute, BlueWillow's AI generates four images based on the user's prompt, which can be downloaded or further refined.
Pricing: Free
Cutout.Pro
Cutout.Pro is an AI image generator that offers a range of products and tools to enhance visual design and workflow efficiency. Leveraging the power of artificial intelligence and computer vision, Cutout.Pro provides solutions for individual use and business applications.
Key features:
Image Design: With image AI tools, you can be a design master without learning Photoshop.
E-commerce: Create high quality e-commerce images to get traffic, clicks and sales.
Developer: All one-stop integration to create thrilling products.
ID Photo Maker: Change background color, virtual change in dozens of suit choices, change sizes.
Old Photo Restoration: Restore old family photos back to its full glory. Enhance background and faces, higher resolution, vibrant and satured colors, and stunning details.
Customized Printing: Remove background, overlay product images to preview, T-shirts, mugs, phone cases, keychains.
Video XR: Change video background in a snap.
Pricing: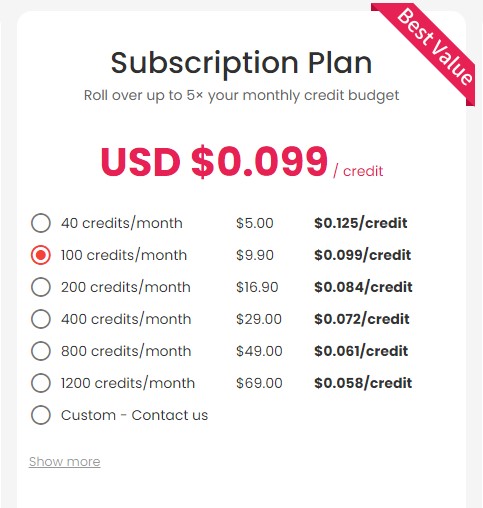 Fotor
Fotor's photo editor lets you edit photos in just a few clicks. It covers various free online photo editing tools, so you can crop images, resize images, add text to photos, make photo collages, and create graphic designs easily.
Key features:
Crop Images Online for Free: With Fotor's free image cropper, you can crop images to any size and shape in seconds.
Remove Backgrounds 100% Automatically with One Click: AI background remover can automatically detect the subject at once from any photo and remove bg in a smooth cutout way without any manual work.
Photo Enhancer: Fotor's AI photo enahncer supports to make blurry picture clear, increase photo resolution, sharpen images detail, colorize photos, enlarge images to enhance image quality automatically for free.
Free Online Collage Maker: It is easy to make an aesthetic photo collage using Fotor's collage maker. No design experience or skills required.
Remove Object From Photo Online in Seconds: With Fotor's AI photo eraser, you can remove unwanted objects from photos for free in just a few clicks.
Amazing Photo Effects: Fotor's photo effects can easily meet all your editing needs, inspired by different visual styles! Turning your images into beautiful shots with online photo effects in one click, Fotor is your magic wand
Pricing:

Dezgo
Dezgo is an online image generator powered by AI. It allows you to generate images from text descriptions. You can use it to generate images for your website, social media, or your business, such as product images, illustrations for your book or marketing materials.
Key features:
Speed: Your requests bypass the queue and are always processed immediately.
Batches: Generate up to 4 images at a time, utilizing multiple GPUs simultaneously for even faster results.
Unlocked Parameters: Increase image quality by adding more sampling steps & request larger images.
More AI's: Get access to all 63 AI models with support for a wide range of image styles.
Pricing: $10 USD = 5263 images
Writesonic
Writesonic's AI image generator is a powerful and versatile tool that can help users create stunning visual content quickly and easily. With its photorealistic images, abstract art, portraiture, still life, landscape, cityscape, animal portrait, stylistic images, 3D images, and vectors and graphics, Writesonic offers endless possibilities for unlocking creativity and achieving efficiency in the image creation process.
Key features:
Photorealistic Images: With Writesonic's AI art generator, users can create photorealistic images that look exactly like photographs.
Abstract Art: Writesonic's AI art generator can also create abstract art, using geometric shapes and bold color palettes to create visually striking effects.
Portraiture: Writesonic's AI painting generator uses special lighting and composition techniques to capture the likeness of a person or people in the best possible way.
Still Life: With Writesonic's AI art generator, users can create realistic still life paintings or photographs featuring inanimate objects.
Landscape, Cityscape, and Animal Portrait: Writesonic's AI art generator can also create stunning landscape, cityscape, and animal portrait images that capture the beauty and energy of the natural world.
Stylistic Images: Writesonic's AI painter can generate images in a specific style, such as impressionism, allowing users to create unique and personalized art
3D Images: Writesonic's AI art generator can create stunning 3D images that are realistically rendered and totally unique, using AI art generators from text.
Vectors and Graphics: Writesonic's AI art generator can also create icons, objects, people, and more, allowing users to recreate or enhance imagesto match their imagination.
Pricing:
Araby.AI
Araby.AI's AI image generator is a powerful tool that can help streamline workflows and increase productivity in various fields. With its Arabic-language support and AI-powered solutions for email writing, visual content creation, and business optimization, Araby.AI is a valuable addition to any individual or business looking to leverage the power of artificial intelligence.
Key features:
Email Writing Assistance: With Araby AI, writing emails just became easier. Users can enter the topic they want to write about and the AI will handle the rest, making email writing a hassle-free process.
Visual Content Creation: Araby.AI offers an ecosystem of apps, plugins, and resources powered by artificial intelligence to help creators create stunning visuals in seconds.
Pricing: