Personalized videos are a powerful way to engage your customers and boost your sales. They can help you showcase your products, tell your brand story, and build trust and loyalty.
However, creating personalized videos for each customer can be time-consuming and expensive. That's why you need AI-powered video generators that can help you create stunning videos without breaking the bank.
In this article, we will introduce you to 5 of the best AI video generators for Shopify that can help you create personalized videos at scale.
Best AI personalized videos for Shopify
InVideo
InVideo simplifies the video creation process for everyone with customizable templates, time-saving features, and content optimization tools.
Key features:
5000+ professionally- created templates: Discover templates for any use case. Search by platform, industry or content type. Customize a template for your brand using simple drag-drop-replace actions.
Single click shortcuts: Remove the background of your product images to make them pop. Add stock media and music. Apply your brand's colors and fonts. All with a single click
AI tools to boost productivity: Generate a script with AI using basic text prompts, or convert your article or blog into a video in minutes using InVideo's AI-powered text to video editor.
Pricing:
Bhuman.ai
Bhuman.ai is an innovative platform that empowers businesses to create personalized videos at scale using the power of AI. With Bhuman.ai, you can foster human connections with your customers by generating videos that look like they were recorded just for them.
Key features:
Personalized video creation: Bhuman.ai allows businesses to create personalized videos using pre-recorded templates and customer data, all with just one click.
Multilingual support: Bhuman.ai supports multiple languages, allowing businesses to create videos in any language to better connect with their customers.
Data integration: Bhuman.ai seamlessly integrates with a variety of data sources, including spreadsheets, APIs, and other third-party platforms, making it easy to leverage your existing customer data.
Easy distribution: Once you've generated your personalized videos, Bhuman.ai makes it easy to distribute them via email, SMS, LinkedIn, Zapier, and other channels.
Pricing:
SpiritMe
SpiritMe is an innovative platform that enables users to create instant videos with digital avatars. With SpiritMe, users can simply type any text, and the platform will generate a video where the avatar will say it, with the user's appearance, voice, and emotions.
Key features:
Easy avatar creation: SpiritMe offers the easiest digitization on the market, allowing users to become an avatar in just 5 minutes.
Dynamic facial expressions: SpiritMe's unique technology allows avatars to display dynamic facial expressions, giving them a more lifelike appearance and enhancing the overall video experience.
Game-changing advantages: SpiritMe offers several game-changing advantages over other avatar platforms, including easy-to-understand pricing and transparent fees.
Pricing:
Vidyo.ai
Vidyo.ai automatically selects, edits & captions top moments from your videos
Key features:
Auto-video Captioning: Captions improve video performance by 40%
Video Resizing: Get platform native sizes for videos
Video Clipping: Get most interesting parts of videos magically
Auto-video Chapters: Get chapter timestamps for better descriptions
Social Media Templates: High performing & visually appealing looks for your videos
1080p Downloads: Better quality for your video content
Pricing: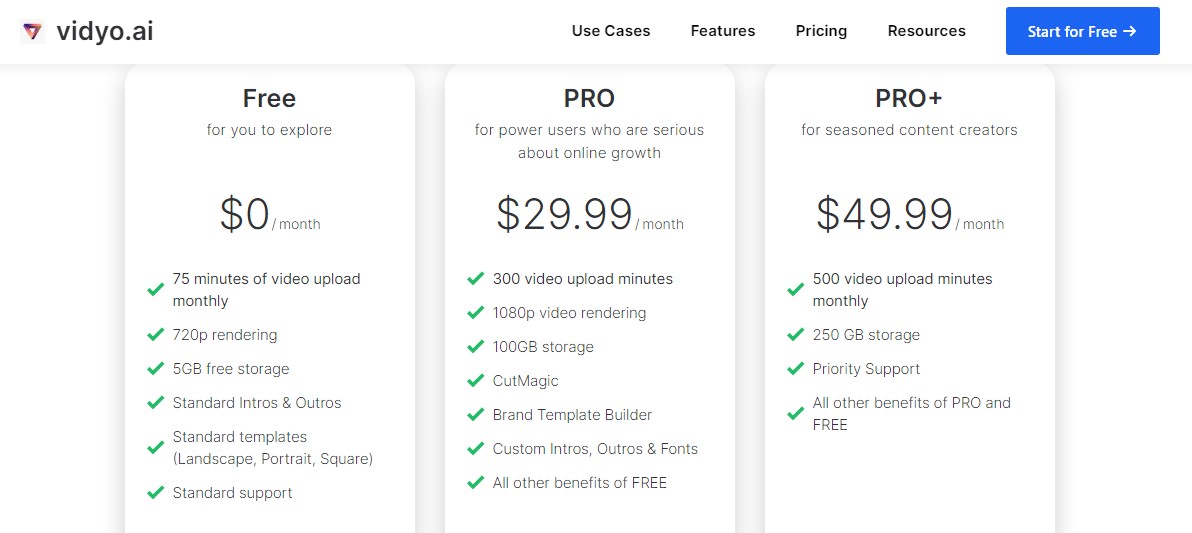 Colossyan
Colossyan is an AI-powered video platform designed for workplace learning. With Colossyan, users can create videos from text in just minutes and auto-translate them into dozens of languages with the click of a button.
Key features:
Text-to-video: Colossyan allows users to create learning videos from text, turning PDFs and PPTs into engaging video content. The platform also offers templates optimized for learner experience, making it easy to get started quickly.
Scenario-based learning: Colossyan is designed for scenario-based learning, allowing users to pick the perfect AI presenter from a diverse range of avatars. Users can also create their own digital avatars, eliminating the need to persuade SMEs to get in front of the camera.
Localization: Colossyan makes it easy to localize videos with just four clicks. Users can auto-translate their entire video, change accents and clothing, and keep embedded videos up-to-date.
Pricing: