If you've ever grappled with finding the right words to create persuasive product descriptions, captivating blog posts, or compelling marketing copy, our solution is here to transform your content creation process. With a focus on two critical factors—perplexity and burstiness—we've developed an AI-powered tool that generates high-quality, conversion-driven content effortlessly. Bid farewell to the challenges of writing and save countless hours spent on brainstorming. Experience the remarkable potential of our advanced AI technology, boost your Shopify store's impact, drive sales, and reclaim valuable time. Embrace the future of copywriting and unlock unparalleled success for your business. Discover the game-changing power of our AI Copywriting Assistant by trying it today!
7 Best AI Copywriting Assistant for Shopify
Quillbot
QuillBot is a cutting-edge paraphrasing and summarizing tool trusted by millions of students and professionals worldwide. Powered by state-of-the-art AI technology, QuillBot enables users to significantly reduce their writing time by more than half. Whether it's a sentence, paragraph, or entire article, QuillBot can intelligently rewrite the content while maintaining its meaning and coherence. Experience the power of AI-driven writing assistance and elevate your productivity with QuillBot.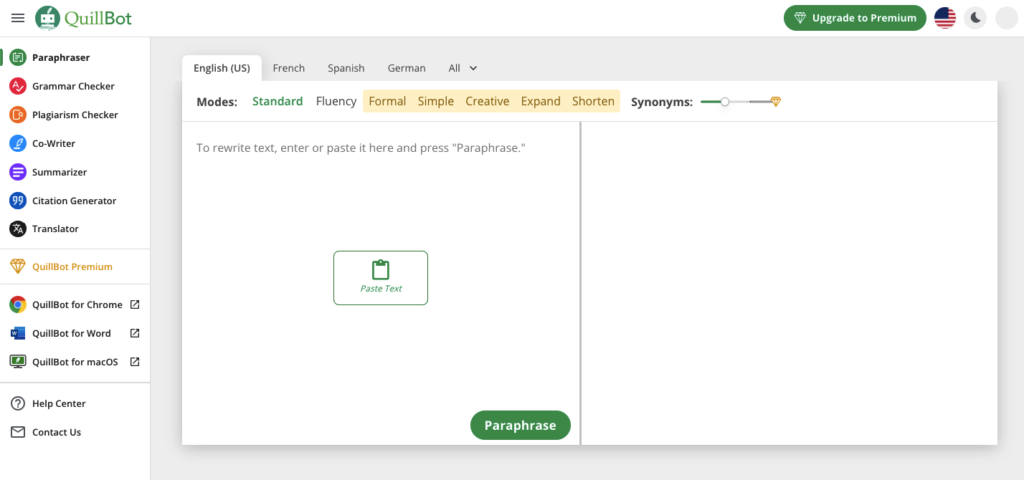 Key features:
Paraphraser: Refine, enhance, or simply reword your written work.
Grammar Checker: Polish your work by addressing punctuation, spelling, and word misuse.
Summarizer: Summarize news, articles, long emails, or even your writing.
Citation Generator: Get perfect APA, MLA, and Chicago-style citations in one click.
Pricing:
Unlock powerful features like paraphrasing, grammar checking, and more for free, with certain usage limits.
Contact to explore pricing options tailored to your specific needs and requirements.
Grammarly
Elevate your writing skills with Grammarly's communication assistance, offering spell check, grammar check, punctuation check, and more. Seamlessly integrated into your browser, Grammarly eliminates the need for copying and pasting. Experience its power across platforms like Google Docs, Gmail, Linkedin, and beyond. Beyond being a proofreader, Grammarly provides comprehensive feedback on spelling, grammar, punctuation, clarity, and writing style. Gain confidence, find the perfect words to express yourself, and effortlessly communicate your ideas with Grammarly. With its generative AI capabilities, Grammarly empowers you to generate contextually relevant drafts, ideas and replies instantly.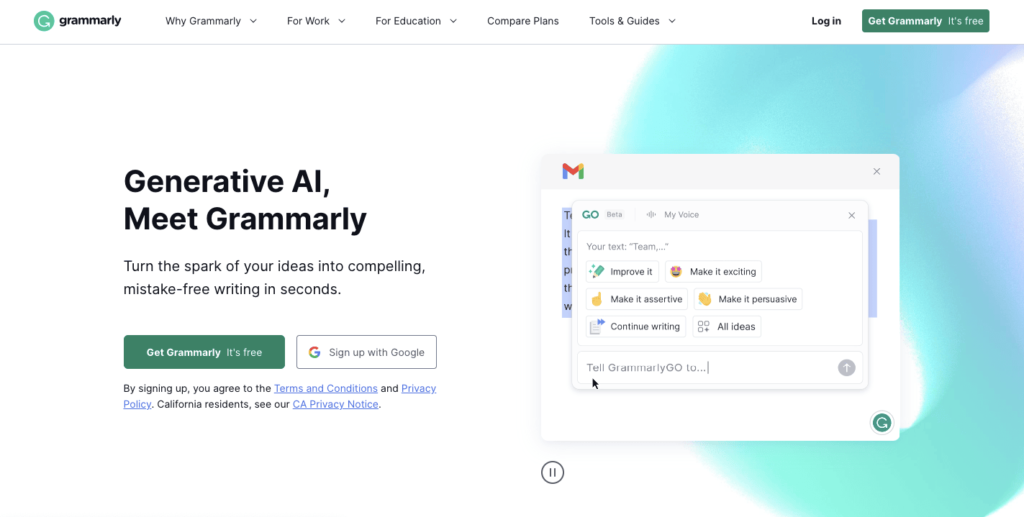 Key features:
Writing Enhancement: Grammarly provides real-time analysis and color-coded underlines to improve your writing. Apply suggestions with a click or expand for more details.
Advanced Spelling and Grammar Check: Detects misspellings, contextual errors, and complex grammar issues like sentence fragments and subject-verb disagreement.
Clarity and Readability Improvement: Streamline wordy phrases, rewrite confusing sentences, suggest engaging word choices, and adjust the tone for effective communication.
Auto-Citations (For Students): Instantly generates citations for online sources without manual entry, supporting APA, MLA, and Chicago styles.
Pricing:
Free Version:
Grammar Checker
Spelling Checker
Punctuation Checker
Tone Detector
Auto-Citations
Premium Version:
Clarity-focused sentence rewrites
Tone adjustments
Vocabulary improvements
Fluency suggestions
Generative AI features
Additional advanced suggestions
ChatSonic
ChatSonic is an exceptionally powerful conversational AI chatbot designed to overcome the limitations of OpenAI's ChatGPT. Utilizing the cutting-edge GPT-4 model, this advanced chatbot leverages Natural Language Processing (NLP) and Machine Learning (ML) technology to automate text and image generation. Engage in real-time conversations with ChatSonic, powered by 'Google Search'. Stay up-to-date on current events and trending topics. ChatSonic provides factual information and discusses the latest trends. Explore the world of real-time conversations and never miss out on what's happening now.
With ChatSonic by your side, you'll have the wisdom of a sage, the empathy of a therapist, the humor of a comedian, the analytical prowess of a scientist, and the creativity of a novelist all combined into one incredible entity. Step into a new era of AI-driven conversations with ChatSonic, where possibilities are limitless.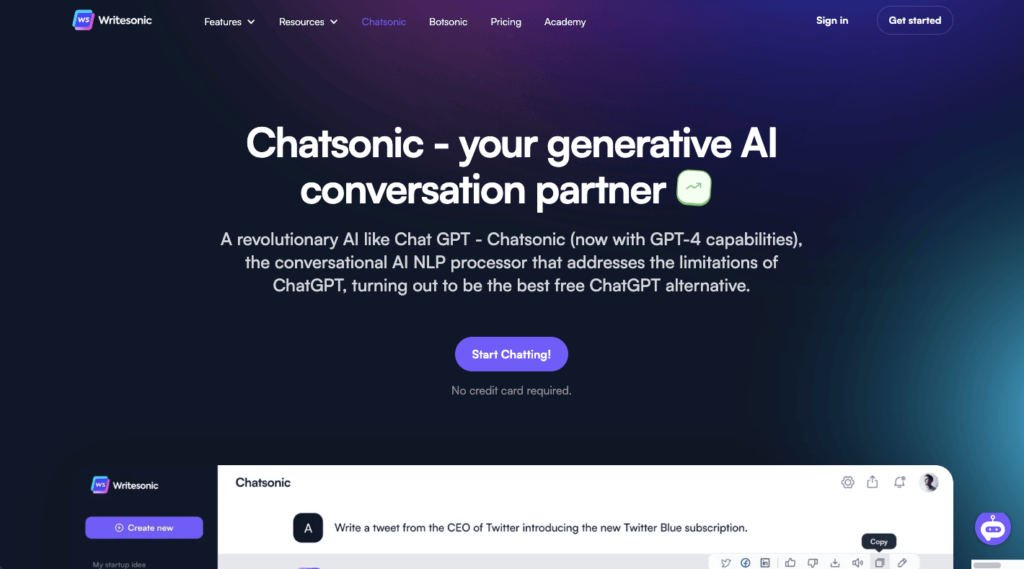 Key features:
Quick and Accurate Results: Utilizes advanced AI technology and integrated Google search for fast and precise information. Produces original, plagiarism-free content.
Customizable and User-Friendly: Easy to use with no technical knowledge required. Customize requests, choose personalities, enable memory, and more for desired results.
High-Quality Content: Unmatched quality with AI scanning and analysis of multiple sources. Produces accurate, detailed content and corrects grammar and spelling errors.
Cost-Effective: Provides premium content at a fraction of the cost. Saves time and reduces freelancing expenses. Offers 10k premium words on sign-up with an option to upgrade to an unlimited plan.
Automation Capabilities: Streamlines content creation through advanced text and image generation. Automates tasks, saves time and improves workflows. Versatile assistance for making money and job searching.
Pricing:
Monthly
Annual
Epagestore.ai
Experience a paradigm shift in your content creation process with EPAGESTORE.AI, the cutting-edge AI-powered content generator. Revolutionize your productivity as you effortlessly produce high-quality content in a matter of minutes. With tailored results that cater to your specific needs and preferences, EPAGESTORE.AI empowers you to streamline your workflow and focus on what truly matters—creating captivating content that resonates with your audience.
Key features:
Rapid Content Generation: Leverage the exceptional capabilities of our advanced AI-driven tool to generate top-notch content swiftly and efficiently. Say goodbye to time-consuming manual creation processes.
Personalized Content Creation: EPAGESTORE.AI crafts content that exudes the authenticity of human writing. Tailored to your unique style and requirements, each piece reflects your voice, ensuring seamless integration with your brand.
Overcoming Creative Block: Break free from writer's block and creative constraints. EPAGESTORE.AI serves as your creative companion, sparking inspiration and enabling a steady flow of ideas for your content.
Time and Resource Optimization: By automating content creation, EPAGESTORE.AI optimizes your valuable resources, allowing you to allocate more time and effort to other essential aspects of your business.
Pricing: Free
Grammar Checker
Level up your writing with our robust Grammar Checker. Effortlessly scan your text for errors and receive comprehensive feedback to enhance your writing skills. Our free online grammar corrector meticulously highlights areas that need improvement, empowering you to refine your content. Whether it's polishing your grammar, punctuation, or sentence structure, Grammar Checker has got you covered. Don't settle for mediocrity—unlock your full writing potential today and watch your prose soar to new heights!
Key features:
Online free grammar corrector does not overlook the "big picture" of meaning in your text.

Learn from AI that knows all the hows and why's of good writing.

This free grammar fixer website will do it for you for free.

StudyCrumb's sentence grammar checker can showcase all commonly confused words and replace them with what you need.
Pricing
The qualified writers deliver unique academic papers tailored to your specific requirements.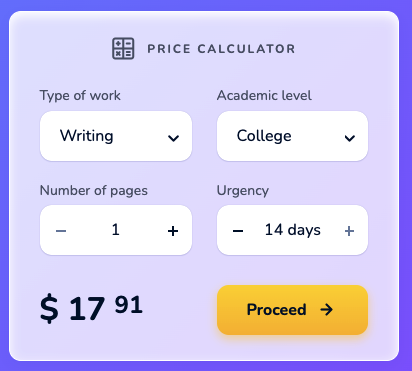 Adcreative.ai
Adcreative.ai revolutionizes the ad creative process with its powerful AI platform. Within seconds, it generates a multitude of stunning, high-performing ad creatives. Each creative generated by the AI is assigned a score, representing its probability of success in your ad campaign. Experience the convenience of the text generator, which effortlessly crafts ad copies and headlines. Say goodbye to writer's block, especially during demanding campaigns like Google Performance Max and Facebook Dynamic Ads.
Key features:
Generate Creatives: Generate conversion-focused ad creatives in a matter of minutes, while staying on brand. Test more creatives while decreasing time spent on the design process and get up to 14x better conversion and click-through rates with our unique AI.
Generate Texts & Headlines: Generate conversion-focused texts & headlines for your ads in a matter of minutes.
Creative Insights: Simply connect your Ad Accounts to AdCreative.ai and let it show you the 10 best-performing ad creatives in your ad account while analyzing all the ads and learning from them.
Generate Social Posts: Generate engagement-focused social media post creatives in a matter of minutes using Artificial Intelligence. Generate perfectly sized creatives for Facebook, Instagram, LinkedIn, Pinterest, Twitter, and more!
Pricing:
Startup Plans
Professional Plans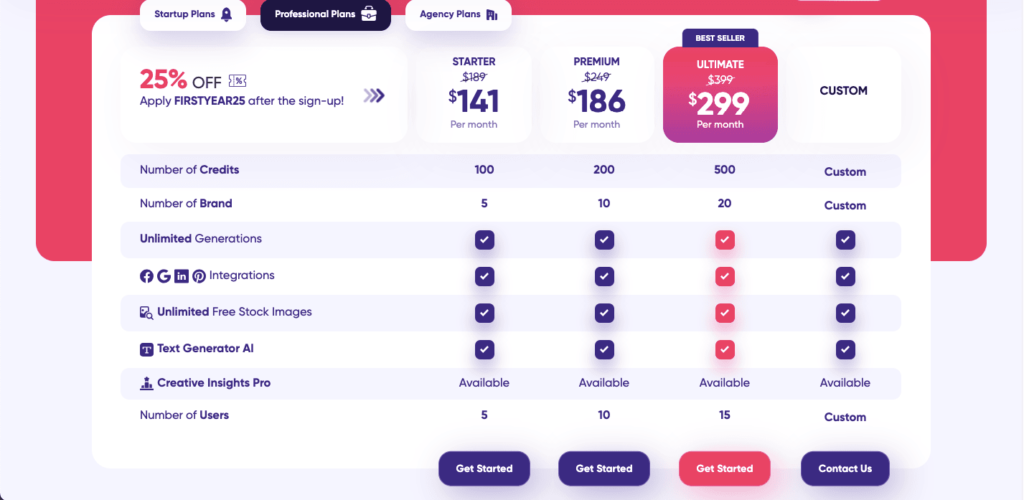 Agency Plans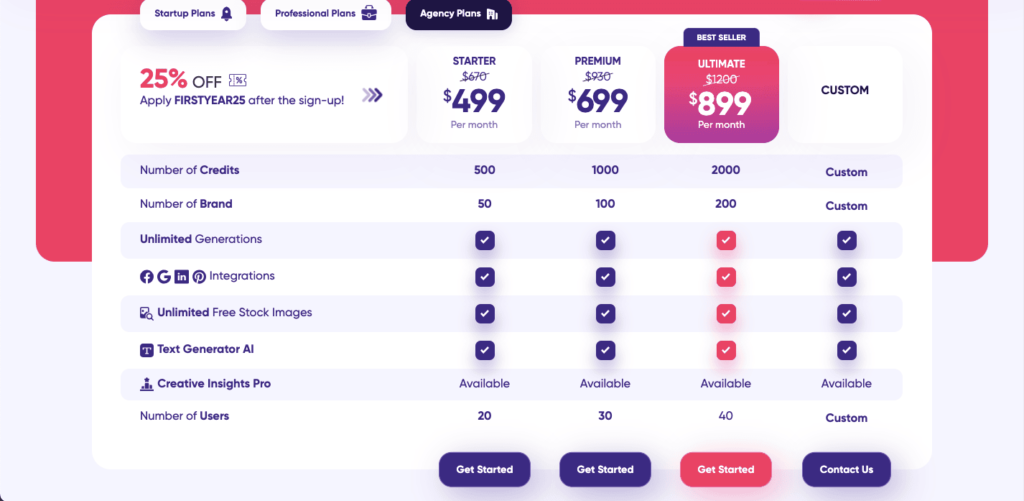 Cowriter
Created to elevate both the speed and quality of your creative writing, Cowriter is here to revolutionize your writing process. With its advanced AI capabilities, Cowriter provides invaluable support, helping you unlock your full creative potential. Seamlessly navigate through your writing projects, effortlessly generating ideas, improving sentence structure, and refining your overall composition. Whether you're a seasoned writer or just starting your creative journey, Cowriter is your trusted companion, inspiring you to reach new heights in your writing endeavors. Experience the power of Cowriter and witness the transformation of your creative writing like never before.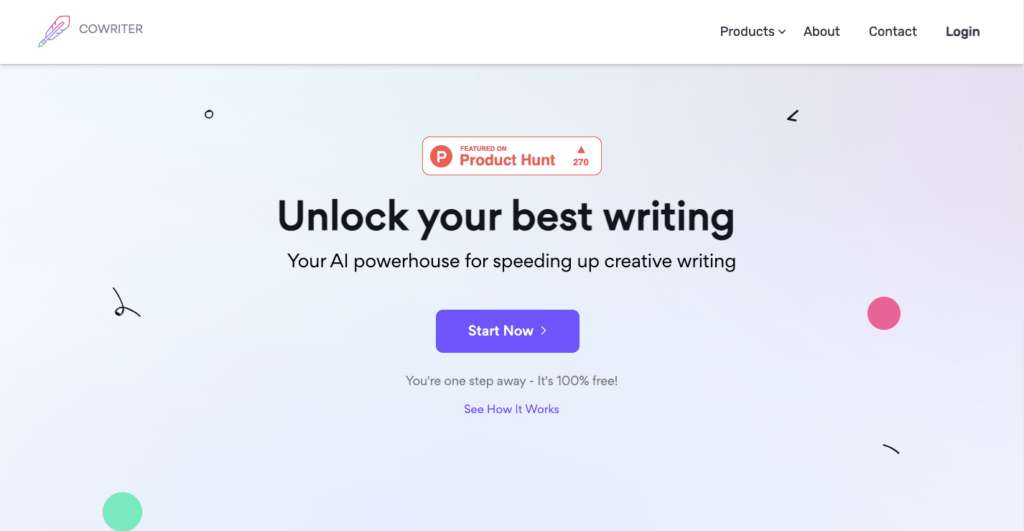 Key features:
Intuitive interface: Simplifies the process of creating high-quality content for blogs, emails, and marketing materials
Variety of templates: Offers access to email and marketing templates for diverse content needs
Personalized writing options: Tailors writing suggestions to individual users
Upcoming features: Plans to introduce presentation and sales features
Free to use: Supported by Assaf Elovic with an option to "buy the creator a coffee" for platform maintenance
Pricing: