If you've ever wanted to create eye-catching designs like logos, banners, or other materials that truly reflect your personal style or brand identity, but felt overwhelmed by complex design tools that required significant time and expertise to master, then you're in for a treat. With the incredible advancements in AI technology today, you can now achieve stunning results quickly and effortlessly, even if you're not a design whiz. In this article, we'll introduce you to some amazing tools that will help you unleash your creativity and bring your unique vision to life, without the steep learning curve.
9 Best AI Design Assistants for Shopify
MarketingBlocks AI
MarketingBlocks AI is an all-in-one AI marketing assistant that revolutionizes the way businesses create marketing materials. With its powerful AI capabilities, MarketingBlocks AI can generate high-quality content, design stunning visuals, and create engaging marketing assets in minutes.
Key features:
Content Generation: MarketingBlocks AI generates marketing copy, blog posts, articles, email swipes, and other written content tailored to the business's needs.
Design Assistance: The tool offers design capabilities, including creating landing pages, promotional graphics, and other visual elements.
Video Creation: MarketingBlocks AI can generate engaging promo videos and video ads to showcase products or services.
Voiceover Generation: The AI assistant provides voiceover options for videos or audio content, offering a range of styles and tones.
Personalization: MarketingBlocks AI tailors the generated content to match the business's branding, target audience, and marketing goals.
Time and Resource Efficiency: By automating content creation and design, MarketingBlocks AI saves businesses time and resources, allowing them to focus on other important aspects of their marketing strategy.
Pricing: Paid plans start from $57/mo
Stockimg.AI
Stockimg.AI is a revolutionary platform that uses AI to create and enhance images. This tool allows content creators, designers, and users, in general, to obtain high-quality and optimized images for their projects.
Key features:
Wide range of design categories: Access an extensive selection of categories for diverse design projects.
User-friendly interface: Generate images quickly and easily with a simple-to-use platform.
Free trial and AI-made images section: Explore the capabilities of Stockimg.AI with a free trial and preview AI-generated images.
Social media presence: Stay updated on Stockimg.AI's latest news and get support through Twitter, Instagram, and TikTok.
Pricing
Monthly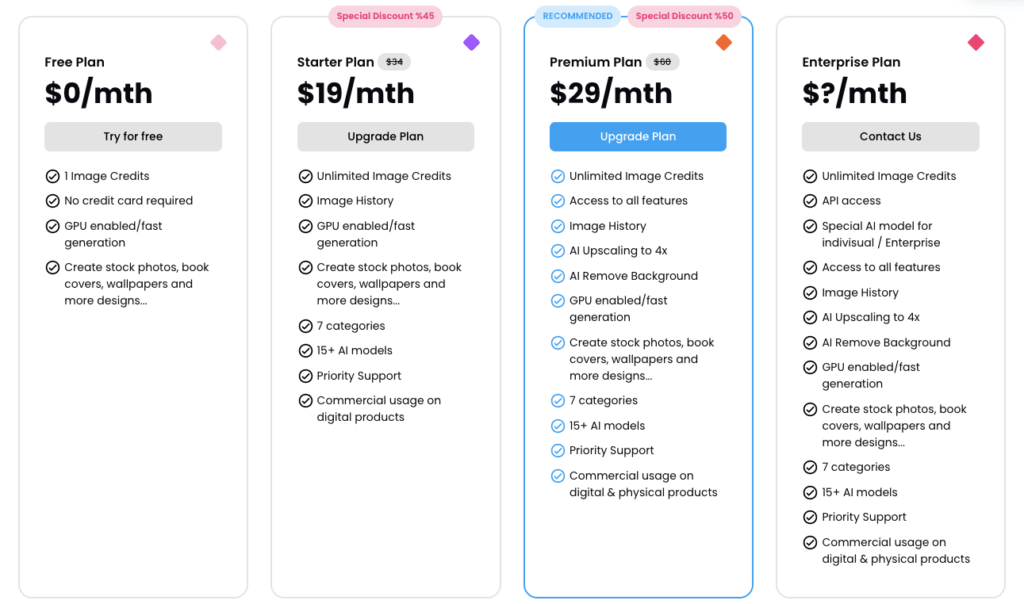 Yearly
AutoDraw
AutoDraw is an innovative drawing tool created by Dan Motzenbecker and Kyle Phillips in collaboration with friends at Google Creative Lab. It combines the power of machine learning with the artistic skills of talented artists to enable users to quickly create visual content. AutoDraw's suggestion feature utilizes advanced technology similar to that of QuickDraw, enabling it to predict and recognize what users are attempting to draw. Currently, it can recognize hundreds of different drawings, with plans to expand its capabilities further in the future.
Key features:
Ease of use: Simple and accessible, even for non-artists
Fast drawing: The faster users click, the faster the drawing progresses
Additional features: Options to download, share, start over, and use shortcuts
Pricing: Free
Flair AI
Flair AI is an advanced design tool that employs artificial intelligence to generate top-notch product photographs for your branded content. By utilizing Flair AI, you can produce captivating visuals that are guaranteed to captivate your desired audience. This tool incorporates intelligent object recognition, automated background removal, customizable templates, and seamless integration with e-commerce platforms, making it an essential asset for any brand seeking to craft compelling and visually striking content.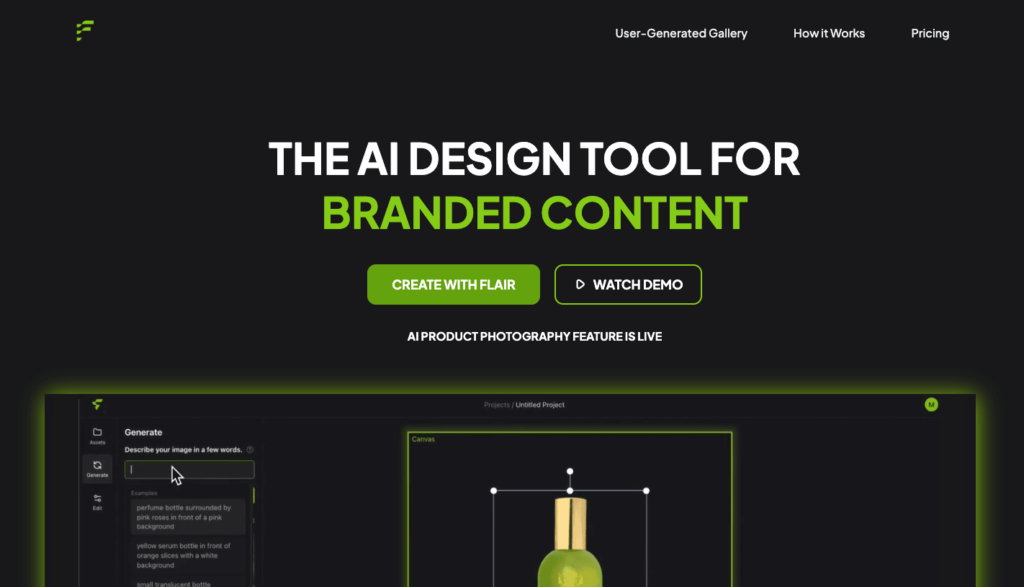 Key features:
Smart object recognition: Flair AI uses object recognition technology to identify and highlight the key features of your product. This helps to ensure that your product is displayed in the best possible way.
Automated background removal: Flair AI automatically removes the background from your product photos, saving you the time and hassle of doing it manually.
Customizable templates: Flair AI offers a range of customizable templates that you can use to create stunning visual content. These templates are fully editable, allowing you to create unique and engaging content that reflects your brand.
Integration with e-commerce platforms: Flair AI integrates with a range of e-commerce platforms, including Shopify, Magento, and Woo Commerce. This makes it easy to add your product photos to your online store and start selling right away.
User-friendly interface: Flair AI has a user-friendly interface that is easy to use, even for those with no design experience. The tool offers a drag-and-drop interface that allows you to create stunning product photos in just a few clicks.
Free trial: Flair AI offers a free trial so you can test the tool and see if it's the right fit for your brand.
Pricing: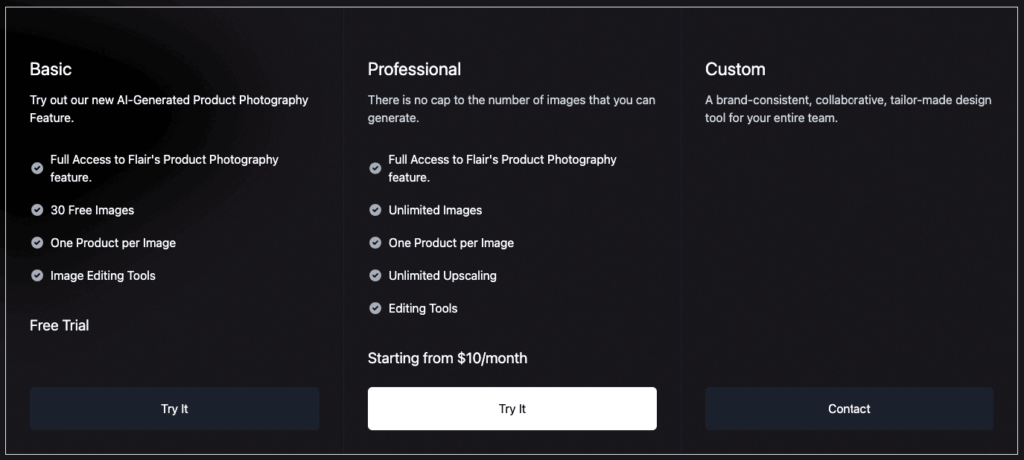 Predict AI
Get ready to revolutionize your visual content with Predict AI! This powerful AI solution is your secret weapon to stimulate consumer attention to images and videos. Ideal for marketing teams seeking sky-high CTRs, engagement, and conversions. Designers, get ready to optimize your visuals with data-driven insights that will make jaws drop. And for companies aiming to outshine the competition, pre-test your creatives and compare them to industry benchmarks. Predict AI is here to unleash the true potential of your visual assets. Say goodbye to guesswork and hello to captivating content that grabs attention and leaves a lasting impression.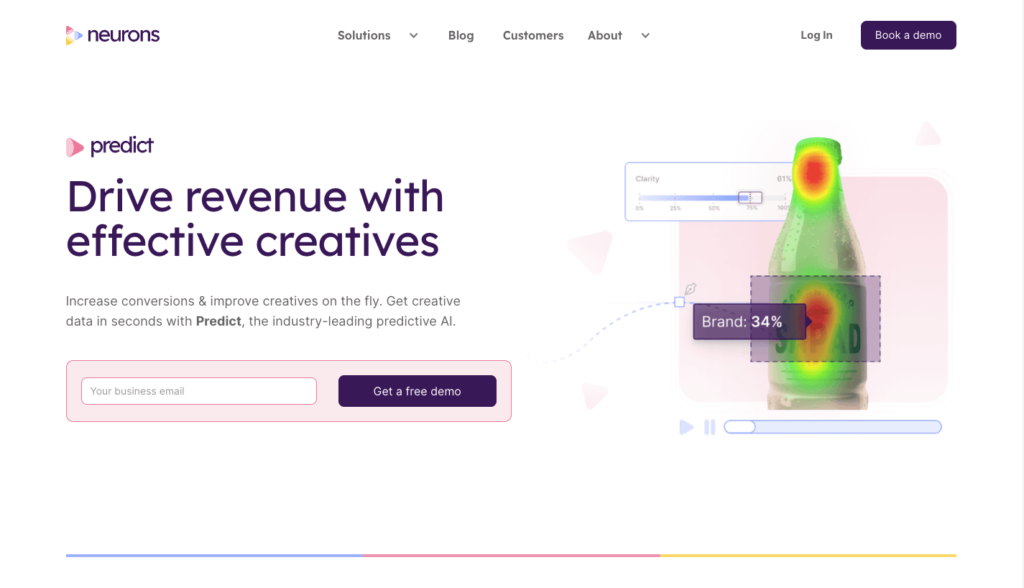 Key features:
Predictive AI: Measure attention and engagement, optimizing creatives for maximum performance.
Trusted by major brands: Increase conversions, improve creative performance, and boost brand awareness.
Data-driven design: Maximize creative impact and ensure desired results with AI-driven insights.
Integration: Seamlessly works with popular tools like Figma, Chrome, and Adobe XD.
Pricing: Contact for more information
Galileo AI
Introducing Galileo AI, the tool that creates delightful UI designs from simple text descriptions. Trained on thousands of outstanding designs, Galileo AI generates high-fidelity designs in a flash. Populate your designs with AI-generated illustrations and images to make them stand out. With accurate end-to-end product copy generated by our AI, you can save time on tedious tasks. Say goodbye to repetitive UI patterns and minor visual tweaks. Let Galileo AI handle the details while you focus on designing creative solutions that have a bigger impact. Design faster, stand out, and make a lasting impression with Galileo AI.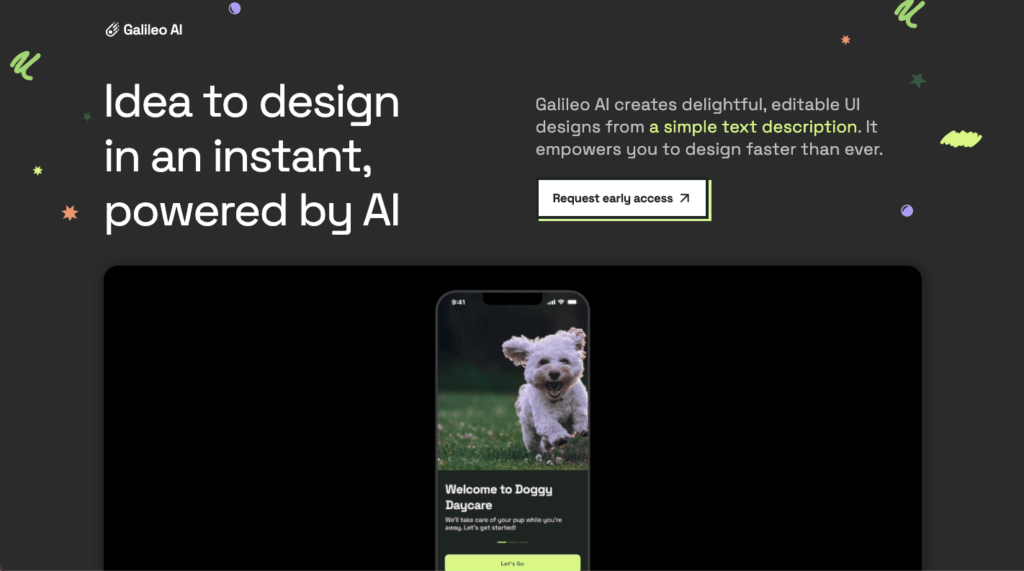 Key features:
Natural language prompts: Generate high-fidelity designs from complex contexts and user input.
AI-generated illustrations: Create designs with illustrations and images tailored to the desired style.
Time-saving: Focus on creative solutions by automating repetitive UI patterns and visual tweaks.
Pricing: Contact for more information
Microsoft Designer
The Microsoft Designer app, found within Microsoft 365, is a powerful graphic design tool. It harnesses the advanced artificial intelligence technology of DALL-E 2 to empower users in creating personalized invitations, digital postcards, and various other materials. Users can bring their imagination to life by simply describing the image they envision, resulting in truly unique designs. This versatile tool extends its capabilities beyond invitations and postcards, offering design options for presentations, posters, graphics, and much more. With the Microsoft Designer app, unleash your creativity and effortlessly produce visually stunning creations.
Key features:
Templates: Microsoft Designer provides customizable pre-designed templates for social media posts, flyers, brochures, business cards, and more.
Design Elements: Access a wide array of design elements such as shapes, icons, images, and text to easily customize and create unique designs.
Collaboration: Collaborate effortlessly by sharing your designs, allowing real-time changes and feedback from others.
Cloud Integration: Seamlessly integrate with Microsoft's cloud-based services like OneDrive and SharePoint to store and share designs across devices.
Ease of Use: Microsoft Designer offers user-friendly features and tutorials, enabling even beginners to create professional designs quickly.
Pricing: Contact for more information
CandyIcons
Discover a world of exquisite app icons for your product with CandyIcons. Explore the extensive collection of breathtaking app icons and select the ones that resonate with your vision. Enjoy full copyright ownership and indulge in high-quality, distinctive icons designed to enhance your iOS, macOS, and Android projects. Additionally, unleash your creativity with our customized favicon generator. Experience the perfect blend of elegance and functionality with CandyIcons, where impeccable design meets your unique needs.
Key features:
Full copyright ownership: Be the first to own! Obtain the exclusive rights to use, reproduce, distribute, and create derivatives of the icon.

Unique app icons powered by AI: Thousands of stunning AI-powered icons up to 1024×1024 resolution.

Custom favicon generator: Having a bespoke favicon package for your website in one simple click.

App icon assets generator: Create all required macOS and iOS app icon sizes with precise adherence to Apple's guidelines.
Pricing:
Free trial
Paid: starts from $3