Shopify is a popular e-commerce platform, with millions of sellers and buyers. To succeed, you need to optimize many aspects of your online business. AI or artificial intelligence is the technology that helps you automate and improve many tasks, from product suggestions and chatbots to email marketing and fraud detection. In this article, we will introduce you to some of the best AI resources for Shopify to increase your sales, conversions and brand.
Best AI resources for Shopify
FLOWGPT
FlowGPT is a community-driven platform for sharing, discovering, and learning helpful ChatGPT prompts that can increase productivity. It has search and filter options that allow users to easily find prompts related to specific topics or categories, such as writing, productivity, creativity, and more. The platform relies on its community to share and discover helpful ChatGPT prompts, creating a collaborative and dynamic space for productivity enthusiasts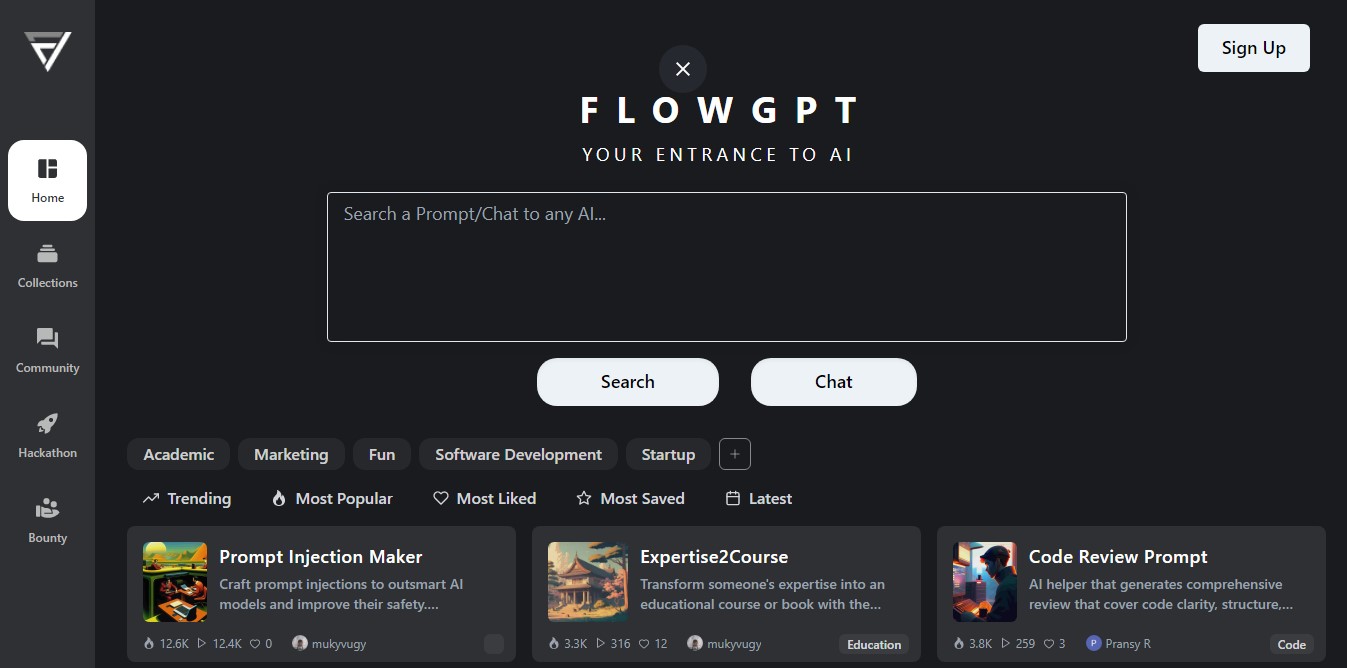 Key features:
FlowGPT lets users customize their text generation by choosing from different tones, lengths, formats, and languages. Users can also specify the keywords or topics they want to write about, or use one of the predefined templates for common scenarios.
FlowGPT has search and filter options that allow users to easily find prompts related to specific topics or categories, such as writing, productivity, creativity, and more.
FlowGPT is a chatbot tool designed to simplify conversation management by enhancing structure and clarity. With its user-friendly canvas interface, users can easily manage conversations while keeping a keen eye on the big picture
Pricing:
Bright Data
Enterprise-grade web data collection service that provides fresh web data using a web scraper IDE, scraping browsers, and offers insights through datasets and analysis.
Key features:
Comprehensive datasets covering eCommerce, social media, jobs and other websites
Web Scraper IDE with ready-made templates targeting popular websites
AI algorithms to clean, structure and process scraped website data
Actionable market intelligence and insights on sales, market share, products and suppliers
Pricing:
Miro AI
Miro AI is a creative collaboration and productivity tool that uses AI to help teams unlock their ideas and improve workflows.
Key features:
 Auto-generate expansive mind maps from key ideas
 Summarize large amounts of content into concise overviews in a few clicks
 Create code snippets by writing plain text
 Generate visual representations from written descriptions
 Produce user stories automatically from feature ideas
 Users can expect many more AI features to be added over time
Pricing:
Fast.ai
Fast.ai is a non-profit organization dedicated to making deep learning accessible to everyone through free courses, an AI library, research, and community.
Key features:
Free courses that teach deep learning to coders of all backgrounds
Fastai library – Open source deep learning library that makes AI easy to use
Cutting-edge AI research
Global community of AI practitioners and learners
Pricing: Free
BuildAI
BuildAI enables businesses to easily create their own custom AI-powered web apps without any technical expertise.

Key features:
Create AI-powered customer experience apps to impress and captivate customers
AI apps are personalized to reflect your business expertise and "voice"
Embed AI apps into your own website for a seamless customer experience
Pricing:
POE
Poe is an AI-powered chatbot tool that allows users to interact with the virtual assistant and get instant responses to their queries. The chatbot is named after the famous American author, Edgar Allan Poe, and it is designed to provide users with an easy and interactive experience.
Key features:
Natural language understanding – Understands complex sentences and carry coherent conversations on open domains
Customizable personality – Can be customized to have specific personality traits and speaking styles
Real-time responses – Provides instant replies mimicking human conversation
Conversation memory – Remembers context and details from previous exchanges in the conversation
Retrieval-based system – Uses vast knowledge databases to retrieve relevant responses instead of generating from scratch
Multilingual support – Supports conversations in multiple languages
Pricing: free