Writing content for websites, especially content for products, is also quite difficult for newcomers.
Don't worry about it, in this article Cro Button will show you how to use AI writing tools in creating content for your website, which will help you produce faster, better quality content.
Best AI Writing Tools for Shopify
Notion AI
Notion AI is an AI-powered solution that aims to help businesses create high-quality, engaging content. The product uses natural language processing (NLP) and machine learning (ML) to analyze content and provide suggestions for improvement.
According to the Notion AI website, the product can help businesses improve their SEO, generate engaging headlines and intros, and identify areas for improvement in their writing. It can also help businesses automate certain aspects of the content creation process, such as generating summaries and creating outlines.
Overall, it seems that Notion AI could be a valuable tool for businesses looking to streamline their content creation processes and improve the quality of their content. However, as with any AI-powered solution, it's important to keep in mind that the product may not be perfect and may require some human input and oversight to ensure that the content it produces is accurate, relevant, and effective.
Key features:
Fix spelling & grammar: Because no one spells "fuchsia" correctly on the first try.
Translate: Now you can write in Japanese, Spanish, German and more.
Edit voice & tone: Rewrite your proposal with the confidence of a CEO.
Make shorter or longer: When you need to get rid of some fluff, or add some.
Pricing: Monthly price (1 person) $10
Compose.ai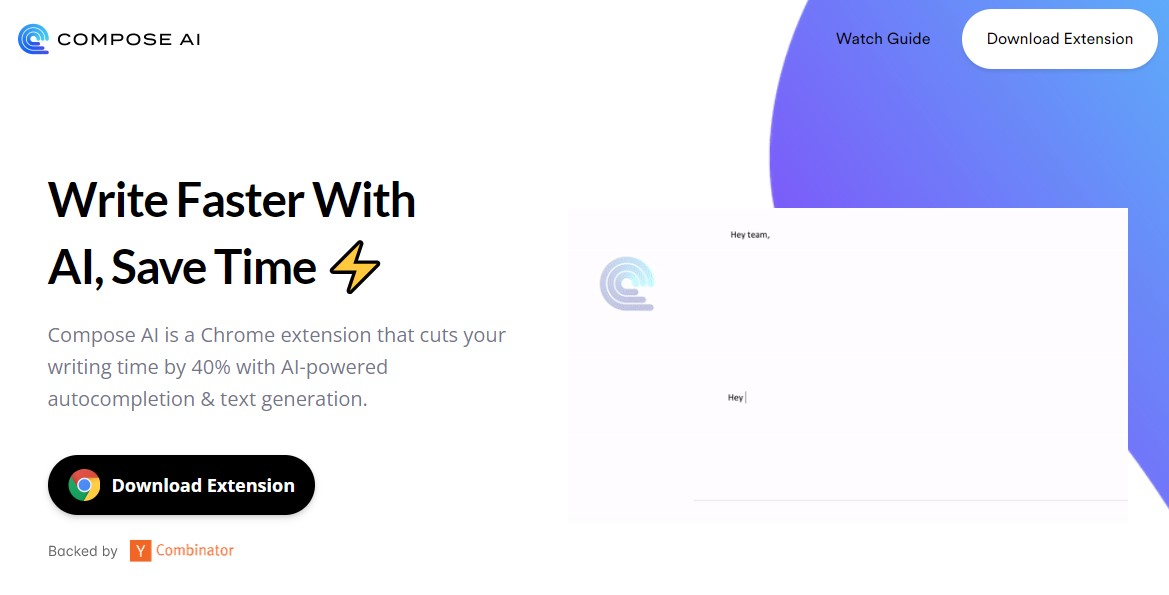 With an AI-powered autocompletion and text generation feature, Compose AI is a Chrome extension that can significantly reduce your writing time by up to 40%. This tool can assist you in generating text content quickly and efficiently, helping you to streamline the writing process and allowing you to focus on other aspects of your work.
Key features:
Advanced Autocomplete Everywhere: Use autocomplete across all of your tools & accelerate your writing.
Personalization Of Your Writing Style: Our platform learns your "voice" & suggests personalized phrases.
An Unobtrusive Universal Integration: Our system seamlessly integrates with your existing platforms & tools.
Pricing: FREE
Analogenie.com
Analogenie is a user-friendly and straightforward tool that can help you generate analogies and metaphors, strengthen your arguments, clarify complex concepts, and enhance your readers' comprehension of your content. This tool can be a valuable addition to your content creation toolkit, helping you to communicate more effectively with your audience and make your content more engaging and memorable.
Key features:
Engages audience: Increases the impact of your writing and ensures that it resonates with your audience.
Adds spark to content: Provides context and relevance to ideas and concepts, allowing you to communicate your message more effectively.
Reduces misconceptions: Makes it easy to quickly create meaningful analogies & metaphors that can help elevate the quality of your writing.
Saves time: Generates analogies & metaphors quickly and easily with only a click, allowing you to create content that's clear and in-depth.
Pricing:
Free
Pro $ 3.99 per month
Super Pro $ 8.99 per month

Get 3 requests per month, free!

Pay for one and use all the tools!

Pay for one and use all the tools!

Pay for one and use all the tools!