Retailers invest enormous money in attracting visitors to their websites through a range of marketing channels such as SEO, social media, and email marketing in the highly competitive world of e-commerce. Even if you are successful in bringing a significant number of visits to your online store, they must convert into paying consumers.
The percentage of visitors who complete a transaction after adding products to their cart is referred to as the checkout conversion rate. It's an important indicator for every e-commerce company since it directly impacts sales and profitability.
A high checkout conversion rate indicates that many visitors who add things to their cart complete their purchases, showing that your online business effectively converts surfers into purchasers. A poor conversion rate, on the other hand, implies that visitors abandon their carts before completing their transactions, which may be a significant source of lost income for your company.
As a result, optimizing your checkout experience and implementing effective tactics to boost your checkout conversion rate is critical. This post will go over two proven methods for raising checkout conversion rates: generating urgency on the cart page and providing several payment alternatives. You may encourage visitors to finish their purchases and increase your online sales by using these methods.
36. Create Urgency On The Cart Page
When it comes to ecommerce psychology, there are a plethora of ideas that may be used to persuade customers to buy. Most merchants employ social proof and urgency messaging (also known as 'FOMO' messaging) as one of the simplest and most prevalent methods. We've all fallen prey to this tactic at one point or another, and that's simply because urgency and social proof drive action. Like the age-old saying says, "you don't know how much you want something until it's gone…or sold to the person who got there before you" (or something like that).
"60% of people make purchases because of FOMO, mostly within 24 hours."
Urgency refers to the feeling that time is running out, and that visitors need to act quickly to avoid missing out on a good deal. Professionals use urgency in sales to convince buyers and potential consumers to buy their products immediately and at the best price. By creating urgency, you can motivate visitors to complete their purchases rather than leaving the items in their cart and potentially forgetting about them.
The great thing about incorporating urgency into your product pages is that it is quite simple to do. At Growcode, we often see conversion rate increases of 7% – 9% after implementing only a handful of these techniques.
There are various techniques for rendering the cart page more urgent. Offering limited-term incentives, such as a discount that expires in a set length of time, is an effective strategy. This generates a sense of urgency among visitors since they are aware that they must move fast in to take advantage of the offer before it expires. Let's try out limited-time offers with a countdown timer and evaluate how well they work.
When a countdown timer is presented on your website, this approach will be considerably more successful. The countdown timer creates an irresistible desire to add the product to the cart, especially when the deal is paired with the "Limited quantities" note.
A countdown timer may be able to boost conversions from 3.5% to 10%, according to WordStream.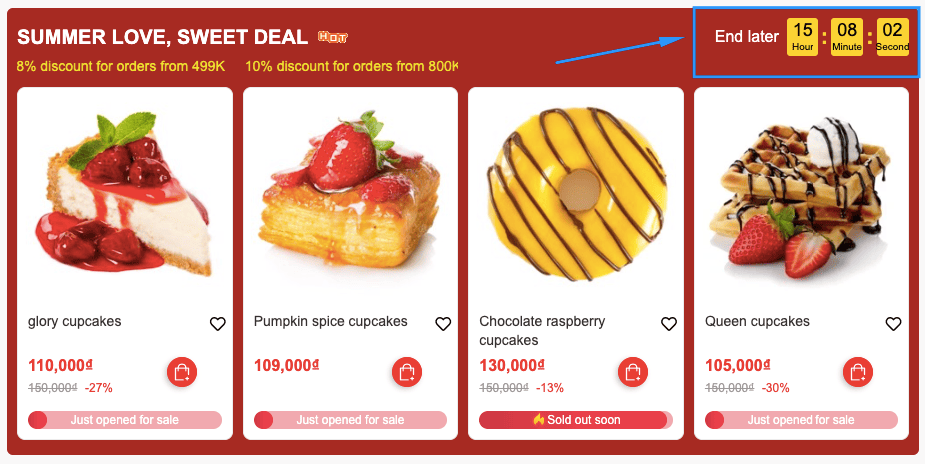 When it comes to copywriting, it's important to use limited-time language, such as "one-day sale", "sale ends at midnight" or "two days only." Here are some other variations:
State the length: Macy's One-Day Sale
State length and time: Today (6/17) is Your Last Chance – Expires at Midnight
Not only for products: Free Shipping – This Month Only
Call it what it is: Limited Time Deal
Stress the risk: You'll Never See the Price This Low Again
Be very specific here. Don't assume your audience will understand that "Memorial Day Sale" means only Memorial Day. Spell it out for them with something like, "Memorial One-Day Sale."
In addition to limited-time offers paired with a countdown timer, you can also create urgency by using low-stock alerts. Low-stock alerts are automatic notifications reminding your brand that it's time to reorder a certain product or SKU variant. They inform visitors that there are only a limited number of items left in stock, which creates a sense of urgency by highlighting that the items may sell out soon.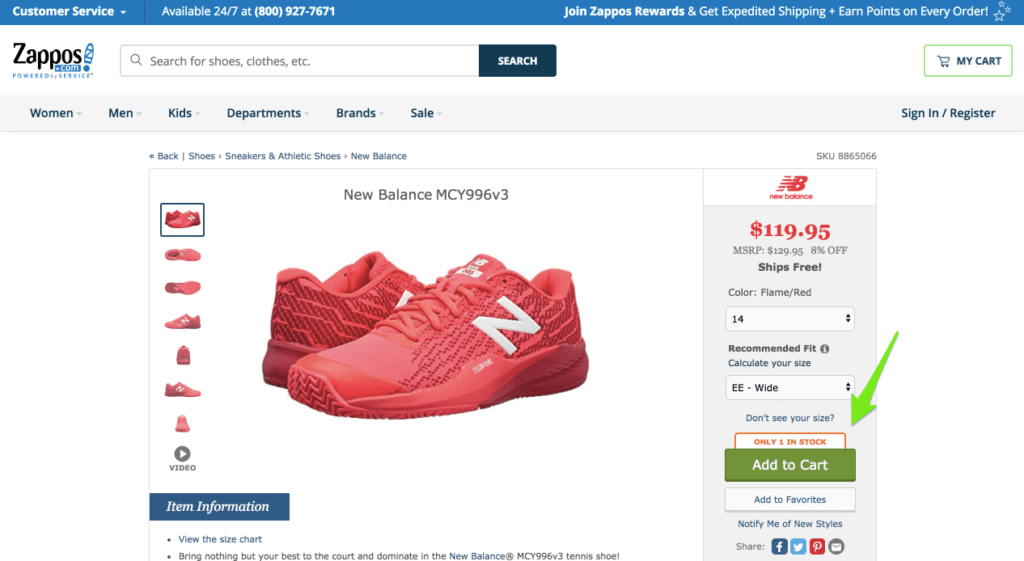 For example, Zappos include specific stock warnings, like "Only 1 in Stock", just above their CTA. You can apply this on the cart page instead.
Listen about this technique in the second Bite-size Ecommerce Optimization video and see some more examples of showing limited stock on product pages:
37. Show Different Payment Options
When you have persuaded people to buy your items using the urgency technique, they will continue to the payment stage. This is the point at which it is decided whether or not the customer's order is completed. Shoppers might abandon their cart if their preferred payment method is not accepted by you.
A report "Reasons for Abandonments During Cart & Checkout" by Baymard found that 9% of US online shoppers have abandoned a cart because the online store didn't have enough payment methods
Consumers have varied payment method preferences, and providing a range of options might make it easier for them to finish their orders.
Credit/Debit cards and PayPal
Begin by accepting typical payment options like credit/debit cards and PayPal. Consider including alternative payment methods like Apple Pay, Google Wallet, or other mobile payment solutions that are growing increasingly popular. You can accommodate a broader spectrum of clients and boost the possibility that they will finish their purchase by providing different payment alternatives.
No matter which payment type(s) you offer, there will be advantages and disadvantages to each.
Pros:
May lead customers to make more frequent or larger purchases.
Allows customers to safely make large purchases.
Can be quicker and more convenient for customers at checkout than cash or checks.
You don't have to worry about bad checks or fake cash.
Allows foreign travelers to more easily make purchases.
Cons:
You'll have to wait for the transaction to process before getting money in your account. This usually takes between one and three days.
You may have to pay transaction fees, a small percentage of the transaction. Debit cards generally have lower fees.
You will need to purchase or rent a device to accept payment (called a point-of-sale device).
You may be responsible if a customer uses fake or stolen payment information to make a purchase.
If a customer disputes a charge (i.e., initiates a "chargeback"), the transaction may be reversed and you won't receive a payment.
Cash on Delivery (COD)
Offering Cash on Delivery (COD) as a payment option can also help increase checkout conversion rates, especially in areas where this is a popular mode of payment. COD allows consumers to pay for their products upon delivery, which might be more convenient and trustworthy for people who are afraid to offer payment information online.
However, it is critical to thoroughly weigh the benefits and drawbacks of accepting COD payments:
Pros
Convenience: COD allows customers to pay for their order upon delivery, which can be more convenient for those who do not have access to or do not want to use online payment methods.
Trust: For some customers, COD may provide an added sense of trust and security since they only need to pay when they receive the goods.
Higher conversion rate: Offering COD can potentially increase the checkout conversion rate, especially in regions where this is a preferred method of payment.
Cons:
Higher costs: COD may result in higher delivery costs since the delivery person needs to collect the payment upon delivery, which may not be feasible for small orders or distant locations.
Fraudulent orders: COD also carries the risk of fraudulent orders, where customers may not intend to pay for their orders upon delivery or may provide fake contact information.
Administrative challenges: Managing COD orders may require additional administrative efforts and resources, such as tracking payments, handling returns, and ensuring accurate record-keeping.
Regardless of the payment choices available, each online business must provide an easy and safe payment. It is critical to choose a dependable and trustworthy payment gateway that can handle transactions smoothly while protecting clients' sensitive information. Furthermore, putting SSL encryption on your website helps improve payment security and protect against any cyberattacks. Displaying trust badges and security seals may be an effective approach to signal to clients that your website is reputable and that their payment information is secure. By implementing these actions, you can provide your consumers with a seamless and secure payment experience, which may lead to improved confidence and sales for your company.
Conclusion
To summarize, raising the checkout conversion rate is an essential component of any successful online company strategy. You may improve the customer experience and increase the chance of completing a transaction by establishing a feeling of urgency on the cart page and offering alternative payment choices.
It is also critical to ensure that the payment procedure is straightforward and safe, since this may assist to develop client confidence and increase overall conversion rates. When you execute these techniques, it is critical to analyze their success and make necessary modifications to ensure that you are optimizing your conversion rate and increasing your business.
You may take your online company to the next level and achieve more success in the competitive world of e-commerce if you keep these guidelines in mind.