Individuals are generally suspicious of internet purchasing in the digital age; we've all heard terrible stories of people losing their identities and money or just buying a thing online. You want to make sure customers understand your eCommerce website is a safe and secure environment. Of course, you want them to finish their order. If your customers do not trust your website, it will result in low conversion rates, high bounce rates, and a high shopping cart abandonment rate.
In a previous piece titled "Make Your Website More Trustworthy", we mentioned the trust badge. Today, we'll look at how this is accomplished and what the trust badge represents for your eCommerce site.
What is a trust badge?
Trust badges are visual cues that are intended to inspire confidence in website visitors. Visitors to your website are informed by these trust badges that your page is trustworthy and that any information they give will be gathered by secure third-party service providers. With these trust marks, symbols, or icons on your website, you may win over potential clients more quickly.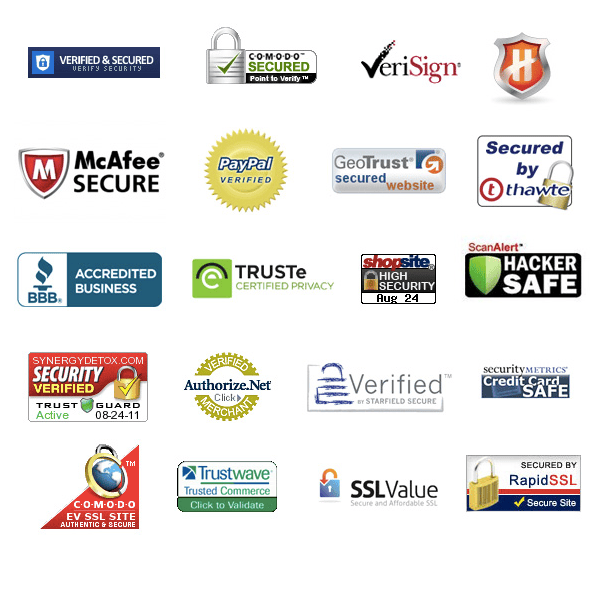 Why are trust badges necessary for websites?
The report from the Baymard Institute illustrates the key elements. Nearly three-quarters of customers abandon their purchases for a variety of reasons.
A survey conducted by Econsultancy asked consumers the factors that influence their trust when shopping from an online retailer they don't know very well.
Many factors contributed to trust-building, but having trust badges on the website was crucial. A staggering 48% of participants replied that trust badges assure them that a website is safe and reliable.
According to the same poll, 76% of participants indicated trust seals impacted how they felt about a website's credibility. Another 61% of respondents stated that they had refrained from purchasing because there were no trust seals or trademarks to be seen when they visited a website.
Trust badges are often a quick and simple way to demonstrate website security if you own an online business. Making sure that clients feel secure purchasing online is essential for the success and expansion of eCommerce businesses. The information above demonstrates that they can have a significant impact.
The best type of trust badges
Generally, trust badges used in e-commerce can be classified into five primary types. Each one has a different meaning and is used for a different purpose. However, we'll show you three commonly used badge types in this post.
1. Guaranteed Safe & Secure checkout badge
It is one of the most trusted badge types you can get for your eCommerce store and is the seal you receive when you sign up with a company that provides an SSL certificate. An SSL (Secure Socket Layer) certificate protects the internet connection and all the shared information across that internet connection.
With the information being encrypted and the customer's credit card information is safe and secure, this badge indicates that your checkout procedure can be trusted. This level of trust can increase your conversion rates. Any potential clients will want to know that they can trust you and that you take the protection of their personal information seriously.
There are other safe checkout badge alternatives available, however, the most trusted and known badges instantly inform your clients that your site is trustworthy. You can get trust badges that are recognized the world over from PayPal and Shopify.
Safe Checkout Badges are most effective when displayed near your "Add to Cart" buttons and on your checkout page.
2. Free shipping and free returns trust badge
With a "Free Shipping" and/or "Free Returns" badge, you can establish trust and safety in your consumers. You may reduce some of the perceived risks of purchasing from an online business by informing your consumers that they can receive and return things bought without paying any extra charges.
Gaining the confidence of your clients is crucial. Offering free shipping and returns communicates to clients that you appreciate their pleasure and satisfaction above all else in addition to your belief in the quality of your items.
This badge may be used in a variety of locations on your website and has additional positioning options. On every "Add to Cart" and "Checkout" page, a Free Shipping and Free Returns badge is advised. It may also be useful on your site, where you should think about putting it in the header, as well as on a specific Shipping and Returns page or your Frequently Asked Questions page.
If you decide to install a money-back guarantee badge, this trust badge is the ideal complement.
3. Money-back guarantee badge
The money-back guarantee badge, maybe the most powerful trust badge of all, completely removes the anxiety and perceived danger of purchasing goods or services online. While this does not address any technological security problems, it does demonstrate to potential consumers that you have their best interests at heart.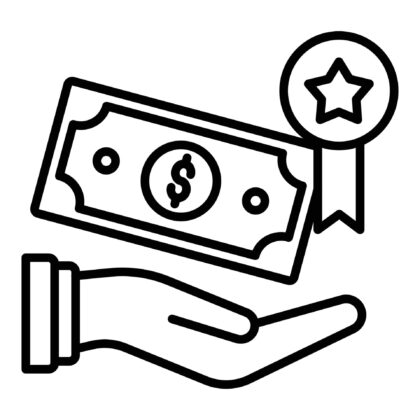 If badges for money-back guarantees are available, wear them proudly. You want to be certain that every consumer notices it and pays attention. It should be located close to the Add To Cart and Checkout buttons, in the same locations as your Safe Checkout Badge.
This is a free trust badge, you can make it yourself so that it matches your branding, or you can find a free downloadable version online and quickly add it to your website.
Where do you put trust badges?
Trust badges may be used throughout your website, but they will have the most impact when consumers may have initial reservations about purchasing from you or are asked to provide personal information.  CXL looked into customers' observational patterns when they were preparing to make online purchases, and it turns out they are quite similar. They search for quick reassurance.
Every checkout option exhibits a similar pattern, as users scan the page in search of instant confirmation they may proceed with the transaction and trust the website. Therefore, you must ensure that they are evident in those tiny instances when faith may falter.
Your homepage is a great place to put trust badges to instill overall confidence and trust in your brand. New users who are searching for your brand will most likely land on this page so it will be important to showcase reviews, awards, or any other badges here.
Conclusion
Not having trust badges on your website is simply a bad idea.
In the end, eCommerce shoppers want to know that personal data is safe when they purchase online with firms that take website security seriously. As we've already mentioned, these trust symbols may significantly affect your website. Make advantage of trust badges on your website and carefully place different sorts of highlights around your website to swiftly develop trust with your consumers, enhance conversion rates, and ultimately generate more sales.