The word "free" has an amazing effect on purchasing behavior,  like a psychological trick. "Free shipping" has become a common option when shopping online. And it was right if we say free shipping is a powerful marketing and sales tool in eCommerce.
According to the Walker Sands Future of Retail 2016 study, nine out of 10 of the survey participants said free shipping was the No. 1 incentive when asked what would make them shop online more often.
Add minimum order threshold
Probably one of the most popular methods is to set a free shipping threshold – the lowest purchase amount that entitles a customer to free shipping. Very often buyers add more products to their shopping cart just to benefit from it. This will help increase average order values and potentially boost profits within certain product categories. Offering free shipping can help customers spend just a little bit more to avoid shipping fees. After capturing customers' psychology, let's do this tactic.
1. Inform the discount
First of all, the information about the discount must be displayed on the pop-up, main menu, header, etc. Example: "Free shipping in orders over $50".

2. Condition not met
Let's motivate your shoppers to add more items to the cart to achieve the goal by using the progress bar and message so that they could catch up with the target.
3. Condition met
Finally, adding some gifs or animations appeared when shoppers met the condition to have a coupon for free delivery.
Such findings appeared, among others, in the BigCommerce report published in 2019
"Up to 84% of consumers admitted that they're ready to buy more to receive free shipping"
Common free shipping thresholds include $25, $35, $50, and $100, but you shouldn't just choose one of those numbers without doing the math. So, how calculate a free shipping minimum spend threshold to minimize risks?
How to calculate a free shipping minimum spend threshold?
Offering a minimum order requirement in exchange for free shipping can be a successful tactic if you know how to calculate your free shipping threshold. Here's the way to do it:
Calculate your Average Order Value, without shipping costs (for example, $40)
Determine your Average Shipping Costs (for example, $8)
Calculate your Gross Profit Margin. To do this, subtract the Cost of Producing the Product from your Total Sales and divide that number by your Total Sales (for example, if your Total Sales are $100k and your Cost of Producing the Product is $60k, then the formula would be ($100,000 – $60,000) / $100,000 = 40% Gross Profit Margin)
Propose a Minimum Cart Value (for example, $45)
Now, it's time to put that Proposed Minimum Cart Value to the test. 
Determine the difference between the Proposed Minimum Cart Value and the Average Order Value ($45 – $40 = $5)
Multiply the difference by the Gross Profit Margin ($5.00 * .40 = $2)
Subtract the result from the Average Shipping Cost ($8 – $2 = $6)
As you can see, you're going to wind up paying $6 for shipping on qualifying orders, which is too much of a hit for your bottom line. So, let's try adjusting the Proposed Minimum Cart Value. This time, use $55 as the minimum.
Proposed Minimum Cart Value minus Average Order Value ($55 – $40 = $15)
Multiply the difference by the Gross Profit Margin ($15.00 * .40 = $6)
Subtract the result from the Average Shipping Cost ($8 – $6 = $2.00)
(Via The Fulfillment Lab)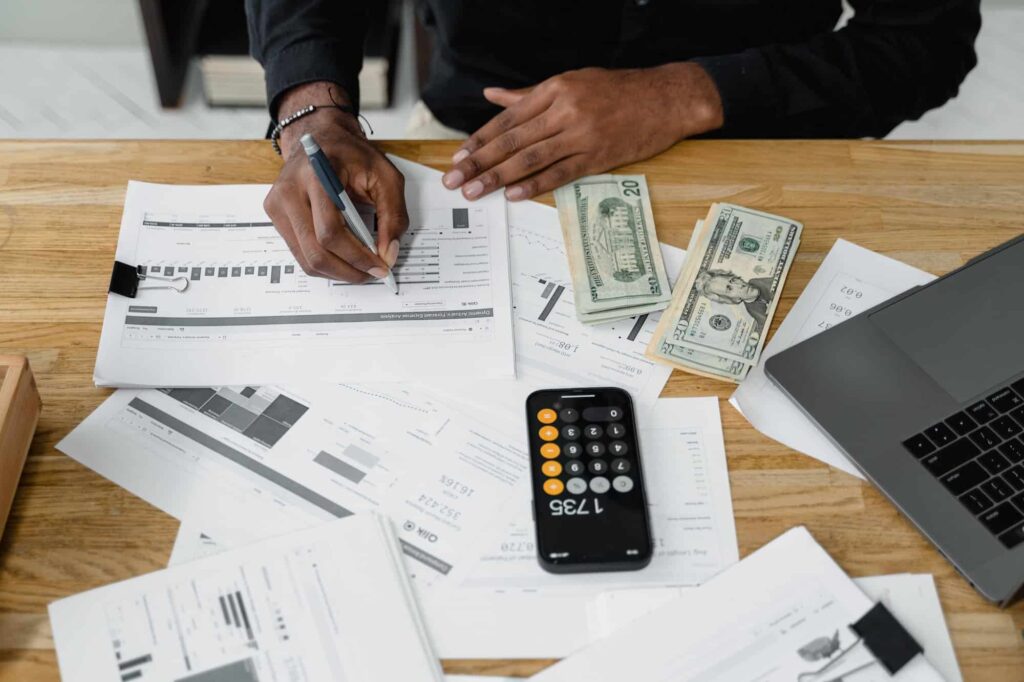 Keep in mind that if free shipping is because the business can't afford it, there are several other ways you can promote free shipping without affecting your bottom line.
How to offer free shipping effectively?
Increase the product price
First, let's consider your business objectives, what your company can afford, and whether you wish your consumer to buy larger or smaller quantities.
For example, some companies may prefer to receive smaller orders, which reduces order processing costs. But if your products are priced moderately, you may choose to bake the cost of shipping into the product price. By the same token, you need to offer price variations when free shipping is an option.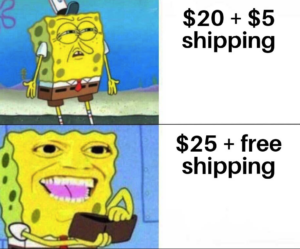 This tactic helps give the illusion of free shipping when in fact you are increasing the product price tag to help make up for free shipping. However, the revenue you get is completely different between a $5 product and a $50 product.  So you'll need to do the math and calculate the necessary markup using the average shipping cost per order before including the shipping cost in the listed product price.
Time-limited free shipping
Another possibility is to offer free delivery limited to a certain time frame. It is often linked to the holiday season such as Christmas and the many other special days celebrated throughout the year and is related to the shop's assortment. For example, a flower shop can offer free shipping on Women's Day.
Of course, this does not mean that free shipping promotions can only be set on certain dates, rather it should be seen as a tip. The decision is always up to the owner. However, it is sure that customers get used to such promos and often look for them when planning their online purchases. 
Conclusion
Offering free shipping is a great way to reduce a common barrier to purchasing items online. However, it can come at a cost for your business if you haven't considered and calculated the proper way to offer it. You must find the right balance between increasing conversions and keeping your prices competitive without losing money.