Getting customers to add more goods to their cart is critical for boosting sales and revenue development as an online seller. Customers may be hesitant to add more things if they believe they have already discovered what they were looking for, making this a difficult process. Thankfully, there are numerous efficient methods for convincing shoppers to add additional goods to their shopping carts.
In this post, we will go over three tried-and-true tactics for increasing "cart size" and, as a result, driving more sales. You may encourage customers to make additional purchases and boost the overall value of their shopping experience by employing these tactics.
38. Provide An Option To Add More Products To The Cart Page
We needed a plugin to be able to add multiple products to a cart at once. After looking around we weren't able to find many other plugins other than yours.
Customers today have more options and locations to purchase than ever before. And their attention spans are getting shorter. Hence, if you have an ecommerce business and want online customers to buy from you, you must be able to capture their attention immediately – and make the purchasing experience pleasant and straightforward.
In fact, according to research, 56% of consumers are more likely to return to a website that offers a seamless shopping experience.
Users are frequently brought to a new page or overlay when clicking the "Continue Shopping" button, which can disrupt their purchase experience and make it more difficult to check the products they added. A drop-down menu with a list of recently viewed products and recommended items, on the other hand, is constantly displayed and does not force consumers to leave their current website. This way, customers can easily find products they're interested in and add them to their cart without the need to navigate back to the product pages.
However, it's important to make sure that the button is prominently displayed and easy to find. Placing it near the "Checkout" button or using a contrasting color can help draw attention to it. When clicked, the "Continue Shopping" button can display a drop-down menu with a list of recently viewed products and recommended items.
Another way to provide an option for customers to continue shopping is by including product recommendations directly on the cart page. For example, you can display related products or popular items that customers may be interested in. This can help customers discover new products and add them to their cart. However, it's important to make sure that the recommendations are relevant and not too overwhelming. Displaying too many recommendations or unrelated products can be distracting and overwhelming for customers.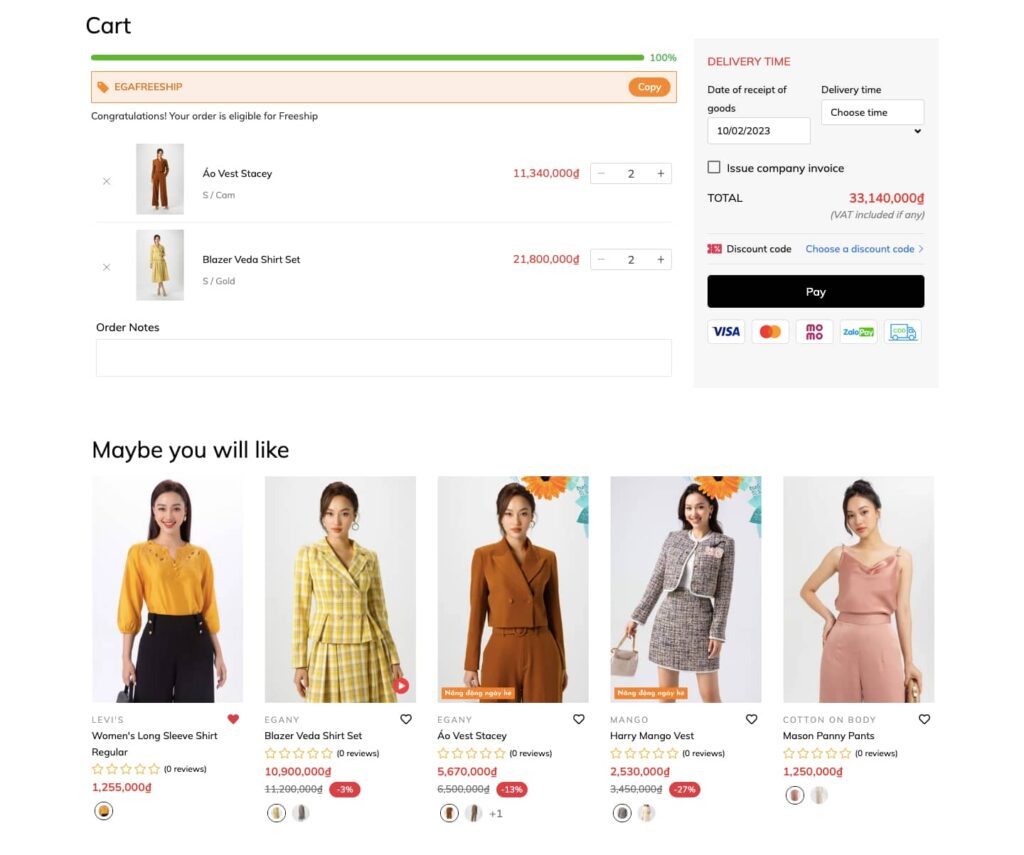 By carrying out this way, you can improve your customer's shopping experience by creating smooth one-page ordering. Instead of navigating to single product pages, your customers can shop directly from the product table view.
39. Persuade Your Shopper With Offer – Free Shipping
Another effective way to encourage customers to add more items to their cart is by offering free shipping. Most customers are attracted to the idea of getting something for free, so this can be a powerful incentive for them to purchase more products.
It may be difficult to believe that free shipping can have such a significant impact on buyers' decisions. However, this finding could prove useful to companies that focus on ecommerce, especially when fighting to win over indecisive consumers.
Mastering consumer behavior is crucial, and now it's time to apply it to your online store by encouraging customers to add more products to their cart. While shipping fees can sometimes be a deterrent, as previously mentioned, the allure of a freebie is hard to resist.
While your customers are on the cart page, you may entice them to add more things to their cart by offering something. For example, if you provide free shipping on orders over a specific amount, or for a limited time only, you might remind your customers how much more they need to spend to qualify for that offer.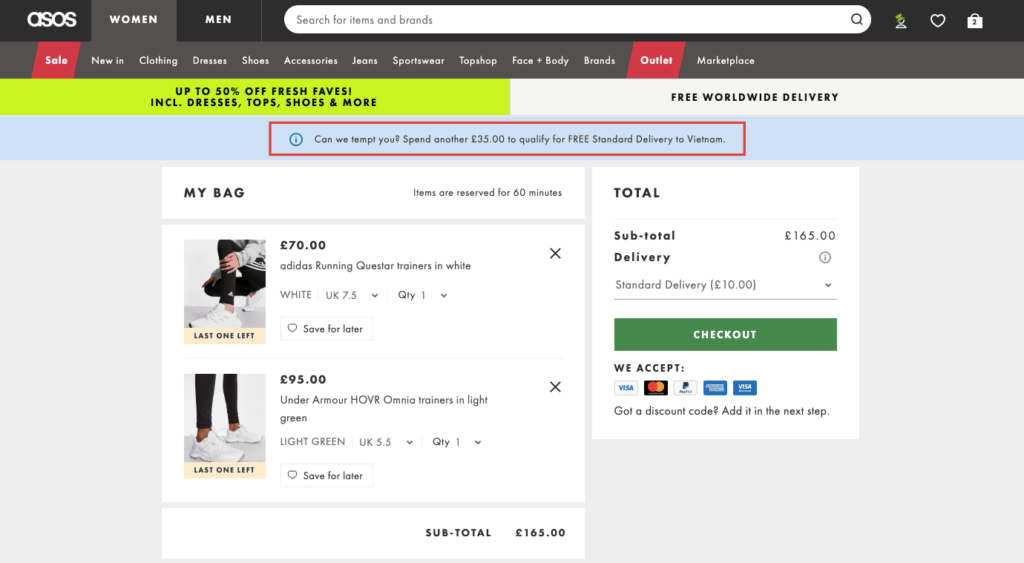 Using a progress bar allows you to be more creative in how you announce free shipping offers to your consumers. Customers are more likely to notice your shopping cart page if it is more vivid, intuitive, and engaging. Check out our previous article on progress bars for more inspiration on how to implement this tactic effectively.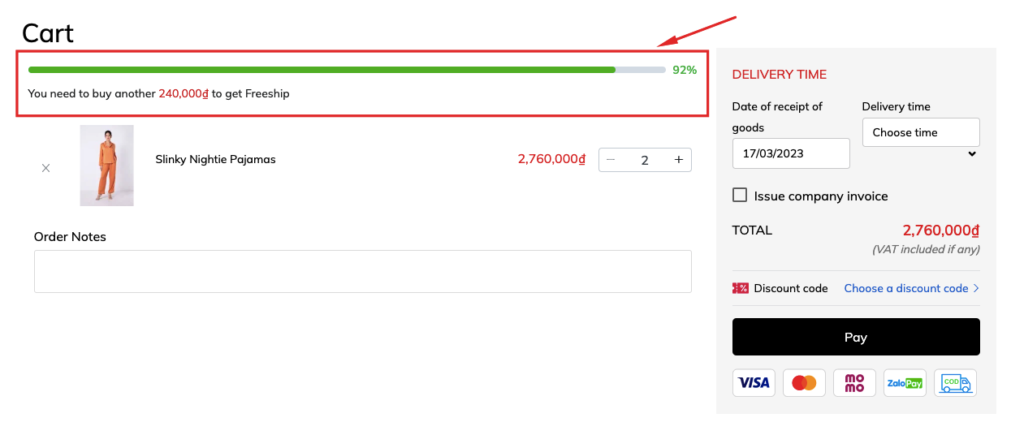 If you're interested in having a progress bar like this on your website, don't hesitate to contact CRO Button for consultation and support. Your website will look much more professional with our help
40. Persuade Your Shopper With Offer – Discount
In addition to suggesting to customers which products are popular or suitable for the items they have added to their cart, let them know which items are on sale. Display all discounted items on the cart page.
Make sure the discount is significant enough to grab the customer's attention, but not so large that it will harm your profit margin! To make the discount more enticing, consider setting a deadline for the offer or requiring a minimum purchase amount to qualify. Customers may start to experience FOMO (fear of missing out) and want to buy discounted items before the promotion ends.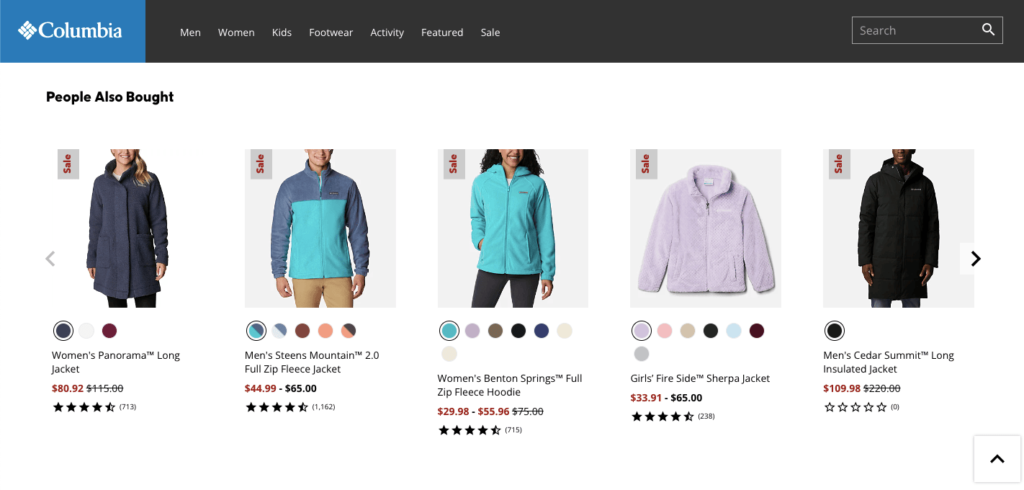 Urgency is one of the most amazing and fast-acting techniques in intensifying the fear of missing out, realizing that this offer will soon expire will be a powerful incentive for them to complete the purchase immediately.
Therefore, you must present offers that end within a specific period to trigger "FOMO" in your customers' subconscious and encourage them to complete the purchases immediately before they expire. You can also display the discounted price prominently on the product page, so shoppers can see the savings they'll receive.
Conclusion
The task of increasing the value of a customer's shopping cart has now been simplified by implementing some tactics on the shopping cart page. The shopping cart page may not seem like the ideal place to achieve this, but by referring to the tips mentioned in this article, you can improve your company's revenue.
By creating a seamless shopping experience, offering free shipping or discounts, and showcasing related or popular products, customers are more likely to stay engaged and make a purchase. It's also important to remember the power of clear and concise language, as well as visual elements such as product images and process bars. With these tactics in mind, an online store can effectively persuade shoppers and increase conversions, ultimately leading to a more successful and profitable business.